Why Some Big Bang Theory Fans Feel Like The Show Failed Stuart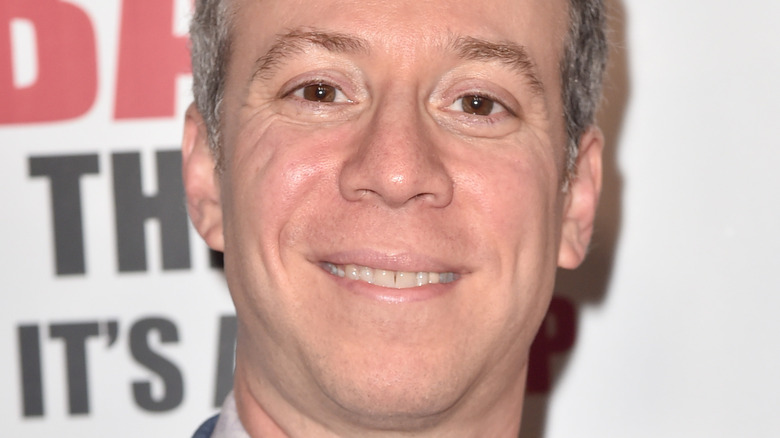 Alberto E. Rodriguez/Getty Images
The friend group of Sheldon Cooper (Jim Parsons) is almost universally comprised of highly intelligent individuals who boast impressive jobs as physicists and, in the case of Howard Wolowitz (Simon Helberg), an aerospace engineer. But when the guys of "The Big Bang Theory" aren't attempting to prove an intricate theory or traveling to space, they're shameless pop culture fanatics for "Star Trek," superheroes, and other iconic franchises.
When Sheldon, Howard, Leonard Hofstadter (Johnny Galecki), and Raj Koothrappali (Kunal Nayyar) crave the latest collectible or want to meet idols like Stan Lee, they know where to go — The Comic Center of Pasadena, the comic store owned by Stuart Bloom (Kevin Sussman). The shop might seem like paradise to the four, but they also seem to be Stuart's only regular customers.
Throughout "The Big Bang Theory," Stuart is a pitiful character who struggles in all facets of life. He's not usually successful when speaking to women, and even many huge "Big Bang Theory" fans forget his brief romance with Penny. Stuart is also regularly left out of Sheldon's group no matter how hard he tries to fit in, and even temporarily loses his beloved shop in a fire. In fact, Stuart's only thriving relationship is, oddly enough, with Howard's loud and overbearing mother Debbie Wolowitz (Carol Ann Susi), for whom he happily cares.
After enduring such hardships over the years, fans of "The Big Bang Theory" wanted to see Stuart finally thriving at the end of the series. However, many viewers were left unpleased with how his story wrapped up.
Stuart is portrayed as a failure in the series finale
In the Season 11 finale ("The Bow Tie Asymmetry"), things are finally beginning to look up for Stuart. Not only is his comic book store thriving, but his advanced "Star Wars" knowledge wins over the store's assistant Denise (Lauren Lapkus). However, it only takes a single season for the poor sap's life to turn upside down again.
By the time the Season 12 finale ("The Stockholm Syndrome") rolls around, Stuart once again appears frazzled and down on his luck. Howard and Bernadette Rostenkowski (Melissa Rauch) call on Stuart to watch their two children when they attend the Nobel Prize acceptance of Sheldon and Amy Farrah Fowler (Mayim Bialik). Within a few hours, one of the kids has a fever while the other falls down the stairs and loses a tooth. Naturally, Howard and Bernadette aren't pleased and her parents have to step in.
On Reddit, a number of fans disliked how Stuart's upward trajectory is dampened by his poor babysitting skills, especially after he so skillfully cared for Debbie Wolowitz. U/Meek_braggart said, "It's just a little disappointing after the amount of growth they wrote into a reoccurring secondary character." After some discussion, this Redditor later added, "He didn't deserve to be painted as the incompetent in the final episode, we were beyond that." Some users seemed prone to agree. In fact, u/summaiyah99 wrote, "I also feel like the writer[s] hated Stewart a lot."
However, given Stuart's many appearances throughout the series, we're willing to surmise that the latter Redditor's argument probably isn't true. In an interview with Lubiie in 2021, actor Kevin Sussman reflected on his time as the struggling comic book salesman. "I didn't know that I was gonna be on the show that much when I started," Sussman said. "I was just supposed to be on one episode in Season 2 and then that role got bigger..."