The Hilarious Way Juno Temple Relates To Keeley's Phone Scene In Ted Lasso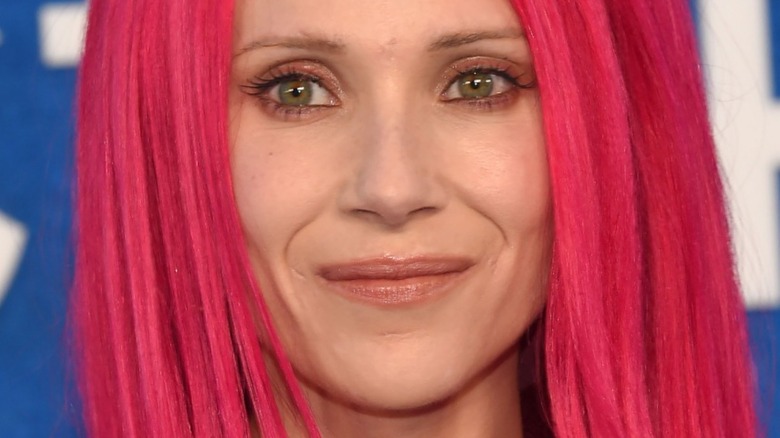 DFree/Shutterstock
Considered one of the best shows on Apple TV+, "Ted Lasso" has nabbed over five Emmys ahead of its Season 3 debut. The show has been praised for its heartwarming story, clever humor, and relatable, vulnerable characters. In its Season 2 review, /Film described the series as a "blockbuster," praising the Jason Sudeikis-led show as one of "the biggest underdog stories in TV history." Fans of the series might not even realize that the titular character was created to promote NBC Sports and its English Premier League coverage years before the Apple TV+ show shot a single second of footage. 
What has made the show so beloved is its varied roster of characters, each of whom has grown since Season 1. The show's sophomore season doubled down on the personal lives of those coaching alongside Sudeikis' Ted Lasso, including Roy Kent (Brett Goldstein) and Nate Shelley (Nick Mohammed). While Season 2 was filled with its fair share of gasp-worthy scenes, particularly its shocking closer, it also continued to show sweet, vulnerable moments.
Fans of Keeley (Juno Temple) will remember that the character has a particularly hilarious moment with her cellphone in one of the early Season 2 episodes. The phone scene helped establish her relationship with Roy, though it also turns out that Temple has been in a similar situation that forced her to react just like her character.
Juno Temple has also thrown a phone like Keeley
In a For Your Consideration panel commissioned by Apple TV+, the "Ted Lasso" stars opened up about the comedy series, their characters, and how, on occasion, they can relate to them. When asked by panel moderator — and fellow series star — James Lance on how she felt about the phone scene from Season 2, Episode 2, titled "Lavender," Juno Temple said she could relate to it. In the comical scene, Temple's Keeley is in bed watching a video of Roy Kent (Brett Goldstein), her boyfriend, crying — a rarity for the footballer. Roy later startles her by entering the room, which causes Keeley to launch her phone across the room. It's an interesting scene for Roy and Keeley, who are finally getting into the groove of their relationship.
As Temple bluntly told Lance at the 42:50 mark of the panel discussion, she can surprisingly relate to that moment as she's broken her own phone pulling a similar stunt. "It made me laugh out loud, especially the beat with the throwing of the phone because that's something that I haven't done in that exact situation," the "Killer Joe" actress teased. "I am quite good at being late in cars to go places. And I remember once answering the phone from my agent and I was supposed to have been in the car about an hour ago," the Emmy-nominated star revealed to the panel. She went on to explain that because she was shocked at how late she was, her first instinct was to throw her phone across the room, shattering the device immediately.
It may have been a stressful moment for Temple at that time, but it's clearly become one that she can laugh about when looking back at it.