The Surprising Idea That Led To Ted Lasso's Creation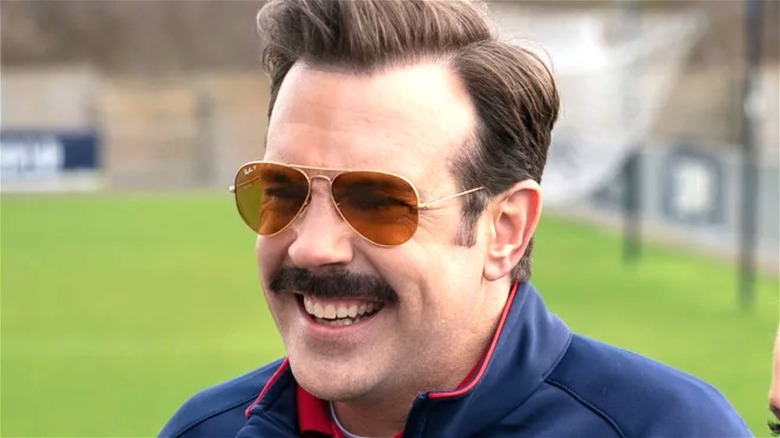 Apple TV+
2020 was a dark year for many. But out of that darkness came the right hero at the right time. That little ball of sunshine's name happened to be ... Ted Lasso. 
The first season of the Apple TV+ comedy series aired in August 2020, and people were instantly hooked. The story about a nice American guy named Ted Lasso (Jason Sudeikis) going across the pond to coach an association football team really resonated with folks. Lasso may seem like a dummy on the outside, but he has more than enough heart to make up for it, and in the end, he shows how it's more important to care about humanity than competition. 
A second season and a bunch of Emmy nominations later, "Ted Lasso" isn't going anywhere anytime soon. The show's style of friendly humor and charming sensibilities feel like precisely what the world needs right now. It's hard to imagine that if NBC didn't hire Jason Sudeikis and his colleagues to make a commercial eight years ago, we never would've gotten it.
Ted Lasso originated on a commercial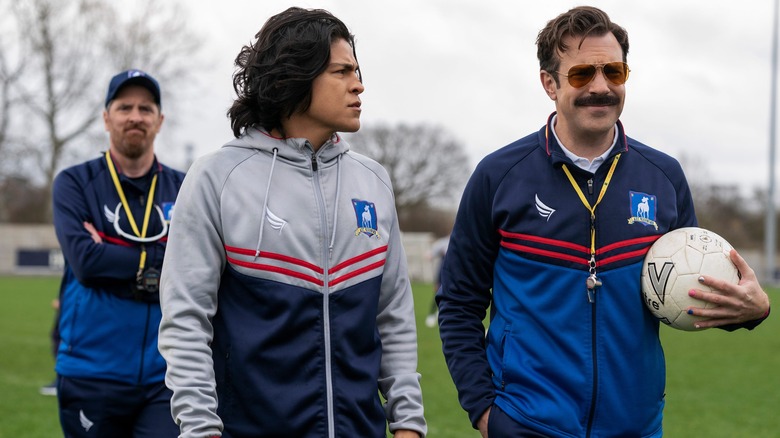 Apple TV+
TV shows based on commercials don't exactly have the best reputation. Does anyone else remember the ill-fated series centered on the Geico cavemen? Yeah, we didn't think so.
That's what makes it surprising to hear that Ted Lasso originally starred in a commercial for NBC Sports. The Hollywood Reporter spoke with people associated with many 2021 Emmy nominees, and for "Ted Lasso," they got co-creator Brendan Hunt to walk readers through the show's origins. He explains, "In 2013, I got a phone call out of the blue from Jason Sudeikis. He said there was an NBC commercial that they wanted him to do, and if we did it, we'd get to go to London for three days ... We went and [made the commercial], and it was a one-off."
When NBC came to them again wanting to keep Ted Lasso alive, they kicked around some ideas. They debated doing another commercial, but eventually, the creative team settled on making a series out of the character. He goes on, "We wrote out a pilot, we mapped out the rest, and then it basically sat on digital shelves collecting digital dust for several years until we hooked up with [co-creator and showrunner] Bill Lawrence."
That same commercial is available to watch on the NBCSportsNetwork YouTube page. For an extra bit of fun, see how many jokes from the ad were reused in the series.