Riverdale Season 2: First Look At Betty's Brother Chic Cooper Revealed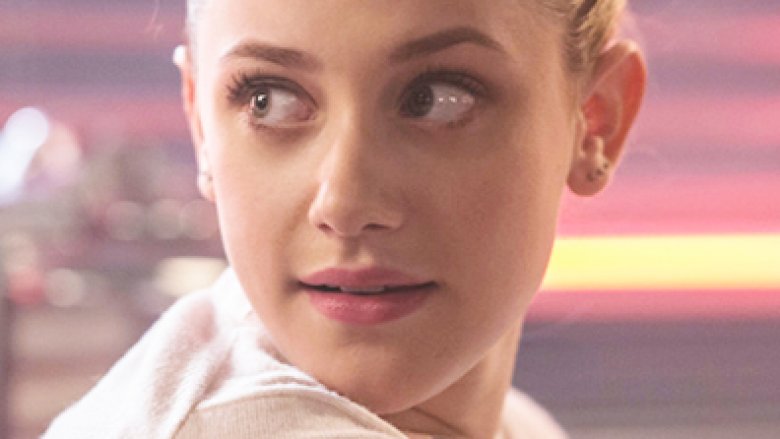 Warning: This post contains spoilers for the first season of Riverdale. 
The new kid in town has finally arrived. 
A few weeks ago, it was revealed that Riverdale would introduce a new character named Chic Cooper (yes, really) to the series' second season fold. But he's not just any 20-something guy heading to the mixed-up town: he's Betty Cooper's (Lili Reinhart) brother. And now we have our first look at the face behind the brooding bad boy. 
Mädchen Amick, who plays the Cooper family matriarch Alice on the hit CW show, introduced fans to Chic her Instagram account. "Look who I found roaming the halls of Riverdale High... one of the sweetest humans I've ever met!" Amick wrote. "Pleasehelp me welcome our latest addition to the Cooper family, Hart Denton, a.k.a Chic Cooper." Amick then jokingly warned Denton, who was just recently cast as Chic, to "buckle up" for the "wild ride" that is Riverdale, especially since he's going to be part of the tumultuous Cooper clan. 
Chic was first mentioned in the series at the end of the first season, when Betty and older sister Polly (Tiera Skovbye) learned that their parents had given a son up for adoption after Alice fell pregnant in high school. Veronica Lodge (Camila Mendes) quipped that Chic must be some sort of "blonde Adonis," and Denton seems to fit the bill perfectly. 
However, it won't be clear skies and milkshakes down at Pop Tate's when Chic rolls into town. Archie Andrews (KJ Apa) is still grappling with the tragedy that took place at the diner, where his father Fred (Luke Perry) was shot in the stomach and he was held at gunpoint; Veronica is struggling with the fact that her daddy dearest Hiram Lodge (Mark Consuelos) is out of prison; Cheryl Blossom (Madelaine Petsch) is on a rampage to prove she's the head honcho of the Blossom family, not her mother, now that her father and brother are both dead; and Betty is finding it hard to accept that her boyfriend, Jughead (Cole Sprouse), is inching closer to the Southside Serpents. 
Showrunner Roberto Aguirre-Sacasa previously teased that Betty's relationship with Jughead will be a rollercoaster ride in season two, revealing that Jughead "goes on a pretty dark journey and that's the tension in Betty and Jughead's relationship." Reinhart opened up about the shift in dynamic as well, stating: "It's like Romeo and Juliet. "There's definitely a divide between the north side and the south side of Riverdale and Betty's on one side and Jughead's on the other. You have to choose a side. So it causes a rift between the two, and a big divide, and they start to be pulled away from each other. They can't see each other as much, and that causes some Bughead problems that might tear some people's hearts out. But there has to be trouble in paradise. This is Riverdale and people die."
Sounds like Chic has a whole mess of trouble awaiting him, but Denton won't be alone in the list of new actors joining the series. Riverdale season two also adds Charles Melton as Reggie Mantle, replacing 13 Reasons Why star Ross Butler; Brit Morgan as the "Snake Charmer" Penny Peabody; Vanessa Morgan as the devious Southside Serpent member Toni Topaz; and Graham Phillips as Veronica's ex-boyfriend, described as a "wolf in sheep's clothing."
Chic is set to appear mid-way through the second season of Riverdale, which airs Wednesdays at 8 p.m. ET on The CW.