Fans Seem To Agree Ms. Marvel Episode 4 Nails This One Detail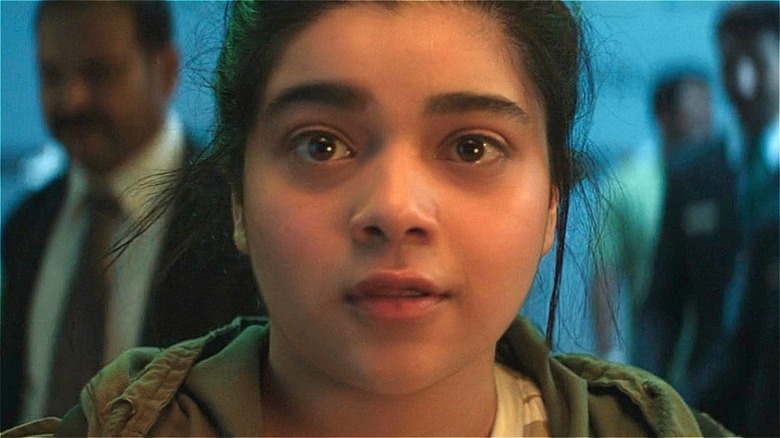 Marvel Studios/Disney+
Early reviews for "Ms. Marvel" — the latest original Marvel Cinematic Universe TV series on Disney+ — characterized it as a success. Reviewers particularly praised lead actor Iman Vellani as well as the show's depiction of everyday teenage life in a world otherwise defined by its superheroes.
As much as critics have taken to these core elements, fans of the show as well as its creators have likewise highlighted some of its smaller details. For example, "Ms. Marvel" fans have praised its text messages, which are depicted on-screen not as they might appear on a phone screen but integrated into the environments around the characters sending them. Furthermore, the Muslim background of protagonist Kamala Khan and her family has become an important topic for a number of viewers. In fact, in an interview with Looper, Mohan Kapur, Zenobia Shroff, and Saagar Shaikh, who portray members of Kamala's family, characterized the show's Muslim representation as contributing to the normalization of a sizable population often underrepresented in Western TV and film.
Similarly, after "Ms. Marvel" Episode 4 aired on June 29, some fans singled out one particular detail that they felt was expertly executed.
Ms. Marvel fans praised Episode 4's soundtrack
In a Reddit discussion thread about "Ms. Marvel" Episode 4 — which largely takes place in Karachi, Pakistan — user schoolsucks5698 wrote, "omg i love the music" and received more than 25 upvotes. They then specified in a follow-up comment that they recognized many of the songs featured in the episode from Bollywood films. In another reply, user whateverhappenedto_ praised the episode's use of Pakistani songs specifically, which they claimed can sometimes be overshadowed by music from neighboring India, and received a deserved spotlight in "Ms. Marvel."
According to a list published to the Marvel website, Episode 4 features music by the likes of Pakistani singer Talal Qureshi, Indian-American violinist Raaginder, and Bollywood actor Siddhanth Kapoor, among a number of additional, largely Pakistani artists.
In an article published by PopSugar, series creator Sana Amanat told interviewer Victoria Edel that she made a playlist for the series prior to "Ms. Marvel" entering into production, and that some of those songs made it into the show. "I grew up listening to South Asian music, and I love South Asian music, and there's such incredible artists across the board in Pakistan and India, and I wanted to really try to celebrate that," Amanat said.
Viewers that appreciated the soundtrack in "Ms. Marvel" Episode 4, then, seemingly have Amanat's own taste in music to thank.