The Ending Of Ms. Marvel Episode 3 Explained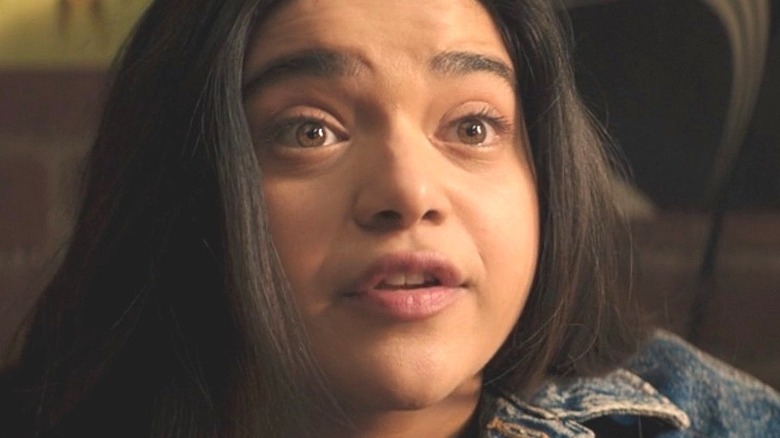 Disney+/Marvel Studios
Let it never be said that the Khans don't know how to throw a party or that Kamala (Iman Vellani), in all her super-powered splendor, doesn't know how to crash one. The third episode of Disney+'s "Ms. Marvel" took New Jersey's freshest crime-fighter closer to her family's past and, in doing so, revealed more dangers that are wrapped up in that super-charged bangle of hers. Even more intriguing is that the episode made the first big connection between Kamala and another new hero to the Marvel Cinematic Universe.
With the added complication of new supposed allies becoming enemies, as well as the fact that the episode put viewers on a literal track that deviates even further from Kamala's comic book origin story, "Destined" teases what could be a life-changing journey for Ms. Marvel. Just what is her connection to another major character in this world of heroes and villains, and what deeper history is linked to the family heirloom everyone seems to be after? More importantly, is Kamala set to face her biggest challenge yet: finally seeing eye-to-eye with her mother, Muneeba (Zenobia Shroff), on a trip that's set to take them far from the Garden State? Let's dive in.
Ten Rings We Hate About Najma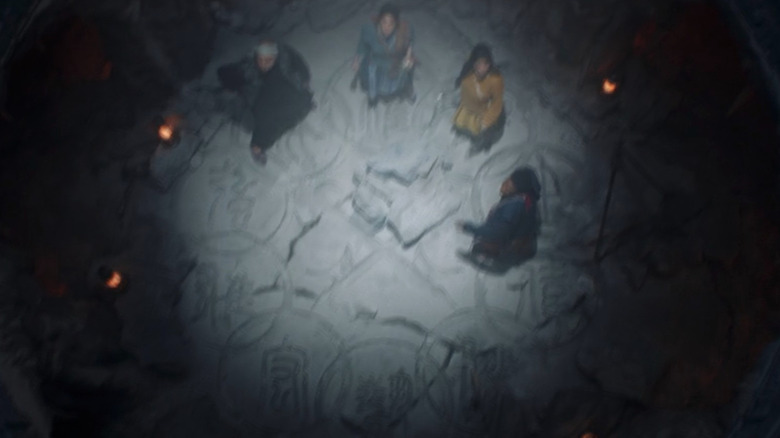 Disney+/Marvel Studios
This week's episode opens in British-occupied India circa 1942, where we find Kamala's great-grandmother, Aisha (Mehwish Hayat), along with Kamran's (Rish Shah) mother, Najma (Nimra Bucha), and a group of mysterious figures searching for lost items. They find a bangle, but as advised by Aisha, two are needed for them to accomplish their goal, with the other presumedly being stolen by the British. As is revealed by the design of this hidden location, though, the treasure trove belongs to another threat, and it's an ancient one with family issues of its own.
In an overhead shot, we see the location is stamped with the Ten Rings insignia showing that it belongs to Wenwu (Tony Leung), aka The Mandarin, and father to Shang-Chi (Simu Liu). Given his love of powerful accessories, it makes sense that he'd also have others stored around the world, which his invaders are keen to get ahold of. It's a brief moment that finally reveals the most prominent link Kamala has to another significant member of the MCU, as well as a big hint that she may cross paths with more than just Carol Danvers (Brie Larson) in the future. 
From here, we see Aisha don the bangle and have a "did you see that moment" echoing the same experience her great-granddaughter had in Episode 1. Given what we're told later, it becomes clear that Kamala's dip out of reality was actually into another dimension, one that Najma is desperate to get back to by any means necessary.
Meet the Clandestines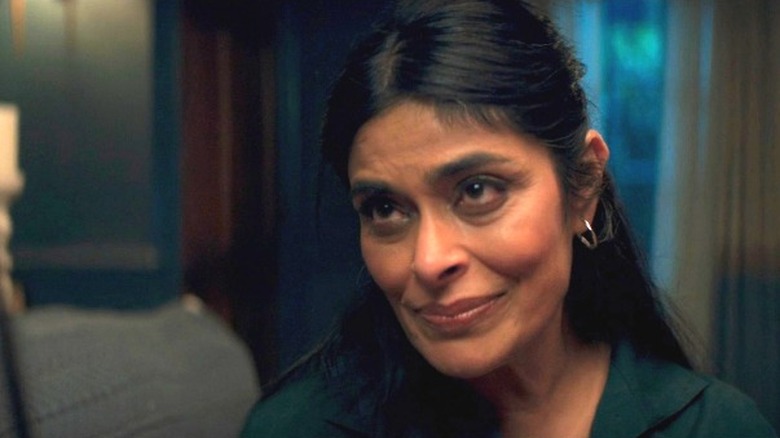 Disney+/Marvel Studios
In the present day, Kamala sits down with Najma, which leads to a rather big info dump even before the title cards. According to Kamran's mother, she and the other strangers from the flashback are called Clandestines, who come from what they describe as the Noor dimension. "As to what we are, we've been called 'Ajnabi,' 'Majnoon,' 'Unseen' ... but what we're most commonly known as is 'Djinn,'" she explains. It's a revelation that Kamala can't quite wrap her head around, realizing her true nature, what she describes to Bruno (Matt Lintz) as "the stuff of my childhood nightmares." Originating from pre-Islamic Arabian mythology, Djinn or jinn are genies that are neither good nor evil, but powerful spirits that cannot be seen by mere mortals (via Britannica).
Both the concept of the Clandestines and Djinn have a history in Marvel comics. Clan Destine is a family of immortals headed by Englishman Adam Destine, who, during the Crusades, fell in love with a Djinn named Elalyth, leading them to head up a family of heroes (via Marvel Database). They first debuted in Marvel Comics in 1994 and have had the occasional altercation with other champions of good. In the MCU, though, these guys look to be more of a no-nonsense group of ancient individuals who don't take long to reveal their true intentions. Good job, then, that it's left to one of Kamala's closest friends and her father to expose what they're really like.
Bruno hits the books, leading to a familiar MCU trope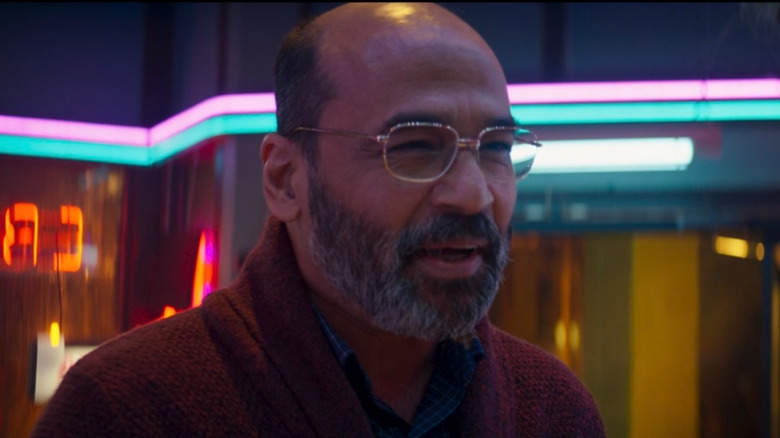 Disney+/Marvel Studios
Keen to learn more about Kamala's heritage, Bruno studies up on the Djinn, only to be interrupted by Kamala's dad, Yusuf (Mohan Kapoor), who unknowingly sheds light on these mysterious beings. Translating for Bruno, Yusuf says the Djinn were "exiled from their home world and damned to live out their days trapped in our own. They move in shadows searching for the key that will help them get home." That the bangle is the key is clear. What's interesting in this deeper exploration of Najma and her friends is that it echoes back to other chapters in the MCU, and may well hint at where things will go in its next era. 
After Doctor Strange's recent journey through the multiverse and Bruno using the MCU's resident theoretical astrophysicist Dr. Erik Selvig (Stellan Skarsgård) as a point of reference for his research, all this talk of dimensions and ancient myths might remind you of a line first said by the God of Thunder (Chris Hemsworth) himself all the way back 2011. In "Thor," the Norse hero tells Jane Foster (Natalie Portman), "Your ancestors called it magic, but you call it science. I come from a land where they are one and the same." 
This line not only nicely ties in with the unfolding story of "Ms. Marvel," but also the recent MCU inductees The Eternals, as well as Wenwu and the Ten Rings, which were last seen during the "Shang-Chi" post-credits scene being examined by Sorcerer Supreme Wong (Benedict Wong) and scientist Bruce Banner (Mark Ruffalo). Considering Kevin Feige recently teased that the next phase of the MCU is imminent and that fans have already seen clues as to what it holds, perhaps the future of the MCU is actually in its arcane past.
Kamran isn't such a bad guy after all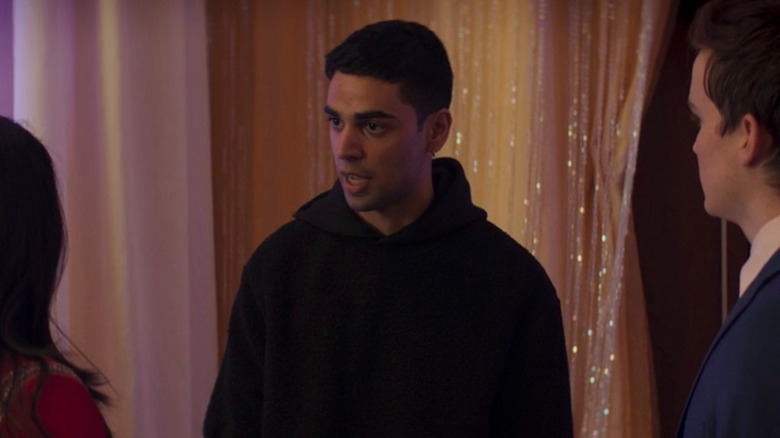 Disney+/Marvel Studios
Besides learning about the history of the Djinn, Bruno advises that things could get ugly if Kamala gives up her bangle. She shares her reluctance with Kamran, who informs his mother. Kamala needs more time, but Najma doesn't plan on giving any. She's fully aware of the risk but willing to take it regardless of the fallout, which is something her son isn't on board with.
It's understandable that fans of Kamala's comic book counterpart may have been a tad weary the second Kamran turned up on the scene and caught Kamala's eye. Being an Inhuman henchman of sorts that broke her heart in the original comic book series, there was every chance that he could do the same here. Yet again though, "Ms. Marvel" is continuing to tweak key details just right, including giving Kamran a chance. Crashing the wedding day of Aamir and Tyesha (Saagar Shaikh and Travina Springer), he warns Kamala of the danger she's in, even fighting alongside her when Najma and the rest of the Clandestines arrive. It's another excellent sequence for Kamala to have a heroic homage, right before she sees another link to her past that hits her and her new foe like a train.
Kamala punches in with a perfect nod to the comics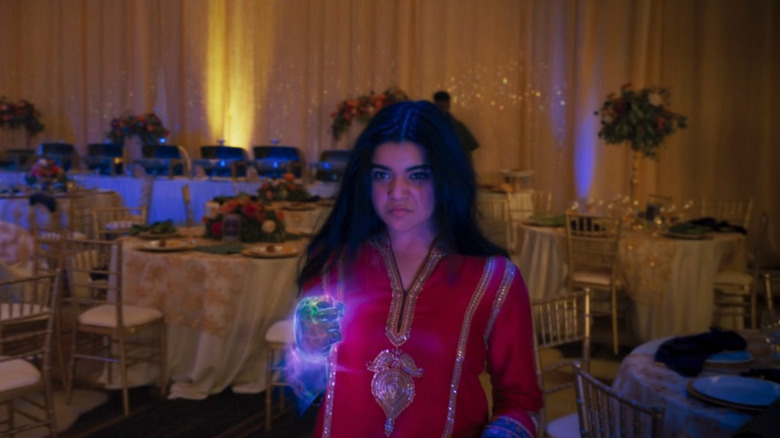 Disney+/Marvel Studios
After a kitchen fight that feels like a super-powered take on Kate Bishop's (Hailee Steinfeld) auction brawl in "Hawkeye," Kamala finds herself cornered by the Clandestines. Najma demands Kamala give up the bangle and attempts to take it by force, only for them both to see a vision of a Karachi train steaming toward them before it disappears. The experience is interrupted by Damage Control, who takes down Najma and her accomplices (Kamran included), as Kamala and an injured Bruno flee the scene, only to be stopped by Nakia (Yasmeen Fletcher), who finally uncovers the truth.
Before her heart-stopping train vision, we finally got to see Kamala holding her own against the Clandestines in a scrap that made sure to give a fist bump to the comic books she spawned from. When details about the live-action version of "Ms. Marvel" began to come out, some fans were pretty vocally upset that Kamala's powers were different from her comics counterpart, who had extreme limb-extending elasticity. However, during her ballroom blitz, her projection of a giant fist works as a great little nod to how she embiggens herself in the books, and it fits like a glove. It's also great to see her using her powers to dodge and defend herself before throwing out a jab as a last resort, just like a hero would. Captain Marvel would be proud.
Next stop: Karachi (and maybe Kamala's first team-up)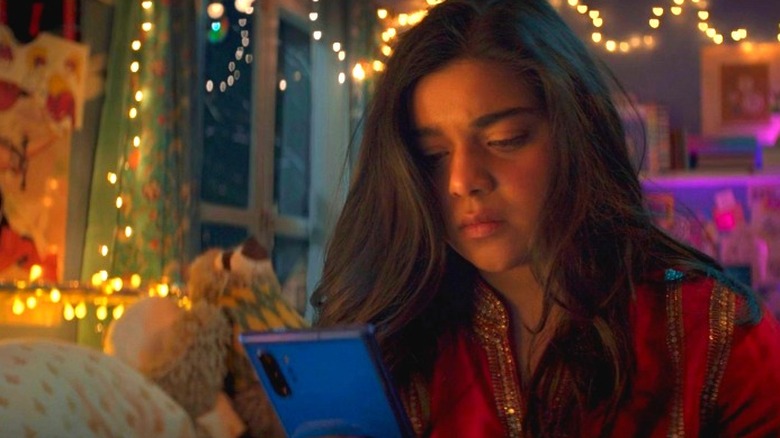 Disney+/Marvel Studios
In the closing moments of this week's episode, things go a bit off-kilter at the Khan household. With the family trying to recover from the big day being ruined for the not-so-happy couple, Kamala is faced with immediate questioning about where she's been. Her mother tries to get the truth, but Kamala remains silent in what feels like a slightly unbelievable moment. Surely, if your daughter had gone missing after potentially pulling the fire alarm at her brother's wedding, you'd want some answers as to why? By giving in so quickly and not pushing for an answer, is Muneeba hinting to the audience that she knows more than she's letting on? Is she waiting on her daughter to reveal a truth that she already knows? It could take a mother-daughter trip to find out.
Going to her room, Kamala's moment of peace is interrupted when her grandmother calls. She reveals that she too saw the vision of the train and that Kamala and her mother must come to Karachi to get this all cleared up. With this inevitable trip on the cards, next week could finally set up Kamala meeting Pakistan's own vigilante, The Red Dagger (Aramis Knight), who has only been seen briefly in the trailers thus far. Is Kamala's first team-up going to go smoothly? We can only wait and find out when "Ms. Marvel" returns next week on Disney+.