The Raunchy R-Rated Comedy You Likely Forgot Starred Phyllis Smith From The Office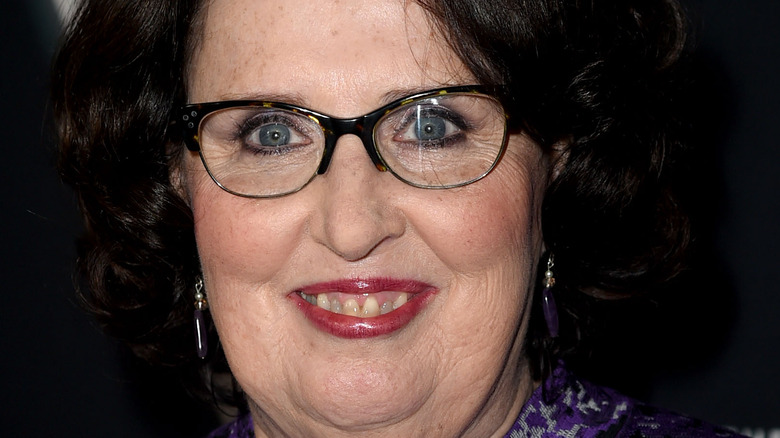 Kevin Winter/Getty Images
The U.S. version of "The Office" is synonymous with its ensemble cast. The show was a major stepping stone in the careers of many of its stars, including John Krasinski, Mindy Kaling, and Ed Helms. Steve Carell will forever be Michael Scott to fans, similarly to how there will never be another Dwight Schrute besides Rainn Wilson. The workplace comedy is widely regarded as one of the funniest and most beloved series of all time since it aired from 2005 to 2013. "The Office" has received 42 Emmy nominations and won five of them, outside an entire list of other accolades too long to mention.
One actor who will forever be remembered for their role in "The Office" is Phyllis Smith, who portrayed the perpetually deadpan Phyllis Vance. She's a quiet sales representative at Dunder Mifflin who loves workplace gossip. She tends to be the butt of Michael's jokes, which takes a hit on her self-esteem. However, she takes party planning very seriously and will stand up for herself when anyone — aka Angela Martin (Angela Kinsey) — gets in her way. 
Smith may be best recognized for her role in "The Office," but she's had a few other memorable roles in Hollywood worth revisiting. 
Smith portrayed Cameron Diaz's wing-woman in Bad Teacher
Back in 2011, Phyllis Smith starred alongside Cameron Diaz, Jason Segel, and Justin Timberlake in Jake Kasdan's raunchy comedy "Bad Teacher." The film starred Diaz as Elizabeth Halsey, a newly single woman forced to return to teaching so she can afford breast implant surgery. She has the hots for her rich co-worker Scott (Timberlake) and ignores the affections of the gym teacher Russell (Segel).
Smith has a small but pivotal role in "Bad Teacher" as Elizabeth's timid co-worker Lynn Davies. Lynn is a wholesome teacher who likes going to the zoo and really cares about her job. However, she gets into Elizabeth's chaotic orbit and becomes her unofficial wing-woman to help her win over Scott. One of Lynn's best scenes featuring is when she, Elizabeth, and Russell are smoking weed in the gym, and she takes one hit of a joint after being peer-pressured and runs off to find a hot dog. The dry humor of the character evokes memories of Smith's portrayal of Phyllis in "The Office," and both women have inherently nurturing personalities. 
Auditioning for the role was new to Smith, who was previously used to smaller TV roles. She admitted that was nervous entering a massive table read full of executives. "When I actually got to the table, I was really shaking, and people started laughing after my first line to Cameron," Smith said to Slate. "Part of Lynn's character grew out of my own fear at the table read." The actress also opened up to the publication about how she related to the Lynn character due to her own personal experiences. "After it was shot, not prior, I realized that I was reliving my seventh- and eighth-grade life," she shared. "My character, Lynn, wants to be liked and wants to be popular."