Whatever Happened To Phyllis From The Office?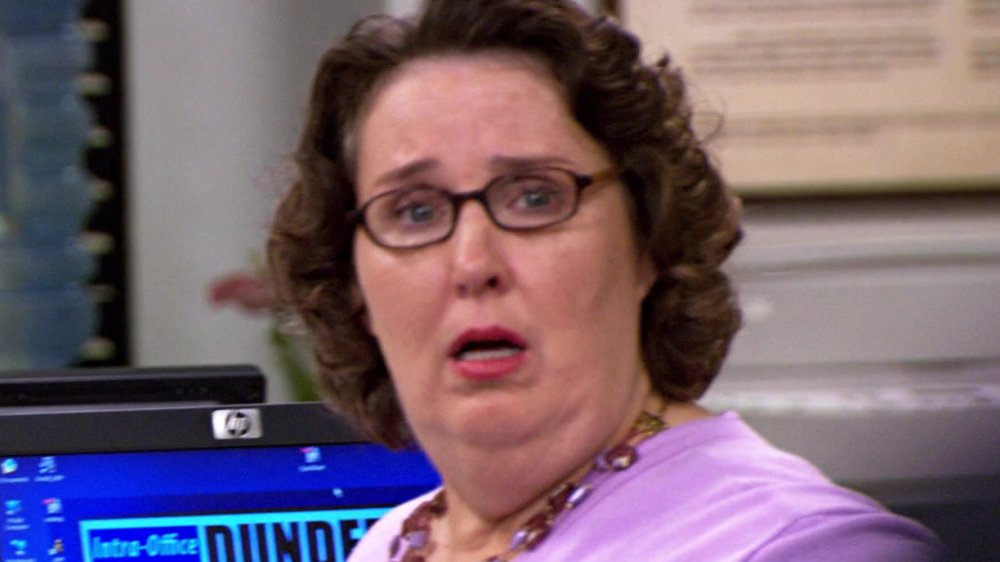 One the reasons that The Office, a mid-broadcast-season replacement adapted from a popular British sitcom, became a smash hit and beloved pop culture staple is the show's incredible ensemble cast. Against the dullest possible backdrop — a mid-sized, somewhat unsuccessful paper company called Dunder Mifflin located in "scenic" Scranton, Pennsylvania — The Office flourished because of the people populating the titular office, who made up a perfectly paired group of stone-cold weirdos.
Besides series star Steve Carell, who shepherded Dunder Mifflin for seven seasons as the well-meaning but constantly buffoonish regional manager Michael Scott, plenty of popular actors spent time in Scranton — including Jack Ryan and A Quiet Place star John Krasinski as Jim Halpert, The Hangover breakout Ed Helms as Andy Bernard, The Mindy Project writer-showrunner Mindy Kaling as Kelly Kapoor, and more. But let's not forget about some of the people who completely rose to stardom during their time on The Office — like Phyllis Smith, who played Phyllis Vance.
Smith wasn't even an actress before she was cast on The Office, and many of her co-stars remember her humble beginnings. During an episode of their Office-themed podcast Office Ladies, Angela Kinsey (who played the irascible Angela Martin) and Jenna Fischer (who played Pam Beesly-Halpert, one of the emotional cores of the show) talked about the interesting way they first met Smith. 
While discussing the show's slow start, Fischer mused, "I think this is an interesting tidbit. Phyllis Smith, who plays Phyllis on the show, she was the casting associate for The Office. So when I auditioned for The Office, she read my audition scenes with me." Apparently, the pilot director Ken Kwapis particularly liked Smith after watching her read with the rest of the cast. According to Fischer, Kwapis then told Greg Daniels, who developed The Office, "I want her on the show. Can I give her a part on the show?" 
She further explained, "And so Phyllis went from being a casting associate, which she had done for years ... to having a part on this pilot."
Even though Fischer noted that Smith's casting came with pretty low stakes — since they weren't sure the show would even continue past its short first season, it didn't seem like a problem for Smith to take the part — but it's a good thing that she did, as Phyllis Vance proved to be one of the sweetest and funniest characters on The Office. An often mild-mannered saleswoman with a penchant for gossip and an extraordinarily passionate relationship with her husband, Bob Vance (of Vance Refrigeration), Phyllis' persona on the show was characterized by her strong personal opinions, friendships with her co-workers, and excellent, often filthy one-liners. 
What Phyllis Smith has been up to since leaving Scranton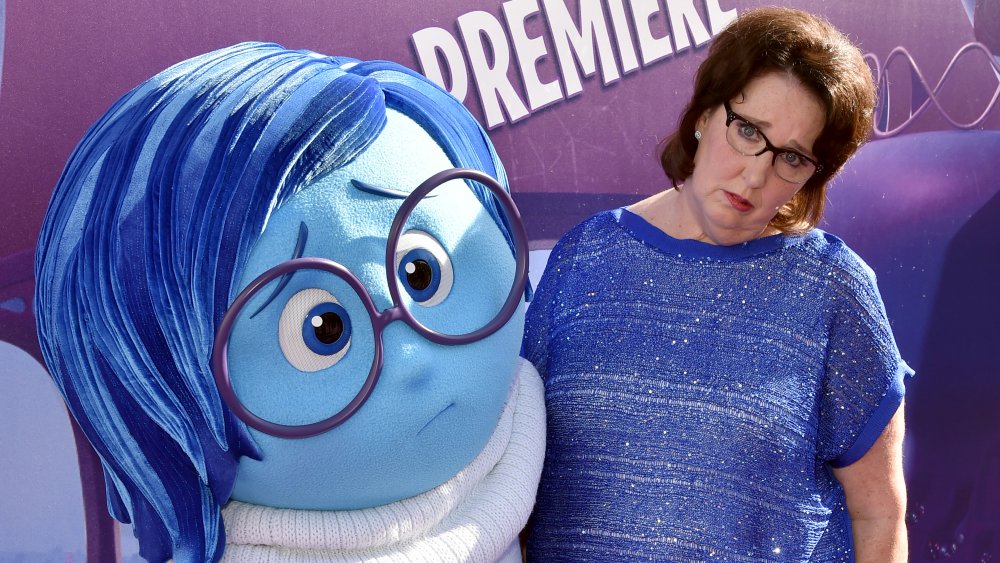 Kevin Winter/Getty Images
Though other cast members like Carell came and went, Smith stuck with The Office until it officially ended its run in 2013. She's maintained a relatively low profile since leaving Dunder Mifflin behind, but Smith has lent her talents (and her voice) to some seriously big projects in recent years.
After supporting roles in comedies like Butter (alongside Jennifer Garner) and Bad Teacher (with Cameron Diaz), Smith took her biggest post-Office role when she signed on to one of Pixar's most ambitious projects: 2015's Inside Out. The film – which ultimately won an Academy Award for Best Animated Feature — featured Smith, her Office co-star Mindy Kaling, Amy Poehler, Lewis Black, and Bill Hader as the core emotions within the mind of an 11-year-old girl named Riley. Each voice actor was perfectly cast: Poehler's voice radiates Joy, Hader performed Fear to a T, Kaling pulled off Disgust with aplomb, Black was the only logical choice for Anger, and Smith, with a voice like Eeyore, embodied Sadness. Inside Out was a huge hit both critically and commercially, and though Smith wasn't seen on screen, her performance was familiar to fans of The Office nonetheless.
After Inside Out, Smith laid low for a few more years before joining the streaming revolution and taking a role on Netflix's The OA, which ran for two seasons before it was canceled in 2019. Alongside The OA creator and star Brit Marling, Smith played Betty Broderick Allen (often referred to as BBA), who works as a schoolteacher. Together, Smith's BBA and Marling's Prairie Johnson try to uncover the secrets of the universe. Thanks to Smith's background as a dancer, it turned out she was a perfect fit for this fantastical, unnerving, and creative show, which introduced audiences to "the Movements."
Smith might only have a few credits to her name in the aftermath of The Office, but they're certainly worthy ones — and in any case, fans can re-binge The Office any time they want Smith's comforting presence on their screens.