The Major Walking Dead Cameo We Almost Saw In The Boys Season 3
As "The Boys" universe continues to expand — both with the Amazon Prime animated spinoff "The Boys Presents: Diabolical," as well as Season 3 of the live-action series on the streamer — more famous faces continue to join the franchise. Chief among them is Jensen Ackles, the "Supernatural" star who plays the pivotal role of Solider Boy this season. Soldier Boy, of course, is a vintage Vought Corporation super soldier whom two of The Boys — Billy Butcher (Karl Urban) and Hughie Campbell (Jack Quaid) — are trying to enlist in their effort to destroy Homelander (Antony Starr), who is spiraling out of control.
It seems, though, that "The Boys" creator Eric Kripke didn't want Ackles didn't want to join the series alone, which is why he reached out to the actor's "Supernatural" co-star to join his buddy. But when you're an actor already tied to a hit series like "The Walking Dead" and are slated to appear in a "Walking Dead" spin-off, the odds of an appearance on "The Boys" dwindle very quickly.
Efforts have been made to get Jeffrey Dean Morgan on The Boys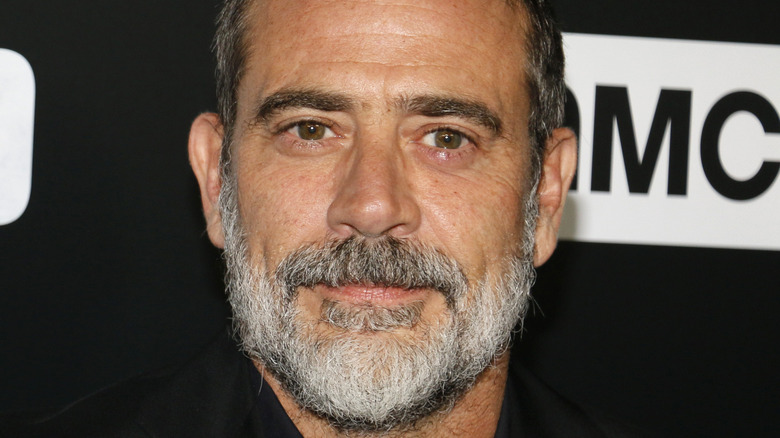 Tinseltown/Shutterstock
According to Entertainment Weekly, interest began brewing to cast "The Walking Dead" star Jeffrey Dean Morgan during a Twitter conversation between Morgan and Eric Kripke in 2020. After Morgan pledged his support for the series, Kripke tweeted, "I'll make you a deal. Season 3. I'll write it, and if you're avail, come shoot it!" to which the actor responded, "In a heartbeat!"
Sadly, that is as far as the hopes for a potential appearance of Morgan on "The Boys" seem to be going. Morgan, who earned some superhero credibility with his role as Edward Blake-slash-Comedian in Zack Snyder's "Watchmen" movie in 2009, is knee-deep in other work, Jensen Ackles told EW. However, the actor noted that Morgan has been his biggest Solider Boy cheerleader and would love for his friend to board the series.
"I don't know exactly what was in the works for that, but I know that there were some preliminary conversations of how and what and when and why that just didn't work out with Jeff's schedule," Ackles told the publication. "He's a busy man, and everybody wants him to come on their show." Specifically, that schedule includes Morgan's spin-off series from "The Walking Dead," called "Isle of the Dead," which is set to premiere sometime in 2023.
"Sad for me, happy for him: He's currently the lead, along with Lauren Cohan, on 'The Walking Dead' spin-off," Kripke told EW. "So, schedule-wise, I don't know. We might still remain star-crossed, unfortunately, because I did ask. We had a role come up, and my first question was, 'Well, is Jeffrey available?'" As for a potential appearance on Season 4 of "The Boys," Kripke told the publication that it's unlikely, although "the question has been asked."
"The Boys" Season 3 is streaming exclusively on Amazon Prime Video.