The Blacklist Star Who Is An American Hero In Real Life
One might not think that there is a real-life hero within the confines of the popular crime drama "The Blacklist," but then again, this particular series is known for its twists, turns, and mysterious origins. NBC's "The Blacklist" is about an extraordinarily long list of secret and clandestine criminals gathered by Raymond "Red" Reddington (James Spader). Although Red is himself a former criminal, he is willing to help the FBI with their endeavors by granting them small peeks into his insightful list of dangerous lawbreakers.
Considering the murky moral ramifications of "The Blacklist," Red's retinue of allies and enemies run the gamut from loyal and dedicated agents of the law, to heinous and unscrupulous murderers with vast connections to criminal empires. In later seasons, Red interacts most with FBI Special Agent Donald Ressler (Diego Klattenhoff), FBI Counter-terrorism Division Assistant Director Harold Cooper (Harry Lennix), and Red's loyal protector Dembe Zuma (Hisham Tawfiq). 
Although all of these characters face danger repeatedly throughout the series, many people may not realize that one of them is an actual real-life hero. In fact, before becoming an actor, this man took part in a defining moment in modern America.
Hisham Tawfiq was a firefighter at Ground Zero on 9/11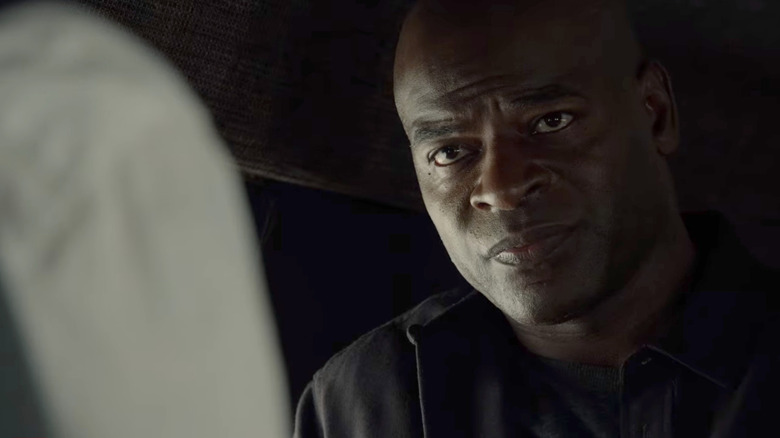 NBC
Prior to joining the cast of "The Blacklist" in 2013, Hisham Tawfiq, the actor who plays Dembe Zuma, served as a Marine and a firefighter (NBC News). After enlisting in the Marine Corps directly out of high school, Tawfiq deployed with Operation Desert Storm. Shortly after returning from his tour of duty, he signed up to work for the Fire Department of New York City. In this role, he later took part in rescue operations following the terrorist attacks on the Twin Towers on September 11, 2001. 
In an interview with Our Town, Tawfiq was asked if he misses his former firefighting role, and he replied that he does and doesn't. Interestingly, he said that he misses the adrenaline rush, but doesn't miss jumping up in the middle of the night. He also noted that one of his brothers still works at his old precinct, and on account of that, he still feels connected to his former profession.
Speaking with Entertainment Weekly, Tawfiq spoke about what it was like when he first got his firefighting job. "It was almost like hitting the lotto. I felt like Superman getting into all the gear and going into fires and getting dirty and being smoky. It was extremely exciting for me, and gave me that rush that I think I live for," Tawfiq said. "After 9/11, things changed. A lot of the excitement changed. I lost a lot of buddies, and the danger of what I was doing started to sink in. A lot of the Superman mentality left after that."
Tawfiq shared an image from Ground Zero
Hisham Tawfiq's heroics weren't lost on the denizens of Reddit, who coalesced around an image posted by u/RadioactiveChikn that highlighted Tawfiq's efforts in the aftermath of 9/11. Several Reddit users heaped praise on the firefighter-turned-actor, and u/stv7 said, "I had no idea. What an incredible guy. His character is such a calming and strong presence in a way that could only be portrayed by an actor who is just that in real life too." More than 700 Reddit users upvoted the post, which is filled with other comments from fans of the series describing Tawfiq as a true hero.
Amusingly, u/Smooth-Criminal-TCB wrote, "Just when I thought I couldn't like Dembe more. Hisham is awesome." Needless to say, Reddit users were utterly enraptured by Tawfiq's real-life history. One of the more interesting notes about the actor is the fact that his two careers actually overlapped for a number of years. In fact, when Tawfiq first popped up in "The Blacklist," he was still a member of New York City's Fire Department. According to Entertainment Weekly, Tawfiq retired from his firehouse in 2016, after 20 years of noble service.