Henry Thomas On New Action Film Crawlspace, ET's 40th Anniversary, And More - Exclusive Interview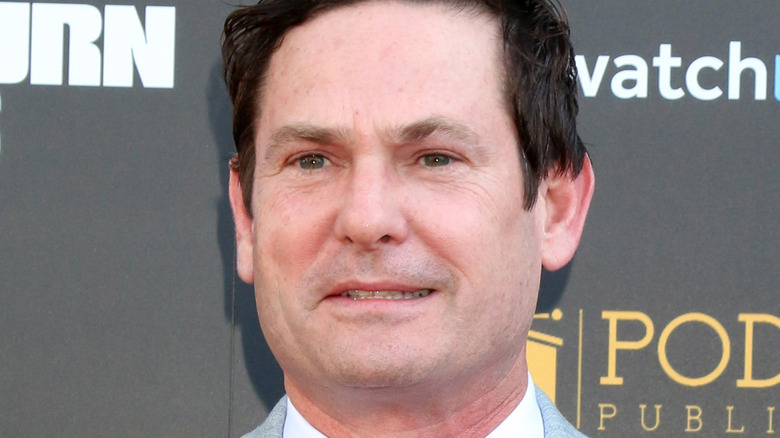 Kathy Hutchins/Shutterstock
Having starred in one of the biggest movies of all time as the young hero, Elliott, in director Steven Spielberg's "E.T. the Extraterrestrial," iconic actor Henry Thomas could have easily been stuck in a mold in Hollywood following the release of the 1982 classic. Instead, the actor in the ensuing four decades went on to star in dozens of acclaimed films and television series in several different genres and worked alongside some of the industry's biggest stars and filmmakers.
Thomas has appeared in more than 70 roles since "E.T.," inclulding playing the young Norman Bates — the teen version of the legendary character Anthony Perkins created — in "Psycho IV: The New Beginning." From there, Thomas appeared opposite such stars as Brad Pitt and Anthony Hopkins in director Edward Zwick's searing period epic "Legends of the Fall" and worked under the auspices of filmmaker Martin Scorsese and opposite Leonardo DiCaprio in the sprawling historical drama "Gangs of New York."
In recent years, Thomas has become one of writer-director Mike Flanagan's venerable acting troupe members in the filmmaker's acclaimed horror projects, including the Netflix miniseries "The Haunting of Hill House," "The Haunting of Bly Manor," and "Midnight Mass," as well as the films "Gerald's Game" and "Doctor Sleep." Next up, Thomas will reteam with other such Flanagan favorites as Kate Siegel, Carla Gugino, and Bruce Greenwood in the Netflix miniseries "Fall of the House of Usher," which also stars "Star Wars" icon Mark Hamill.
In the meantime, Thomas is thrilled to explore the action thriller genre in "Crawlspace," new on digital video (Paramount Pictures Home Entertainment). Thomas stars in the film as Robert, a struggling plumber caught in a crawlspace under a cabin after he hears a pair of thugs murder its owner a floor above. After suffering a serious wound at the hands of the criminals, Robert snaps into survival mode and uses his plumber's tools and knowledge to outsmart the killers. Thomas sat down with Looper in an exclusive interview to discuss "Crawlspace," the 40th anniversary of "E.T.," as well as his work with Flanagan and first meeting with Hamill.
Thomas had to cope with claustrophobia as he entered Crawlspace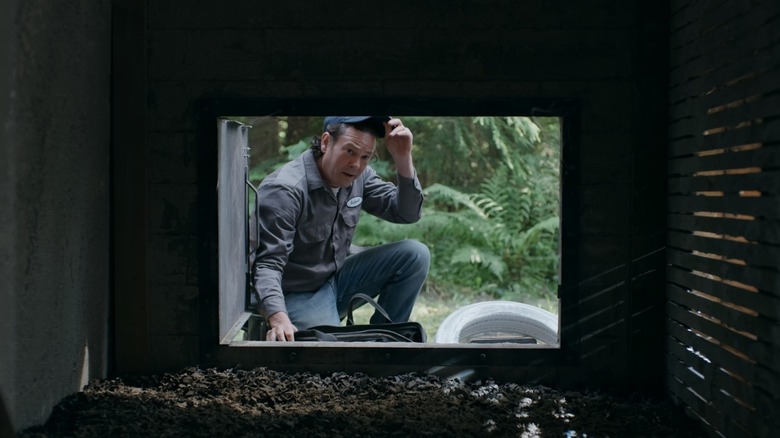 Paramount Pictures Home Entertainment
Congratulations on "Crawlspace," Henry. The title immediately grabs me because I think crawlspaces, maybe even more than attics, are the scariest places in houses — especially if you're claustrophobic. So, were you claustrophobic going into this project and did doing the film maybe heal you of that fear?
I am a little claustrophobic and I don't like tight spaces — and no, it didn't heal me at all. It made it worse, probably! [laughs] It was a little bit of a therapy session being down in that set all day because we built it on a stage, but [they were still] pretty tight quarters.
Claustrophobic or not, that all changes when you got two murderers up above you — a floor above — and I love how "Crawlspace" shows how resourceful a plumber can be fighting the bad guys. Was that part of the appeal to join the project, knowing that you'd be playing an unlikely hero?
Sure. It's fun, and there's a certain feeling of wanting the underdog to win. There's also a certain blue collar hero aspect to it that appeals to me and a lot of other people, but it was fun because it was like "Die Hard" or "Home Alone" [but set] under a cabin.
It is a fair comparison to say, then again, this is a "Die Hard" movie, but for plumbers in a crawlspace? On top of those innovative fighting skills, you get to say great lines like, "I'm a plumber. I deal with pieces of 'bleep!' all day long." That's a John McClane, "yippie-ki-yay" line right there, isn't it?
[Laughs] For sure. It was a lot of fun, and I don't have a lot of opportunities to be in action movies. It was a lot of fun for me as an actor to do that. Bradley Stryker and Ernst Harth, who played the villains, they were great. We had a lot of fun on and off set. It was a fun experience.
Feeling the pain and bringing on the hurt, Die Hard style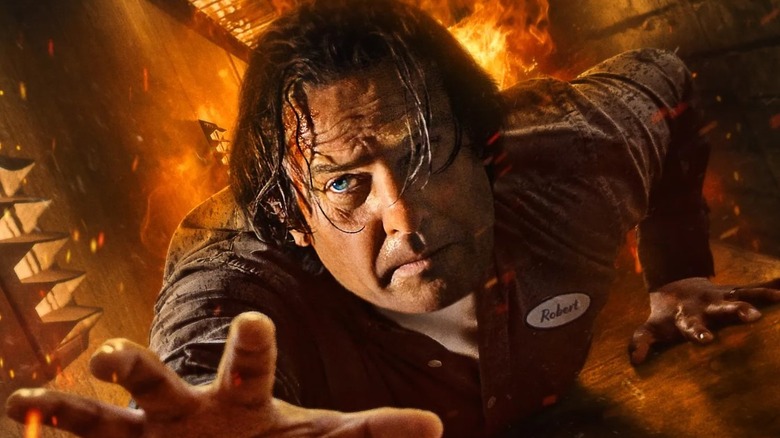 Paramount Pictures Home Entertainment
Like John McClane with the glass to the feet in "Die Hard," your character, Robert, takes a pretty nasty shot in "Crawlspace." We can feel your pain right along with it, especially when you — I don't want to give away too much — when you have to heal your own wound. When you watch that scene now, do you wince even though you know it all happened via movie magic?
That was the intention. You want the audience to feel it because immediately you see a guy who's wounded and he fixes himself up, you're [thinking], "Unless he did something really horrible to end up that way," you're pretty much on his side right away.
I love how you've explored so many different genres in your career, and now, the action thriller genre with "Crawlspace." Is doing a movie like this — where you do some pretty extreme stuff and bring the hurt to the bad guys — something you've always hoped for?
It's fun, but more importantly, "Crawlspace" was fun for me as a new genre to explore, [and] it was also cool because it's actually the first film that I've had a starring role in [after] a long time. At 50, I get hopeful that maybe new roles will open up because of it — and maybe you'll see me as a cantankerous sidekick in a big action movie!
When Elliott met Luke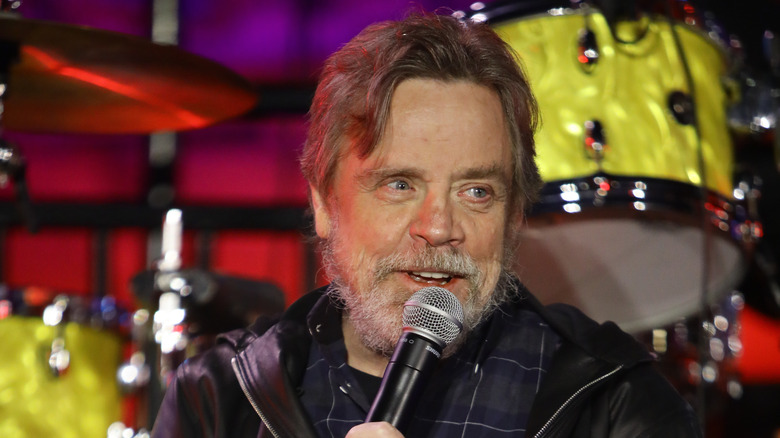 Tiffany Rose/Getty Images
I love how you've been part of Mike Flanigan's troupe with "The Haunting of Hill House" and many other his projects. Now, I don't expect you to reveal anything about the next one, "The Fall of the House of Usher," but since Mark Hamill is also in the miniseries, did it come up between the two of you in conversation that you both just happen to be in two of the biggest and greatest films of all time?
For sure, yeah. I said I wasn't going to bring it up [meeting him]. I told myself I wouldn't say anything about how Luke Skywalker was my hero and all of that stuff, and how "Star Wars" changed my life, but the first words out of my mouth were something like that. When I met him, I gushed and said, "You're the whole reason I wanted to be an actor in the first place was because I wanted to be on Tatooine," and he said, "I'm so excited to meet you and so excited to be working with you," and it blew my mind because ... growing up, certain iconic people, you never think you're going to meet, let alone work with them. That's one of the wonderful things about my experience in my career is that I've met a lot of those people that were my heroes.
Did Mark ask you about E.T. specifically? The creature?
I can't recall exactly what he asked me about "E.T.," because I was still thinking, "Oh my God, Luke Skywalker is talking to me!" [laughs]
It's interesting, because you guys shared the same experience of getting this extraordinary amount of exposure and success at a young age. You two are always going to have that common bond.
There's a certain nostalgia and everything associated with those iconic roles that we both played and the films themselves. "Star Wars" is a whole other entity onto its own, but I think at the time in the '70s — late '70s and '80s — to be in a blockbuster, that was a big deal.
Reflecting on E.T.'s 40th anniversary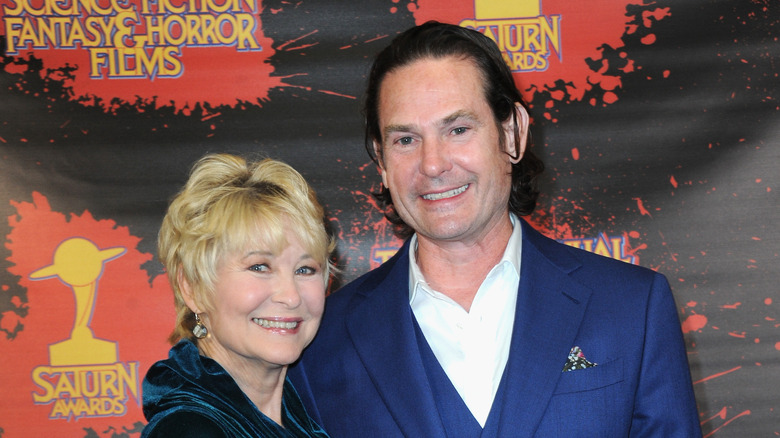 Albert L. Ortega/Getty Images
Is your work in "E.T." always present to you, even though it was a long time ago? When I mentioned "Field of Dreams" to Gaby Hoffmann in a recent interview, she said since she was a 5-year-old girl, she barely remembers working on the film. Looking at it from that perspective, does it seem like, in a way, like "E.T." is dream that you never quite fully grasped because it happened 40 years ago?
The memories are [from] very long ago, but I remember them well. It's part of my childhood experience in the sense that I was working and on set and that was a big part of my life for a number of years as a kid. I remember it, but I remember it differently than ... I don't think about the film. I think about the catering and the makeup chair and things like that.
Thomas is happy to haunt houses with Flanagan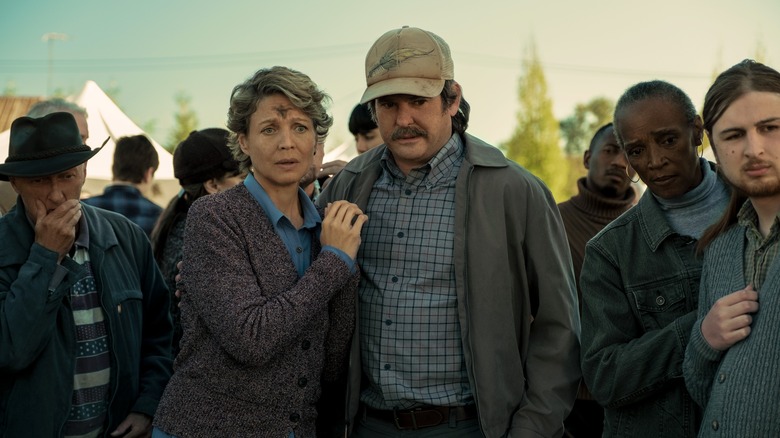 Eike Schroter/Netflix © 2021
Back to Mike Flanagan, and how you've been in everything of his from "The Haunting of Hill House," "Doctor Sleep" — where I love your take on Jack Torrance — and "Midnight Mass." Do you have a particular favorite that you've done with him? Mike has an incredible handle of the horror genre.
Oh yeah. He's a very skilled filmmaker and an auteur, so I would really love to see Mike Flanagan [directing] in a different genre. That would be very exciting. He is a master of suspense and the horror genre, and he knows how to kind of skew it in a way that it kind of turns it on its head a lot of times. I'm looking forward to audience's reactions to "House of Usher," which I just finished and I'm very excited about — and the characters in this story are really amazing. My favorite [Flanagan project] so far is "Haunting of Hill House."
Directed by L. Gustavo Cooper and written by Jacob D. Wehrman, "Crawlspace" is now available on digital video from Paramount Pictures Home Entertainment.
This interview was edited for clarity.