Happy Death Day Tracking For $22.8 Million Opening Weekend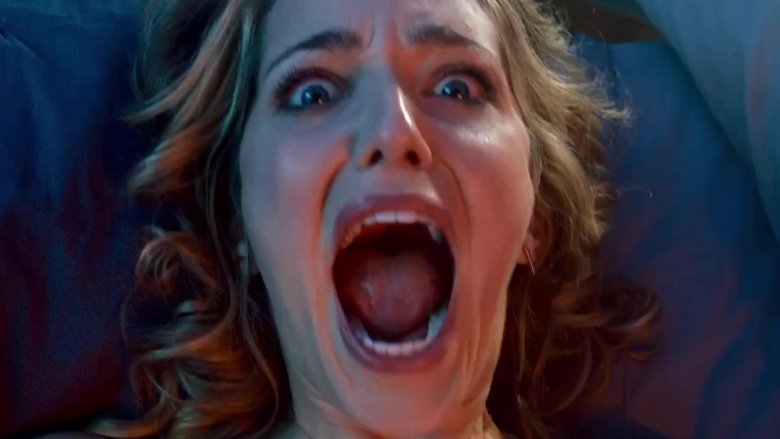 Happy Death Day is set to be the life of the box office this weekend. Per Variety, the horror flick is tracking for a $22.8 million opening. 
The film, which pulled in $1 million in Thursday night previews, is projected to yield another $10 million on Friday, $8 million on Saturday, and $4.8 million on Sunday for a cumulative first weekend revenue that's a sizable leap ahead of its initial $15 million to $20 million estimate.
Directed by Christopher B. Landon (Disturbia, Paranormal Activity: The Marked Ones), Happy Death Day features a plot similar to that of the hit Bill Murray comedy Groundhog Day, only much, much gorier. Jessica Rothe (La La Land) stars as college student Tree Gelbman who is forced to relive the day of her own murder over and over again (with both its everyday details and horrifying end) until she successfully discovers her killer's identity.
Happy Death Day also stars Israel Broussard as Carter Davis, Ruby Modine as Lori Spengler, Charles Aitken as Gregory Butler, Laura Clifton as Stephanie Butler, Jason Bayle as David Gelbman, Rob Mello as Joseph Tombs, and Rachel Matthews as Danielle Bouseman. Universal Pictures backed the low-budget pic, with has Jason Blum's Blumhouse banner on board as producer. 
The film is on its way to become yet another victory for Blumhouse. Back in January, the company's James McAvoy and Anya Taylor-Joy-led psychological horror-thriller Split opened to the tune of $40 million, taking home $278.3 million globally at the end of its run. And just a month later, Jordan Peele's surprise hit Get Out launched to $33.4 million, picking up $253.1 million in worldwide revenue. 
It will be interesting to see how Happy Death Day fares at the box office this weekend, especially considering the competition its up against. The pic must race against both Blade Runner 2049, which stars Ryan Gosling and Harrison Ford, and the action-thriller The Foreigner, starring Pierce Brosnan and Jackie Chan in a role like you've never seen him before. Chan takes on the part of an ex-military operative who hunts down the people responsible for murdering his daughter. With $775,000 already in the bag from Thursday previews and a $4 million Friday projection, The Foreigner should take home third place this weekend with $10.27 million. 
This weekend will also see the launch of two smaller-scale pics: Marshall and Professor Marston and the Wonder Women. Marshall features Black Panther star Chadwick Boseman in the lead as the first African-American Supreme Court justice Thurgood Marshall. Joining Boseman in the pic are Sterling K. Brown as attorney Joseph Spell and Kate Hudson as Eleanor Strubing, the woman Brown's Spell is accused of attacking. Starring Luke Evans as William Moulton Marston, the creator of the beloved DC Comics character Wonder Woman, will open in 1,229 theaters and is anticipated to gross about $3 million by the end of Sunday.