This Is Where The Prizes For The Price Is Right Are Actually Stored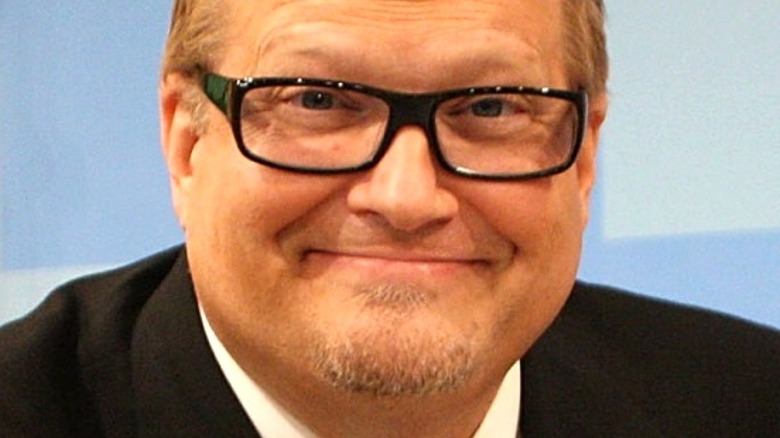 Frederick M. Brown/Getty
For roughly half a century, the CBS game show "The Price Is Right" has doled out incredible prizes and lavish Showcase hauls that have included cars, boats, and trips. Which makes us wonder — where does the network actually keep all this crazy stuff?
Washing and drying machines, workout equipment, guitars, kayaks, refrigerators, scooters, power tools, and furniture. This is just a small sample of "The Price Is Right" goodies being handed out every episode on the long-running game show, either during the individual pricing games or the Showcase Showdown. While viewers may automatically think that the items being given away are just ordered up and shipped out from their main distributors, that's not the case.
According to producer Adam Sandler, the "Price Is Right" team has a small group of workers devoted to finding prizes and purchasing them for the show. "We get prizes in various different ways," he told The A.V. Club in a 2019 interview. "We have an entire team of people, about 15 strong. All they do all day is [find prizes]." Once the employees are able to track down some good stuff that they think will work, they then bring it to the crown jewel of "The Price Is Right" — a Los Angeles warehouse complex.
Over $5 million in prizes are stored at The Price Is Right warehouse complex in LA
According to The A.V. Club, there's typically an estimated 3,000 prizes — worth over $5 million — inside "The Price Is Right" show inventory at any given time, with it all being housed inside four different warehouses in Los Angeles. The complex is situated on the CBS Television City lot and is known to hold upwards of 30 cars and three boats. It's made up of 28,000 square feet of warehouse space. Producer Adam Sandler told The A.V. Club that the show's division of prize finders brings all of their loot down to the warehouse complex for final inspection and approval before they're eventually given out to winners.  
"They go out to various different vendors," Sandler explained. "Whatever we want they make a call and see if we can get it here. And if we want it, it winds up on 'The Price Is Right.'" And while it's easy to do, don't think for a second that the finders and showrunners are just picking all of these prizes at random or what costs the cheapest. "We decide what we want on 'The Price Is Right' based on, 'What do we want? What do we think everybody else wants?' Everybody wants a car, everybody wants cash, everybody wants trips. But hey, everybody could use a new bike. Wouldn't it be cool to have a pool table? Hot tubs are fun. We want everybody to have the coolest, the latest, the greatest of everything. And that's what we go out for every single time."