What It Actually Means To Win A Boat On The Price Is Right
Gabe Ginsberg/Getty Images
"The Price is Right" is one of the longest running and most beloved TV game shows of all time. Originally hosted by game show legend Bill Cullen in the 1950s, the show was revamped by dream production team Mark Goodson and Bill Todman for a successful run starting in 1972 with Bob Barker. Actor and comedian Drew Carey took over as host in 2007 following Barker's retirement, per IMDb.
After lucky audience members are invited to "come on down," they earn the chance to compete for prizes and cash, including vehicles and luxury vacations. Over the years, games played on "The Price is Right" have included the Dice Game, the Clock Game, Lucky Seven, Plinko, and the Showcase Showdown, which gives players the chance to score an eye-popping prize, such as a car or a boat.
However, winners don't get to cruise out of the studio with their high-end prizes. Winning a boat on "The Price is Right," for example, is not exactly smooth sailing for the recipient. Here's what happens following a big win on "The Price Is Right."
Winners shell out big bucks for taxes and don't get their loot right away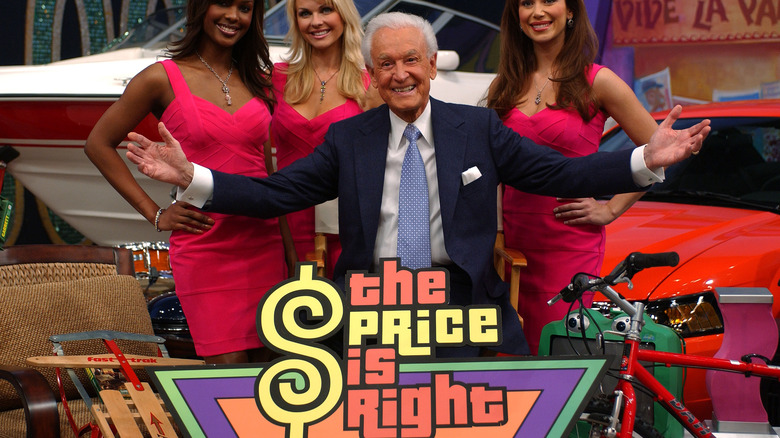 Amanda Edwards/Getty Images
The state of California is the big winner on "The Price is Right." Winners must pay taxes up front before they are given gain access to the prizes, according to Mentalfloss. The taxes must be filed in the state in which the prize was one, which is almost always California for "The Price is Right." Not only is the cost of a big prize such as a boat treated as income, but the price is based on the actual retail value of the prize (just as depicted on the show), not any discount producers may get. Mike Richards, "Price is Right" executive producer, explained to the New York Times that the show mails a tax letter to victorious contestants, letting them know how much in taxes they must pay before they can claim their winnings. 
However, not every winner takes the prize. "Price is Right" contestant Katie Wey told The Post Star that the $60,000 MasterCraft X30 waterskiing boat she won on the show was sold back to the dealer. While she did get to test out the 23-foot boat, the then-college student turned in the keys because she had nowhere to keep the prize. After leaving "The Price is Right" with a total in prizes valued at $83,383, she sold the boat back to Castaway Marina and used the money to pay her $17,000 in taxes, buying herself a new car.