Frozen's Director Made Disney History In A Very Important Way
Regarding the modern Disney canon, few animated films have made the impact that "Frozen" has. Loosely based on "The Snow Queen" by Hans Christian Andersen, the movie went on to win both best animated feature and best original song at the 2014 Oscars (via IMDb) and is considered one of the best Disney movies ever. 
Centered around two sisters, Ana and Elsa, "Frozen" follows the childhood rift between the two after Elsa discovers her ice powers. After their parents pass away mysteriously and Elsa is about to be crowned the new queen, her powers reemerge, and she flees the kingdom in shame. Luckily, Ana goes after her and sets out to bring her sister back home for good.
While the movie already has some notable elements that set it apart from its predecessors (and took Disney 70 years to bring to the big screen), like examining the dark side of love or what it means to be truly accepted, "Frozen" has something special behind the scenes that sets it apart.
Jennifer Lee was the first woman to direct a Disney animated feature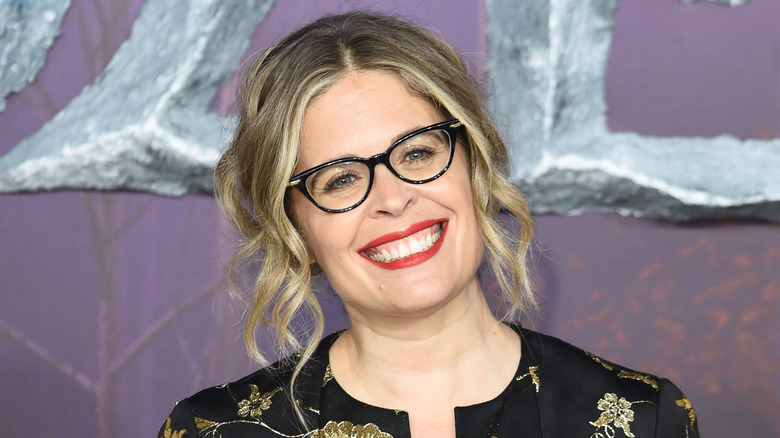 Featureflash Photo Agency/Shutterstock
As it turns out, Jennifer Lee is the first woman to direct an animated feature in Disney history. While initially writing the screenplay, she would also go on to co-direct "Frozen" with Chris Buck (per IMDb). "It wasn't my top concern in any way," Lee offered humbly of the honor in an interview with The Los Angeles Times.
Naturally, the female perspective is part of what makes "Frozen" so memorable in the first place. It's pretty rare, after all, to have a Disney film with not one but two female leads. Furthermore, the fact that the most important love story of the movie is between two sisters probably isn't an accident, especially when you look at who penned the story.
Amazingly, the 3D short that ran before "Frozen" was also a first for female creatives. "Get a Horse!" has the first solo female director's credit (Lauren MacMullan) in Disney history, going back to the 1930s. "Am I really the first woman to do something here by myself? We had to go check because it didn't really occur to us," said MacMullan (via The Los Angeles Times). 
While it was undoubtedly a glass ceiling moment for these two pioneers, it's nice to see that they weren't waiting on anyone's approval. Nonetheless, their work has undoubtedly gone on to make a mark, with the recent "Turning Red" being helmed by an all-female team (per Disney). Lee and MacMullan were completely unaware of their incredible achievement, but sometimes a job well done is its own reward.