Moana Has Quite An Interesting Connection To Star Wars
Walt Disney Studios Motion Pictures
Disney's 2016 animated feature "Moana" remains one of the studio's most beloved from the 2010s. Directed by the powerhouse duo of Ron Clements and John Musker ("The Little Mermaid," "Aladdin," "The Princess and the Frog,"), the computer-animated musical tells the story of Moana (Auliʻi Cravalho), a young girl on a small Polynesian Island. Moana ventures out on the seas with snarky demigod Maui (Dwayne Johnson) to save her island home from certain destruction. The studio's 56th animated feature, "Moana" was a delightful surprise for critics and audiences alike. The film grossed over $640 million at the worldwide box office (via Box Office Mojo) and was loved by critics, currently holding a 95% Tomatometer score on Rotten Tomatoes. Even nowadays, the film continues to live on, as it remains a popular title on Disney+ (via Deadline) and has a spinoff series starting in 2023 on the streaming platform (via Variety).
Behind all its colorful animation, high-flying sea adventures, and catchy Lin-Manuel Miranda songs, "Moana" features a stellar voice cast that helps bring these lovable characters to life. This includes the likes of Auli'i Cravalho, Dwayne "The Rock" Johnson, Rachel House, and Jemaine Clement, amongst others. However, many may not realize that one key voice actor from the Oscar-nominated animated feature (via IMDb)  has a unique connection to another Disney-owned property, "Star Wars." So just what is this connection? 
From the galaxy's best bounty hunter to stern island chief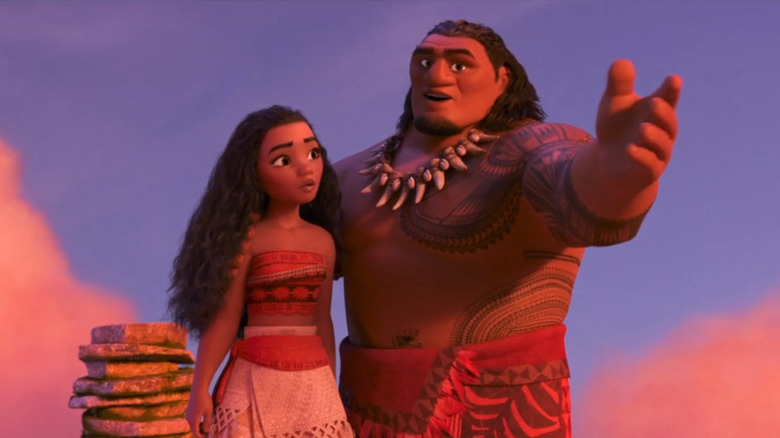 Walt Disney Studios Motion Pictures
While "Moana" mostly focuses on Moana and Maui's adventures, a few other characters do populate important parts of the story, one of them being Moana's father, Chief Tui, voiced by Jango and Boba Fett actor Temuera Morrison. Tui acts as both Moana's father and the chief of the Polynesian island of Motunui. In Morrison's own words regarding the dynamic he and Moana share, he says in an interview with Flicks and the City, "Moana has got this view of the whole 'Hey ready to explore,' wanting to go out, and I've got this view which is a little more closed off. 'Oh, hang on, it's a little bit dangerous out there, so we've got to tread warily,' and I'm trying to contain everybody. I think that's the big dynamic there."
Morrison is most well-known for his escapades as bounty hunter Jango Fett in "Star Wars: Attack of the Clones."  Additionally, he's also acted as Jango's more famous son, Boba Fett, multiple times. This includes the first and second "Star Wars: Battlefront" video games, as well as the Disney+ series "The Mandalorian" and "The Book of Boba Fett." Morrison would even provide Boba Fett's voice in the 2004 DVD re-release of "Star Wars: The Empire Strikes Back," re-dubbing Jason Wingreen, who was the character's voice in the film's original 1980 release. Now if only we could have Morrison re-dub Boba Fett's lines in "The Star Wars: Holiday Special," then his turn with the character will have come full circle.