What You Probably Never Knew About Disney's Aladdin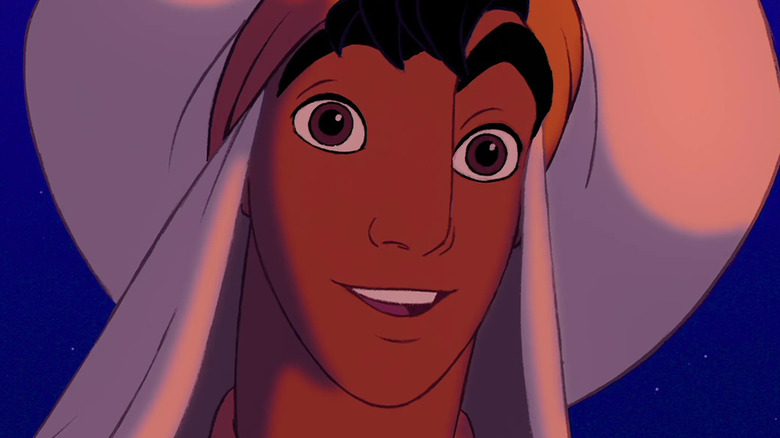 Walt Disney Studios Motion Pictures
"Aladdin" broke the mold of the traditional Disney fairytale when it made its debut in theaters in November of 1992. It had action, adventure, and a character impersonating Arnold Schwartzenegger; "Cinderella" this was not. The film felt distinctly different from the studio's past work because of Robin Williams' landmark performance as the Genie, which brought stand-up comedy energy and a load of pop culture references to an otherwise sincere animated Disney musical. "Aladdin" was different, but it still retained the studio's core DNA.
Decades after its theatrical premiere, Aladdin still stands as a strong entry in Disney's catalog of animated features, albeit one that's also complicated by a number of more problematic elements. Since it was the studio's next film following the Best Picture-nominated "Beauty and the Beast," the pressure had never been higher for the animators to create something great. The production of "Aladdin" was subsequently filled with creative challenges, curveballs, and even personal losses. So hop aboard a magic carpet and let's fly to Agrabah to discover some things you might not know about "Aladdin."
Animators used Robin Williams' stand-up to get him to play Genie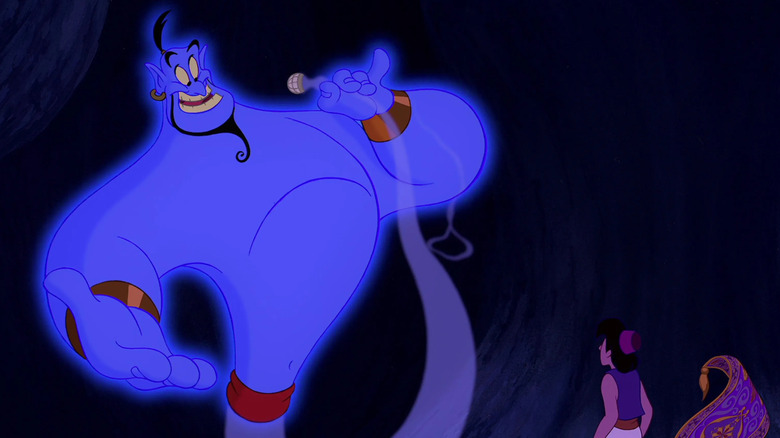 Walt Disney Studios Motion Pictures
When casting the voice roles for "Aladdin," the filmmaking crew really only had one person in mind to play the Genie: Robin Williams (per The Los Angeles Times). By the time the film was in development at Walt Disney Animation Studios in the early 1990s, Williams was already a huge star. If they were going to convince him that voicing the Genie was worth his time, they'd have to get creative — to show how Williams was the one and only person who could bring the character to life in the way they imagined. The story of how they persuaded Williams to join the film is recalled in the 2004 documentary "A Diamond in the Rough: The Making of Aladdin."
As part of the pitch to Williams, animator Eric Goldberg prepared rough animations of the Genie set to audio from Williams' own stand-up comedy album, "Reality...What A Concept." As Williams wackily changed his voice into various impressions of famous figures and told funny stories from his life, the Genie transformed accordingly. The drawings had nearly as much bombastic charisma as Williams' routine, and the comedian was convinced. Disney had its Genie.
Aladdin was meant to be younger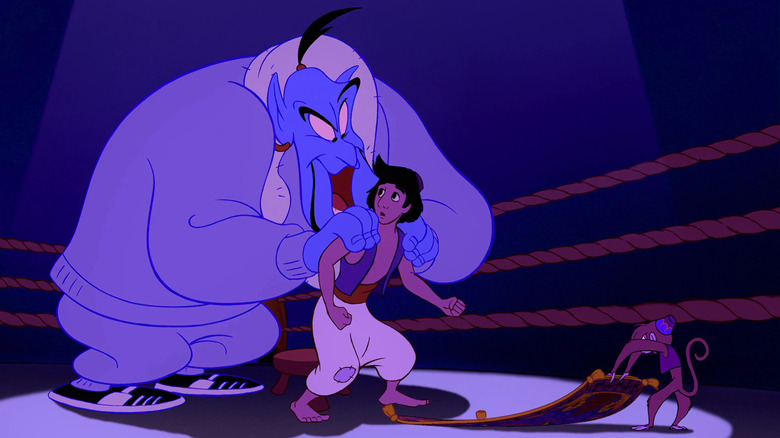 Walt Disney Studios Motion Pictures
When watching "Friend Like Me," the showstopping musical number that Genie sings to show Aladdin the endless possibilities his three wishes could bring, you might notice that Aladdin looks a little bit different than he does in the rest of the movie. Does he look ... younger? You're not imagining things. As revealed in the "Diamond in the Rough" documentary, the film's hero went through some changes during production.
Aladdin was initially designed as a smaller, younger character. When the animators landed on a final design for Princess Jasmine, they felt the two didn't go well together. He was too young for her. As Walt Disney Studios Chairman Jeffrey Katzenberg put it, Aladdin was too much like Michael J. Fox and needed to be more like Tom Cruise. They changed the character design accordingly, also adding what supervising animator Glen Keane calls his "M.C. Hammer pants" in the film's animator commentary. 
The song "Friend Like Me" was one of the first sequences animated for the movie, and it was basically finished by the time Aladdin's character design changed. While the animators did their best to clean up what was there, some of the boyish look of Aladdin 1.0 is still visible in the finished film.
The Cave of Wonders was inspired by Star Wars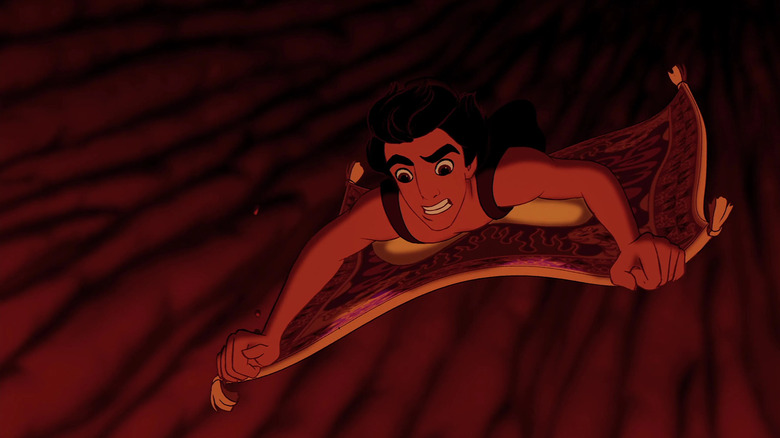 Walt Disney Studios Motion Pictures
If you've seen the sequence in which Aladdin frantically escapes the Cave of Wonders and imagined it would make an amazing theme park attraction, that's partially by design. In the animators' commentary track for the film, supervising animator Eric Goldberg reveals where the layout artists found inspiration for the chase. In developing how Aladdin would move and the way the "camera" would follow him, the crew referenced Star Tours, the "Star Wars" motion simulator at Disneyland.
In "Star Tours," riders sit in what's meant to be a spaceship, with a screen at the front of the cabin acting as a window. The audience flies, dives, and spins through the action, seeing everything from a first-person perspective. Given the daring nature of Aladdin's escape, "Star Tours" was a worthy source of inspiration.
After the release of "Aladdin," a virtual-reality experience called Aladdin's Magic Carpet Ride also opened at Walt Disney World. Using technology that was, in hindsight, quite ahead of its time, guests donned headsets and raced through Agrabah on their own virtual magic carpets. The experience debuted as a test at Epcot in 1994 before migrating to its long-term home at Downtown Disney in 1998, where it remained until the closure of the DisneyQuest facility in 2017.
No straight lines allowed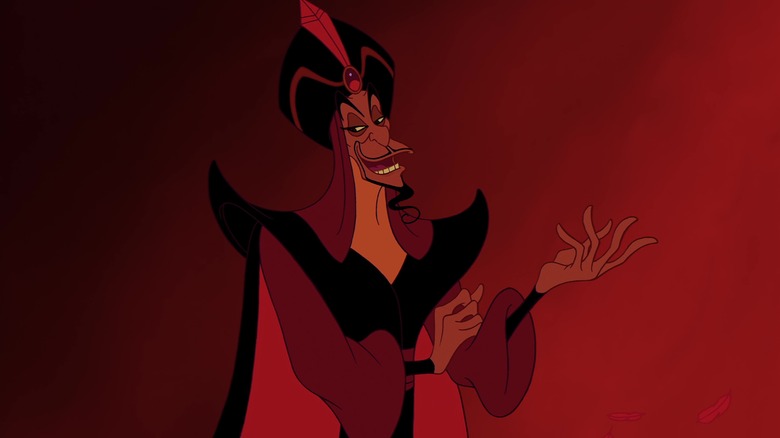 Walt Disney Studios Motion Pictures
With Robin Williams signed on as the Genie, Disney animators knew they were entering territory that no Disney character had existed in before. Not only did they need a character design that would fit the eccentricity of Williams' vocal performance, but they also required an art direction for the entire movie that would complement the Genie's presence.
According to the "Diamond in the Rough" documentary, the artists were inspired by caricaturist Al Hirschfeld, known for his sweeping strokes and curving lines. Using Hirschfeld as a starting point, the team established a style guide and a particular rule that would set "Aladdin" apart from other Disney films. As shown in the 2004 DVD bonus feature "The Art of Aladdin," a note to the crew read as follows: "Avoid straight lines! Rendering can seem to straighten your drawing, so push to get 's' curves and broad arcs in your line drawing."
Furthermore, animators drew their absolutely-not-straight lines in a unique, hand-crafted way. If you look closely, the lines throughout the film are of different weights. The same line begins thin, gets thicker in the middle, and then becomes thin again. This helped envelop the world of "Aladdin" in a whimsical, distinctly cartoonish feeling in which the laws of physics are ignored and anything can happen — a world where the Genie is right at home.
Aladdin takes artistic liberties with its source material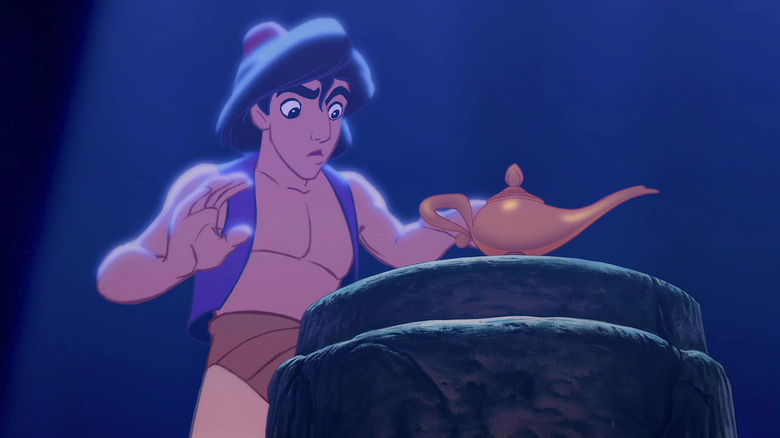 Walt Disney Studios Motion Pictures
The original tale of Aladdin as written in "One Thousand and One Nights" has several differences from the Disney version of the story. Dr. Ali Behdad, Associate Professor in the Department of English and Comparative Literature at UCLA, recalls the history of the original text in the "Diamond in the Rough" documentary. In the original story, there are no magic carpets, Aladdin's mom is present, he has infinite wishes, and the Genie doesn't want to be free. Dr. Behdad argues that the Disney version implementing the idea of Genie's freedom can be read as "an American value" projected onto the character.
Many of the differences from the book were devised during a point in production when the movie was almost canceled. In the "Diamond in the Rough" documentary, Supervising animator Eric Goldberg describes an early screening for executives as "funereal," with major rewrites ordered afterward. It was then that Ted Elliot and Terry Rossio (who would later co-write blockbusters like the "Pirates of the Caribbean" films) were brought in to work on the script, leading to some big changes from the original version of the tale.
Robin Williams recorded hours of unused dialogue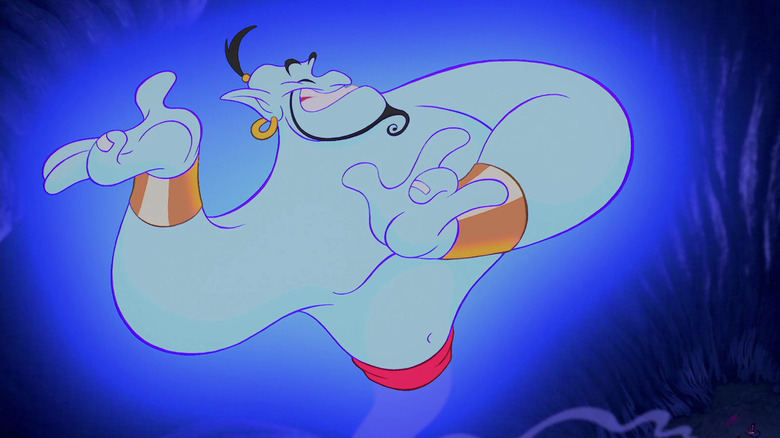 Walt Disney Studios Motion Pictures
When voicing the Genie, Robin Williams often improvised. Many of his on-the-spot impressions were included in the film, but a lot of them didn't make the final cut simply due to sheer volume. Williams gave so many options for every line that the crew just couldn't include them all, but some of the deleted recordings are shared in "The Genie Outtakes," a 2015 Blu-ray bonus feature.
As Genie explains the rules of the three wishes to Aladdin, one option Williams tried was an impression of Fred Rogers, AKA Mister Rogers. Williams riffs in a Rogers-esque voice, "Don't try to wish for more wishes because that's a little redundant. Can you say redundant?" as if teaching a new word to a preschooler. When Genie encourages Aladdin to tell Jasmine the truth about who he is, Williams is heard channeling an impression of former president Richard Nixon and his famous "I am not a crook" line. Toward the end of the film when Jafar turns into a snake, one deleted gag had Genie grabbing hold of him and smashing his head on the ground repeatedly while singing "Beat It" by Michael Jackson. Another joke saw Genie transforming into Obi-Wan Kenobi and telling Aladdin to "use the Force" to defeat Jafar. The material included in the final film is great, but it's even more impressive to see all the great impressions and bits that were left on the cutting room floor.
The movie was animated on two coasts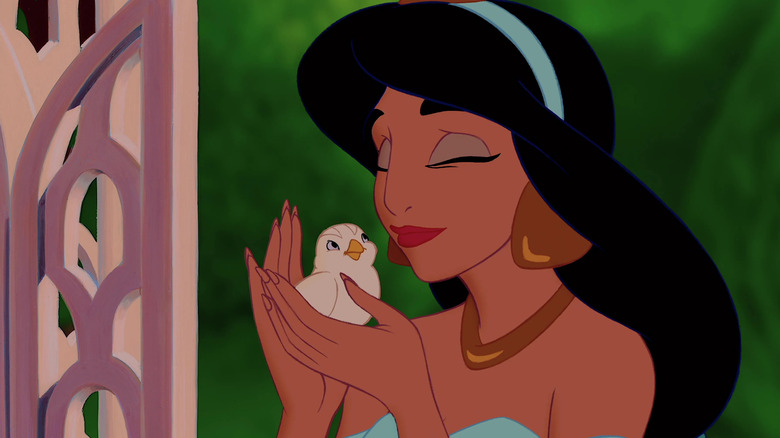 Walt Disney Studios Motion Pictures
When "Aladdin" was in production, Walt Disney Animation Studios (then known as Walt Disney Feature Animation) was primarily based out of Glendale, California, but the company had a smaller satellite studio in Orlando Florida — specifically, inside a Disney theme park. Disney's Hollywood Studios (at the time called Disney-MGM Studios) opened in 1989, and its attractions included The Magic of Disney Animation – a multifaceted showcase of the company's history and future with animation. Through glass windows, guests could actually watch animators at work. In a commentary track for "Aladdin," directors Ron Clements and John Musker revealed that the film's lead characters were a coast-to-coast team effort. Glen Keane supervised Aladdin's animation from California, while Mark Henn supervised Jasmine's animation from Florida.
The crew included a nod to the Florida satellite studio in the film's finale. Part of the animation tour was a live-action short film titled "Back To Never Land" that featured Robin Williams wearing a tropical shirt and a hat resembling Goofy. At the end of "Aladdin," Genie wears this same outfit.
The directors make a cameo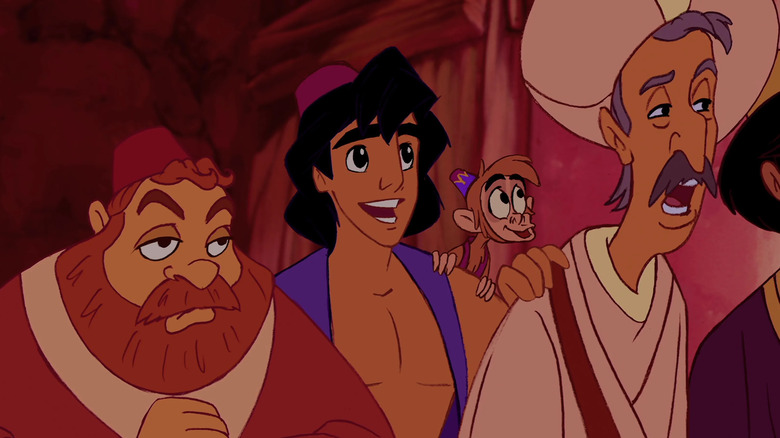 Walt Disney Studios Motion Pictures
Genie morphs into many blink-and-you'll-miss-it impersonations of famous and fictitious faces, from Jack Nicholson to Pinocchio. Two cameos elsewhere in the film, completely separate from the Genie, are perhaps only recognizable to more of a niche audience. In their commentary track, directors Ron Clements and John Musker point out where you can find caricatures of two people very important to the creation of "Aladdin" — specifically, them. Toward the beginning of the film, Aladdin watches from the street as Prince Achmed arrives on horseback in Agrabah. On either side of Aladdin are animated figures who bear a striking resemblance to Clements and Musker. They even recorded their likenesses' own dialogue for the scene.
Clements and Musker were no strangers to Disney Animation by the time "Aladdin" rolled around. The directorial duo had already helmed 1989's "The Little Mermaid" together, and they went on to direct 1997's "Hercules," 2002's "Treasure Planet," 2009's "The Princess and the Frog," and 2016's "Moana."
Tragedy struck during production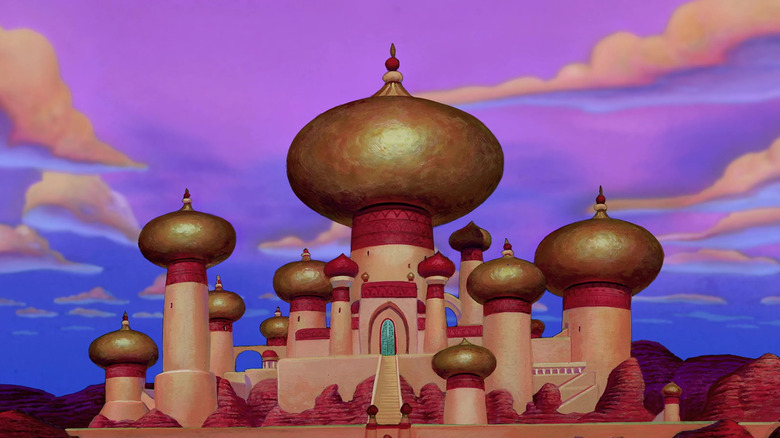 Walt Disney Studios Motion Pictures
"Aladdin" was the final project of lyricist Howard Ashman, who tragically died of HIV/AIDS while the movie was still in production. The 2018 documentary "Howard" shares the powerful story of Ashman's life and his invaluable influence on both Broadway and Disney animation. Ashman was a longtime collaborator of famed composer Alan Menken, who also worked on "Aladdin." 
Ashman passed away in March 1991, 20 months before the November 1992 release of "Aladdin" in theaters. Prior to his death, he had co-written three songs for the movie with composer Alan Menken: "Arabian Nights," "Friend Like Me," and "Prince Ali." He also worked on several other songs that didn't make it into the final version of the film. Some of those exclusions were eventually revived for the Broadway stage adaptation. Following Ashman's passing, lyricist Tim Rice collaborated with Menken to write "One Jump Ahead" and "A Whole New World," completing the soundtrack for the film.
Color theory and symbolism abound in Aladdin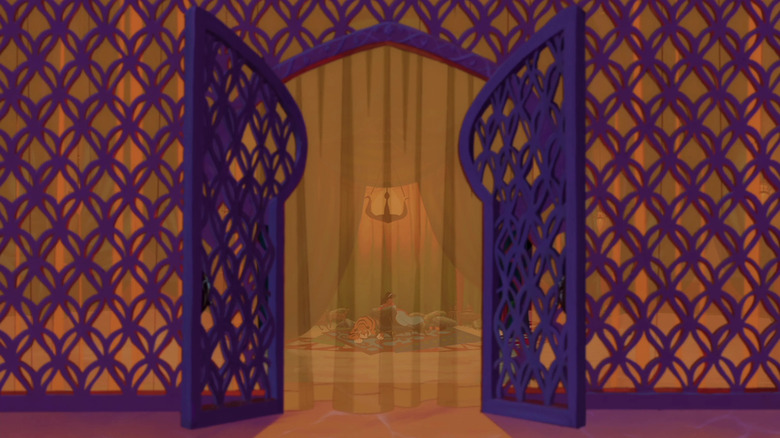 Walt Disney Studios Motion Pictures
Subtle psychology is employed throughout "Aladdin" to hint at deeper layers of the story. In the animators' commentary track for the film, Jafar's supervising animator, Andreas Deja, points out how shades of red were exclusively reserved for any part of the movie that indicated evil. Iago's feathers, Jafar's robes, the eerie part of the palace where Jafar resides — they're all red. In contrast, cool colors were reserved for the heroes. Genie is blue, Aladdin's vest is purple, and Jasmine's wardrobe is teal. These shades indicate a friendliness to clash against the foreboding nature of Jafar's intense reds.
The design of Jasmine's bedroom is also metaphorical. Co-director John Musker points out in "The Art of Aladdin," a 2004 DVD bonus feature, that set designer Bill Perkins constructed Jasmine's room to emulate a birdcage. Freedom is a repeated theme throughout the film, and it's particularly explored through Jasmin, who feels trapped in the palace. Early in the movie, she sets a group of birds free from their cage and longs to fly as they do. Later, we see how her bedroom design alludes to that same cage.
Full House had a meta Aladdin joke
When "Aladdin" debuted in 1992, some audience members may have recognized the main character's voice as Scott Weinger, who also played D.J. Tanner's boyfriend Steve on "Full House." In a 1993 episode of that sitcom, D.J. goes to Disney World with her family, leaving Steve at home. However, she imagines seeing him everywhere throughout the vacation. In the filming of the episode, Weinger was physically present and dressed in a variety of Disney employee outfits to bring the D.J. hallucinations to life.
In one particularly notable scene, D.J. and her sisters stumble upon a show featuring characters from "Aladdin." While her sisters are starstruck by Princess Jasmine, D.J. is shocked to see Steve dressed as Aladdin himself. She quickly realizes that it's just her imagination and not actually Steve. For the quick hallucination shot, though, Weinger dressed head to toe in the Aladdin costume worn by Disney cast members — a nod to his recent voice role, which would have been fresh on viewers' minds at the time.
As fate would have it, Weinger wouldn't be the only voice actor to bring his character to life in person. When "Aladdin" made its debut on Broadway, Jonathan Freeman, who voiced Jafar in the film, portrayed the villain on stage. These reprisals are nice in theory, but they also play into the problematic history of Disney's "Aladdin," as both Weinger and Freeman — unlike their characters — are white. Both the animated and live-action films have been at the center of controversies pertaining to whitewashing and harmful ethnic stereotypes, and the continued use of the original voice cast is part of that problematic legacy.
Aladdin launched Disney's direct-to-video library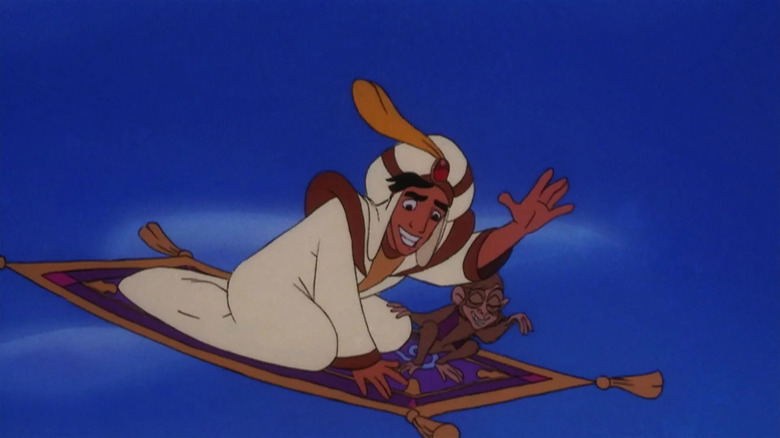 Walt Disney Studios Motion Pictures
Fresh off the success of "Aladdin," a sequel to the film became the first entry in a new business venture at Disney — content made exclusively for home video. These projects skipped the theatrical releases and were made cheaper and faster than typical Disney movies. "The Return of Jafar" debuted in 1994 as Disney's first-ever direct-to-video sequel. "This is just a colossal success," Ann Daly, president of Buena Vista Home Video, told the Los Angeles Times in May 1994. With numbers that rivaled Disney classics, Daly felt the movie's sales proved it was "a quality product" and that there was "a market for it."
Despite commercial success, the sequel had to be approached with the right expectations — something that even its co-director Tad Stones could admit. Speaking to the Los Angeles Times, Stones said, "We're not trying to say this is 'Aladdin' by any means. It's a fantastic piece of entertainment for direct-to-video." Objectively, the animation quality was of a much lower standard than theatrical Disney features, and the film was produced by an entirely different branch of the studio, Walt Disney Television Animation.
Love it or hate it, Disney wanted more of it. "The Return of Jafar" launched a new source of revenue for the company as it produced dozens of Disney animated sequels in the following years. A third "Aladdin" film, "Aladdin and the King of Thieves," debuted on video in 1996, with it and "Return of Jafar" serving as bookends to an animated television series.
Aladdin and Hercules are bros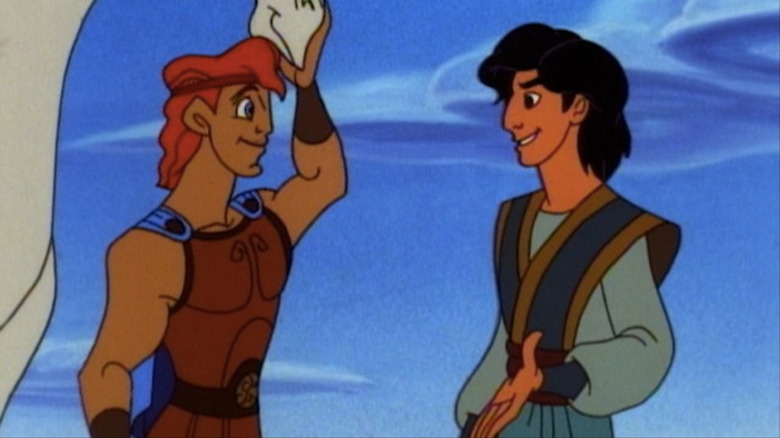 ABC
Everyone loves a good TV crossover. In 1999, "Hercules: The Animated Series" welcomed Aladdin, Jasmine, Jafar, and Abu as special guest stars on an episode titled "Hercules and the Arabian Night." The original voice cast reprised their roles for the event, which sees Jafar's ghost arriving in the underworld. Jafar teams up with Hades, who sends Pain and Panic to trick Aladdin and Hercules into fighting each other. Eventually, the heroes figure out what's going on and work together to take Jafar down for good.
This wasn't the last time the characters of "Aladdin" would intersect with other Disney favorites. Most of them, along with dozens of other Disney luminaries, appear in the 2001 series "House of Mouse," in which Mickey Mouse hosts a club for cartoon characters. Additionally, the 2002 direct-to-video movie "Mickey's House of Villains" sees Jafar leading Disney's all-time greatest villains in an effort to take over the club for Halloween.
The Genie keeps up with pop culture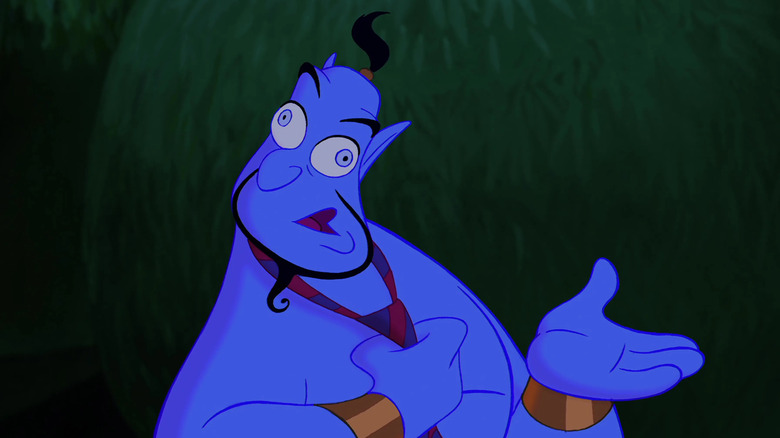 Walt Disney Studios Motion Pictures
A lot of Genie's jokes in the original "Aladdin" reference elements of pop culture that would have been familiar to audiences in 1992, the year the film debuted. If you've ever wondered if his jokes would have evolved as time went on, the answer is yes. In 2003, Disney California Adventure opened "Aladdin: A Musical Spectacular" – a 45-minute stage production of the beloved movie. The show ran for 11 years, and Genie's jokes were constantly updated to stay relevant with the latest entertainment news. In 2011, for instance, Genie led the audience in singing along to "Friday" by Rebecca Black. In 2013, Genie reenacted scenes and characters from across the "Star Wars" saga following Disney's purchase of Lucasfilm. In 2014, he asked Jafar, "Are you mad because John Travolta mispronounced your name, too?" and told him Angelina Jolie wanted her Maleficent costume back.
This stage version of "Aladdin" at Disney California Adventure closed in 2016 to make way for a "Frozen" production. An "Aladdin" show similar to the California Adventure version (complete with Genie's constantly-updated comic material) debuted on the Disney Fantasy cruise in 2012.
The Broadway show uses deleted songs from the movie.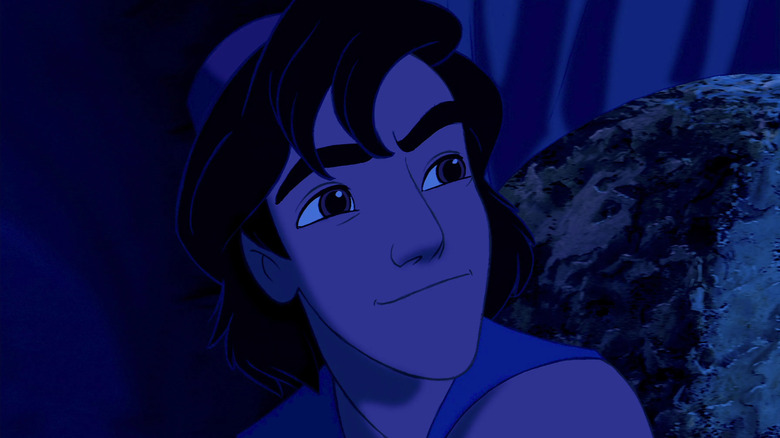 Walt Disney Studios Motion Pictures
When "Aladdin" was adapted into a Broadway musical, there were a number of opportunities for changes and expansions to the story. As revealed in "Creating Broadway Magic," a 2015 Blu-ray bonus feature, the adaptation process brought back deleted songs and even deleted characters initially developed for the animated film, but which ultimately landed on the cutting room floor. Those resurrected tunes were composed by the late Howard Ashman, and their original removal had nothing to do with the merit of their melodies, but rather with the constraints of the movie's runtime. Because the Broadway show is notably longer than the original film, it was a great opportunity to restore the lost songs.
Among the repurposed tunes is "Babkak, Omar, Aladdin Kassim," a romp through Agrabah performed by Aladdin and his three buddies who were removed from the film's first draft. Also included on Broadway is "Proud of Your Boy," an emotional ballad sung by Aladdin to his mother. When the song was written for the movie, Aladdin's mom was present in the story, but she was ultimately removed along with the song. In the Broadway version, Aladdin's mom is dead, but he carries her memory and hopes to make her proud.