Joseph Gordon-Levitt Dishes On His Kiss With Topher Grace In That 70s Show
Joseph Gordon-Levitt is no stranger to sitcoms. Before he acted in projects like "500 Days of Summer" and "Inception," he broke out in a big way with a role in the long-running sitcom "3rd Rock From the Sun." He played Tommy Solomon, one of the extra-terrestrials on the series sent to Earth to spy on humanity to learn how to act normal on this planet. Naturally, things don't always go smoothly for him, which is where the bulk of the sitcom's hilarity comes from. 
But that's far from the only sitcom he's been affiliated with. Prior to his "3rd Rock From the Sun" days, he had a short arc on "Roseanne," and while he was still an alien, he had a memorable guest spot on "That '70s Show." In the episode "Eric's Buddy," he's Eric Forman's (Topher Grace) partner on a class assignment, and the two begin getting close to one another, much to the dismay of Eric's normal chums. Things take a turn when Buddy makes a move on Eric, revealing that he's gay. It's a significant development for a gay character to appear on such a prominent show in the late 1990s. During a recent Reddit AMA, the actor reflected on the character all these years later.
Joseph Gordon-Levitt recalls the big kiss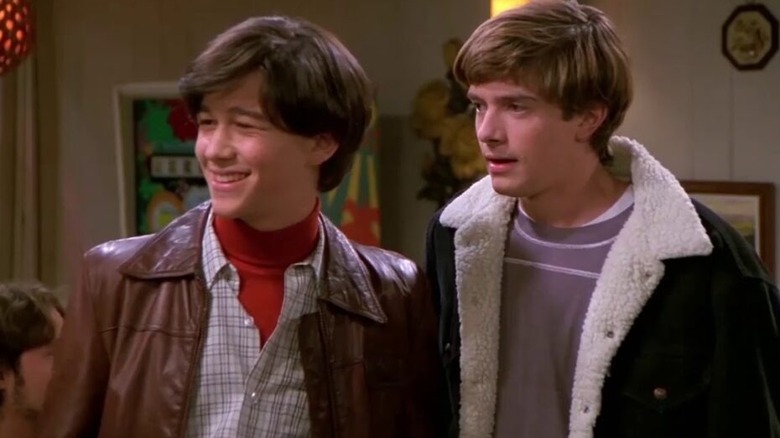 Fox
The purpose of the AMA may have been for Joseph Gordon-Levitt to promote his new acting class, but it was a prime opportunity for fans to look back on his career and ask the burning questions they've always had. One user asked, "What do you remember working on the set of 'That '70s Show' when you made your appearance on there?" The actor had a pretty amusing anecdote related to the scene where he and Topher Grace had to kiss, stating, "I remember the director asking me and Topher to kiss longer, and then on the next take, kissing for what felt like several minutes. But when you watch it, our lips touched for probably less than a second."
The kiss itself may have only been a second, but the moment, and his character in general, certainly made an impact. "Eric's Buddy" remains one of the best episodes of "That '70s Show," and it clearly struck a chord with fans. Underneath Gordon-Levitt's comment, a fan writes in to say, "Seriously though as a young gay kid this moment was pretty major for me." It just goes to prove the importance of positive representation in media and how greater inclusion can create moments that truly matter for audiences.