How Chris Hemsworth Really Feels About That Revealing Thor: Love And Thunder Moment
If you caught one of the official trailer for "Thor: Love and Thunder" that arrived in late May (via YouTube), you're probably aware of a scene near the end of the clip that sees Thor (Chris Hemsworth) in some sort of magical bondage facing an Olympian council headed up by Zeus (Russell Crowe). In an ostensible effort to reveal what Thor might be hiding under his loose-fitting cloak, Zeus "flick[s] too hard," blowing the God of Thunder's covering clear across the room. Thor ends up completely naked in front of everyone in the hall, causing a lot of Olympians to faint and giving a good laugh to the audience. As for Valkyrie (Tessa Thompson) and Jane (Natalie Portman), it's the perfect time to eat a grape and gaze in wonder at their naked compatriot.
All the tight costumes notwithstanding, the Marvel Cinematic Universe isn't exactly known for copious nudity, so the moment is a highly memorable one for fans. As it turns out, it is also an important moment for Hemsworth, as well as "Thor: Love and Thunder" director Taika Waititi, both of whom have made public comments about their real feelings about the titillating moment and why they decided to film the visual gag at all. Filming nudity in the safest and most satisfying way is one of the great challenges filmmakers and actors can encounter. The pair have now added the God of Thunder to the annals of big-screen butts and it's reassuring to learn that neither director nor actor involved in the scene took the sequence lightly.
Hemsworth's prediction that Thor would bare it all finally came true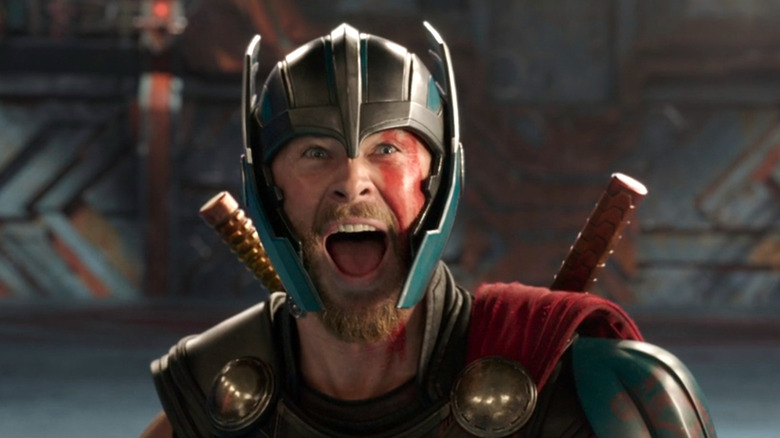 Marvel Studios/Disney
Chris Hemsworth has endured plenty of physical transformations to his character during his time playing the iconic Asgardian, including donning an eyepatch after his nefarious sister plucks it out in "Thor: Ragnarok" and appearing as a more heavyset hero (occasionally referred to as "Fat Thor" within the Marvel fandom) in "Avengers: Endgame." But, according to the actor's comments to Variety at the "Thor: Love and Thunder" Hollywood premiere, taking it all off onscreen was a sort of transformation he's been aspiring to do since his first appearance in the role back in 2011. "It was 10 years in the making, that scene — kind of a dream of mine," Hemsworth shared about that revealing "Thor: Love and Thunder" moment. "The first time I played Thor I took my shirt off and I thought, 'You know what's gonna sweeten this ... a decade from now it's all gonna come off."
Nude scenes are a collaborative medium, so it makes sense to look to director Taika Waititi for his take on the creative decision-making process that went into the scene as well. In a clip tweeted by Variety, Waititi shared why it was not just desirable but necessary for audiences to see all of Thor (even if it does get pixelated for the trailers). "We had talked about, 'Yeah, we gotta show off [Hemsworth's] body.' My whole thing was like, Chris works so hard, you've gotta show it off," said Waititi, adding, "Don't cover it up with all these suits and the cape and stuff, it's not fair!"
It kind of makes you wonder what other aspirations Hemsworth might have for the character, and what it might look like if he actually gets to fulfill them onscreen — even if it takes another 10 years.
Hemsworth found it easy to appear nude on camera
Chris Hemsworth further discussed filming his nude scene in "Thor: Love and Thunder" on Australian talk show "The Project." Roughly six minutes into their interview, host Peter Helliar brought up performing opposite Russell Crowe, and the fact that Hemsworth had to appear naked on camera while doing so. Hemsworth joked that Crowe and Watiti both wore no clothes below the waist in solidarity while filming the scene in question. Though his response may have been in jest, his readiness to joke about the moment suggests that he felt little-to-no reservations about stripping down in front of the lauded actor with whom he shared the scene.
On a marginally more serious note, Hemsworth then revealed that he wore a sort of modesty sock to cover up in front of the cast and crew members on-set that day. So, for those keeping track, Hemsworth wasn't completely clothes-less in his much talked-about scene, but just about as close as he could possibly be.
Finally, during a red carpet interview before the Sydney premiere of "Love and Thunder," Hemsworth described the scene to 7NEWS as an altogether rote affair for both he and his family. "My wife said, 'Agh yeah whatever,' she's seen it all before," Hemsworth told the Australia-based outlet. He also mentioned that he previously appeared nude in the Formula One racing drama "Rush," suggesting that "Thor" may not even be the last time he bares it all on camera.