The Seinfeld Star With The Most Emmy Wins Isn't Who You'd Expect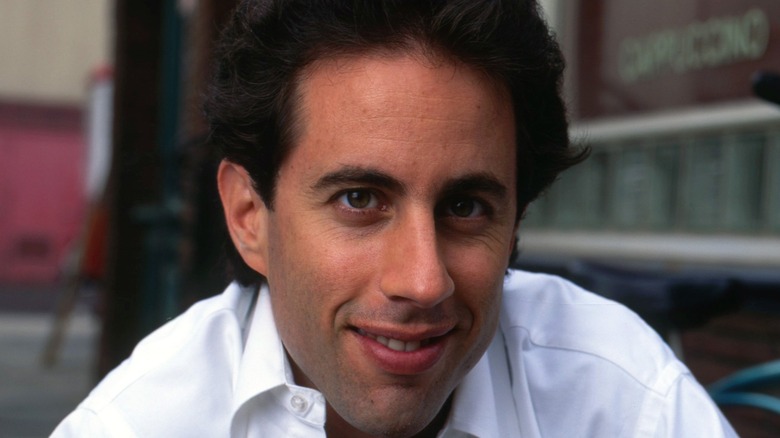 Ann Summa/Getty Images
"Seinfeld" has become a quintessential part of New York City's cinematic canon (via Bloomberg) and continues to be popular with modern viewers — Variety reported that the sitcom brought in over 590 million viewing minutes for Netflix when it debuted on the service in 2021. Playfully described as "a show about nothing," the NBC half-hour comedy made stars out of its leading cast, as well as its co-creator Larry David. Eponymous star Jerry Seinfeld has taken it easy in recent years, appearing in the heavily memed "Bee Movie" and inventive talk show "Comedians in Cars Getting Coffee." And before she joined the Marvel Cinematic Universe, Julia-Louis Dreyfus, who played Elaine Benes on "Seinfeld," headlined HBO's political comedy series "Veep."
Jason Alexander, who played Seinfeld's best friend George Costanza, has appeared in a flurry of exciting projects since the show's finale. The actor recently appeared in Prime Video's "The Marvellous Mrs. Maisel" and popped up as himself in a cheeky Tide commercial. Michael Richards, the final piece of the "Seinfeld" puzzle, dabbled in stand-up comedy once the series wrapped up. Of course, it's not like the main cast has had to worry about getting work, as the quartet made at least $1 million per episode for the show's final season (via The Globe and Mail).
The cast of have made out like bandits thanks to the show's popularity but they've also basked in their fair share of accolades and fame. All four of the main cast members received Emmy nominations, though the actor with the most wins may be a surprise to even the most hardcore "Seinfeld" fans.
Michael Richards has won the most Emmys for starring in Seinfeld
Though everyone has their favorite "Seinfeld" character, it's safe to say that Cosmo Kramer (Richards) has some of the most memorable moments in the series. Jerry's wacky and eclectic next-door neighbor can frequently be seen stumbling into the comedian's apartment, conspiring up schemes and feuds that leave audiences in stitches. For his role as Kramer, Richards received three Emmys for Outstanding Supporting Actor. He was nominated consecutively from 1993 to 1997, alongside the rest of the "Seinfeld" cast. After "Seinfeld" ended its run, Richards headlined the short-lived "The Michael Richards Show." The actor later teamed up with Seinfeld for a brief voice role in the animated "Bee Movie."
Surprisingly, Jerry Seinfeld has never won an Emmy for acting on the show. Instead, he shares an Outstanding Comedy Series award alongside "Seinfeld" co-creator Larry David. Jason Alexander failed to nab a Supporting Actor trophy for his run on the show, often because he competed with Richards. Julia-Louis Dreyfus, meanwhile, received one Best Supporting Actress nod for appearing on the series, which ran for just shy of a decade.
In hindsight, it's easy to imagine that Seinfeld himself would have bagged the most awards. His straight-man attitude and observational humor made him a staple of the show but it's impossible to deny the Kramer-mania that dominated the '90s. A CNN poll conducted in 1998 revealed that 58% of audiences found Kramer to be the best character on "Seinfeld," beating Jerry's shockingly low 12%.