The Best Fin Tutuola Quote From Law & Order: SVU Season 18
"Law & Order: SVU" has made its name centering on compelling crime stories since 1999. Still, the series wouldn't have maintained its faithful viewership without its rotating cast of detectives, medical examiners, and legal minds. "SVU" fans are known for voicing their opinions on which ADAs should return to the series, or whether Olivia Benson (Mariska Hargitay) and Elliot Stabler (Christopher Meloni) were really the best partnership. One unimpeachable fact, however, is that Fin Tutuola is a "SVU" highlight.
Played by Ice-T, Odafin Tutuola joined "Law & Order: SVU" at the start of Season 2, making him the longest-running character on the series after Detective Benson (via IMDb). Up until Season 8 in 2007, Fin was partners with Detective John Munch (Richard Belzer). With Fin a rigid, no-nonsense conservative to Munch's tin foil hat-wearing hippie, the partnership between Fin and Munch resulted in some of the series' best banter. But even when their partnership ended and Belzer left the series, Fin's one-liners would continue to be a source of levity, wit, and wisdom. Here's Fin's best quote from Season 18 of "Law & Order: SVU."
Fin knows what really goes on in the club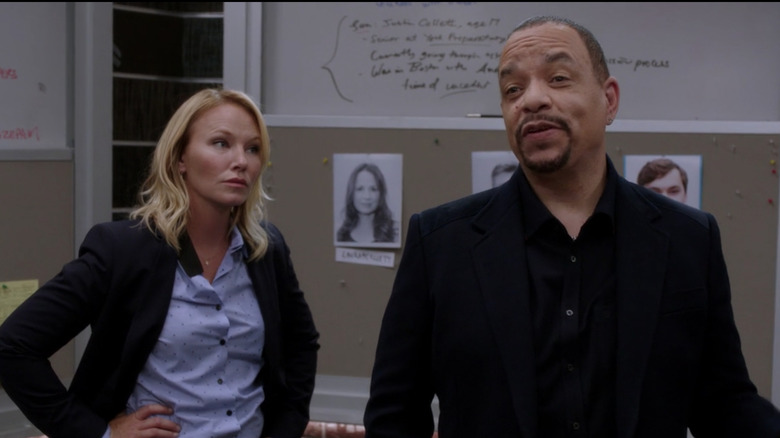 NBC/ Hulu
In a series where the detectives' personal lives are just as dramatic as the crimes they're investigating, Fin is perhaps the most private and tight-lipped, regardless of whether it comes to his former partner or his estranged son. That's just how Ice-T prefers things to be when he's playing the role. "If I was a cop, that's how I'd act," he told Vice. And much like his character, Ice-T is wont to drop aphorisms from time to time. Indeed, he revealed one of his mottos in an interview with Mashed: "You don't guide life, you ride life."
Given that Fin keeps his inner life close to the chest, his quips are often a funny, enigmatic gateway to what the detective gets up to when he's off the clock. In the Season 18 episode "Imposter," Fin subtly implies that he's still hip to the inner workings of the club. As the detectives discuss the ethics of assuming a false identity in a rape case, Benson and Fin talk about lying as it relates to sex. "Just being real, lying to have sеx is just part of the game," says Fin. "Things have changed, Fin," responds an exasperated Benson. "Everybody's lying in the club," asserts Fin. "Trust me on that."
As per usual, Fin's quote adds some much-needed humor to an otherwise solemn discussion. Out of the mouth of a different detective, it might sound flippant, but Ice-T's breezy delivery keeps the scene flowing and ensures the dialogue is free from unnecessary legal jargon. It also offers a rare glimpse at Fin's personal life; he may spend his days investigating New York's most sensitive crimes, but Fin is still club-savvy.
If you or anyone you know has been a victim of sexual assault, help is available. Visit the Rape, Abuse & Incest National Network website or contact RAINN's National Helpline at 1-800-656-HOPE (4673).