This Was Munch And Tutuola's Best Partner Moment On Law & Order: SVU
Now in its record-setting 23rd season, the landmark NBC police procedural "Law & Order: Special Victims Unit" continues to dominate its time slot with riveting, ripped-from-the-headlines stories of its dedicated detectives cracking the NYPD's toughest cases. Featuring Lt. Olivia Benson (Mariska Hargitay) heading up an elite team of crack investigators, the series is known for giving audiences deeply engaging characters to follow and root for as they pursue often murderous suspects accused of committing the most horrendous crimes.
That said, it stands to reason that loyal fans of the show may end up forging powerful attachments to the cops they see risking their lives in the name of justice every week. In this respect, one prime example of a much-loved pair of long-term partners is the detective duo of John Munch (Richard Belzer) and Sgt. Odafin "Fin" Tutuola (Ice-T). And while the two cops shared many life-and-death crises across multiple seasons and episodes, it was often the lighter scenes that truly captured the nature of their ongoing friendship and their ability to work so well together as a crime-busting unit. And of all those more easy-going but revelatory interludes, one, in particular, stands out as the best Munch and Tutuola partner moment on "Law & Order: SVU."
The duo's best moment revealed the comfortable nature of their partnership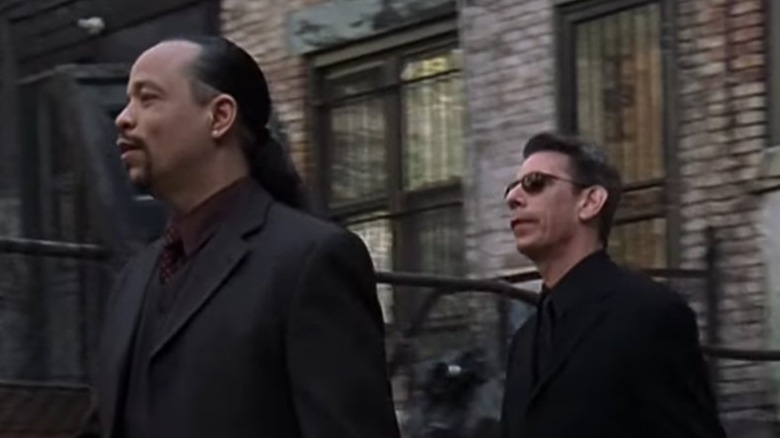 NBC/YouTube
The moment highlighting the camaraderie shared by Munch and Tutuola comes in the series' gripping Season 3 episode "Care," aired back in 2001. The episode's central focus involves the hunt for the killer of a young girl, murdered while she was in foster care. After finding the girl's body at a construction site, detectives Benson and Elliot Stabler (Christopher Meloni) turn to the foster family for information and end up targeting the girl's teenage foster brother as their primary suspect. Meanwhile, Munch and Tutuola go looking for clues.
As the pair search the construction site, Fin asks, "Why do we always get stuck with looking for the needle in the haystack?" This prompts Munch to reply, "Takes me back to the Easter egg hunts of my youth," to which Fin says, "You're Jewish. Your parents hid eggs?" This leads to Munch's punchline: "My point exactly. All those futile hours of searching," as quoted by the Law & Order Fandom page. While it may seem just a passing, mildly humorous exchange, the banter here showcases the pair's familiarity with each others' life stories and their willingness to joke about something as personal as religion and childhood memories. All in all, it's a brief, but telling scene that represents Munch and Tutuola's best moment together on "Law & Order: SVU."