The R-Rated Movie You Likely Forgot Starred Tom Holland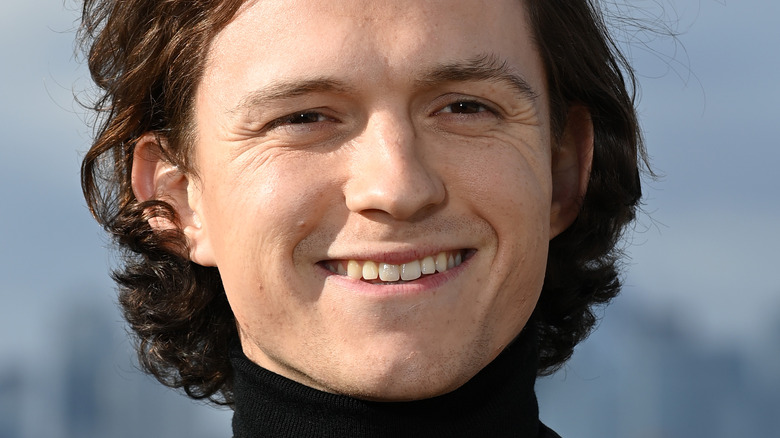 Pascal Le Segretain/Getty Images
Actor Tom Holland is now a household name. Thanks to his leading role of Peter Parker in the "Spider-Man" films by director Jon Watts — 2017's "Spider-Man: Homecoming," followed by 2019's "Spider-Man: Far From Home," and 2021's "Spider-Man: No Way Home" — the young actor is widely known pop culture figure.
Thanks to the recognition that those films, and the MCU, have given him as an actor, Holland has been given the opportunity to pursue a slew of other projects outside of the world of Marvel. Notable examples include his role voicing Ian Lightfoot in Disney Pixar's film "Onward" and playing the lead in Netflix's psychological thriller "The Devil All the Time," both of which came out in 2020. Additionally, he starred alongside Mark Wahlberg in 2022's "Uncharted" and appears in the upcoming Apple TV+ drama anthology series "The Crowded Room" alongside Amanda Seyfried and Emmy Rossum.
However, there's another recent project of Holland's that you may have forgotten about — one that, unlike his three "Spider-Man" films, is not exactly family friendly. In other words, it has an R-rating. If the movie in question is still not coming to mind, here is another hint: it was directed by the Russo brothers.
Holland starred in the R-rated Cherry
Directed by Anthony and Joe Russo, 2021's "Cherry" follows a young man called Cherry (Tom Holland) as he goes from college student to Army medic in the Iraq War. When he returns home, Cherry finds himself facing debilitating PTSD, leading him — as well as his wife Emily (Ciara Bravo) — to drug addiction. Soon, Cherry resorts to robbing banks to fund his and Emily's addiction. It is based on the 2018 autofiction novel of the same title by Nico Walker with a screenplay that was adapted by Angela Russo-Otstot and Jessica Goldberg (via IMDb).
One of the reasons that "Cherry" may have flown under the radar is the fact that it was received poorly by critics, as it currently holds just a 37% Tomatometer score on Rotten Tomatoes. Many of the critiques focused on a disconnected story and lack of focus, with many critics noting that the runtime is much longer than the narrative needs. That said, Holland's performance was largely seen as the best part of the film. Summing up much of this, Owen Gleiberman of Variety wrote, "Tom Holland isn't a bad actor, and in 'Cherry' he proves his skill set." Unfortunately, Gleiberman notes that the story isn't strong enough for his efforts to hold much significant weight.
On the other side of the coin, "Cherry" was much more well-received by audiences — it holds a 69% audience score on Rotten Tomatoes.
Holland says preparing for the role took him to dark places
In an April 2021 interview with GQ, Holland discussed his experience preparing for a role in a movie that is noticeably darker than the MCU films that he has come to be known for. Holland began by explaining that he had never done heroin (his character's drug of choice) previously, nor did he intend to for the role, so he had to find other methods to get himself into a dark enough place to portray an addict accurately. Explaining the toll it took, Holland said, "I couldn't sit there on set and inject heroin into my chest –- that's not how it is done. I had to get it right. This role took me to some of the darkest places I have ever been, emotionally, physically, anythingly... I would never go back there again, not for anyone. I am pleased I did it, but that door is now closed and locked."
Holland then explained that he had a consultant, who the article refers to only as Brian, a former addict who now works with actors trying to deliver an authentic performance in addiction-focused narratives. Holland revealed that he may not have been able to give an authentic performance without Brian's help.
Holland continued, "I just didn't think I could do it. I mean, what does it feel like to wake up from a four-day drug bender? I know what a hangover feels like, but this is very different. So I asked Brian and he told me, 'It feels like you want to rip your skin off.'"