The Biggest Change Kevin Feige Made To The Doctor Strange Script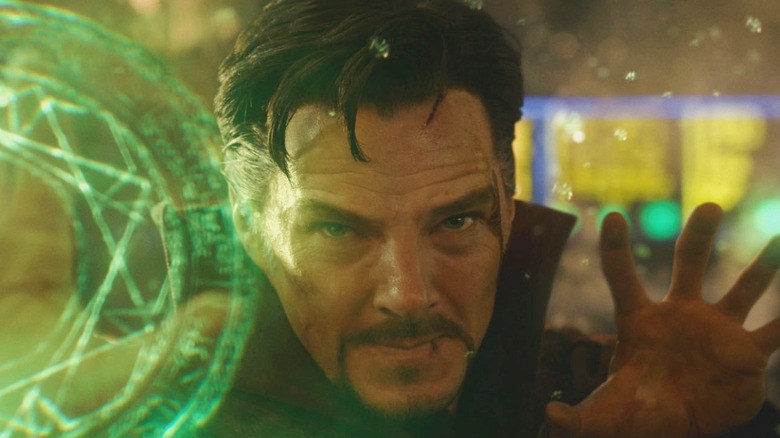 Marvel Studios/Disney
Before debuting in 2016 in the eponymously titled second film in Phase Three of the Marvel Cinematic Universe, Doctor Strange (Benedict Cumberbatch) was one of Marvel's lesser-known properties. It didn't take long, however, for the character the start making a name for himself, with the surgeon turned Sorcerer Supreme making appearances in "Thor: Ragnarok," "Avengers: Infinity War," and "Avengers: Endgame" before the phase was over. And now, following the success of 2022's "Doctor Strange in the Multiverse of Madness," even more people are becoming interested in the history of Stephen Strange and his origins in what is likely becoming the Marvel Cinematic Multiverse.
Jacob Hall of Looper's sister site /Film got the chance to sit down with C. Robert Cargill, who co-wrote the script for 2016's "Doctor Strange" alongside Jon Spaihts and Scott Derrickson. Here's what Cargill had to say about his process writing for "the Marvel machine," including the biggest change producer Kevin Feige made to the script of "Doctor Strange."
Feige asked Cargill if they could make Doctor Strange 'weirder'
Marvel Studios/Disney
Being strange is kind of Doctor Strange's entire deal, but it appears that earlier versions of the 2016 film's script weren't quite strange enough for producer Kevin Feige. In the interview with /Film, C. Robert Cargill spoke about how he and his co-writers wrote and revised drafts of the script for around nine months before settling on something final. Every time Feige looked over a draft, instead of asking the team to dial things back, he allegedly did the opposite, saying, "This is awesome. Can we make it weirder?" In response, Cargill and his co-writers said, "Yeah, we can make it weirder." And so "Doctor Strange" was born.
This goal, Cargill explained, was partially driven by a desire "to craft something that fit into its own space in the MCU, that wasn't just a carbon copy of everything else." Specifically, Cargill mentioned another unnamed film "that's doing something similar." This is likely in reference to "Iron Man," which also features a callous, rich jerk who suffers a traumatic event that changes his entire worldview.