Every Record On Shark Tank To Date
This content was paid for by Sony and created by Looper.
The best, or at the very least the most compelling, TV shows are so irresistible because they're about the drama of the human experience. Scripted, narrative programs share great stories, but there's nothing quite like reality TV to depict and share the actual trials, tribulations, and successes of others. "Shark Tank," one of the longest-running and most-watched reality shows of all time — a stalwart of ABC's lineup since 2009 — lets viewers in on the mechanics, struggles, and triumphs of starting and operating a business. In each episode, entrepreneurs and small business owners come onto the show and attempt to persuade a panel of wealthy, ultra-successful professionals and venture capitalists to invest in their burgeoning idea, in return for a stake in the company.
With thousands of business operators entering the Tank and pleading their case to the likes of Mark Cuban, Barbara Corcoran, Daymond John, Lori Grenier, Robert Herjavec, Kevin O'Leary, and the like, not everyone got what they sought out. Some just made for some excellent television and a name for themselves in the storied history of the business-minded reality series. Here are all the most super of the "Shark Tank" superlatives — the people who made an impact and set all-time records for the show in all manner of categories.
Youngest entrepreneur ever on Shark Tank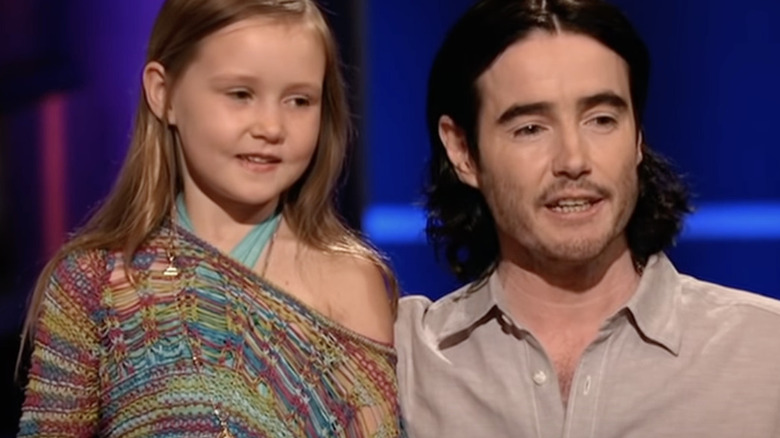 Sony Pictures Television
Neither inventing cool stuff nor starting a business to sell that cool stuff are age-restricted practices, and in deference to that youthful creative spirit, "Shark Tank" aired a special kids-only episode in March 2014. Every entrepreneur who walked on the set, each of them looking for a little extra cash to get their product or company ideas rolling, was well under legal voting age, particularly Kiowa Kavovit. Standing on a stool so as to be better visible to the TV cameras, Kavovit pitched Boo Boo Goo, a liquid adhesive bandage system. Having come up with the concept at the age of four, Kavovit had a pending patent at the time for her substance that forms a hard, protective surface over skin and wounds and which, unlike standard bandages, doesn't peel off early. "It's much prettier than a bandage," Kavovit added.
The young entrepreneur consulted with her business partner (and father) and took a deal from Kevin O'Leary for $100,000 for a 25 percent equity stake. When Kavovit taped her "Shark Tank" episode, she was six years old, the youngest businessperson on the kids installment as well as in the entirety of "Shark Tank" history.
Oldest entrepreneur on Shark Tank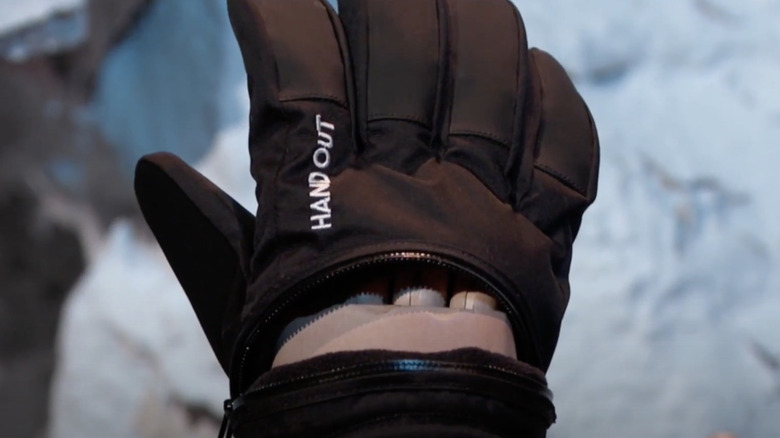 Sony Pictures Television
"Shark Tank" is open to anyone, provided they've got a good product and a solid business plan to take it to market and turn a profit for all involved investors. An individual is never too young or too old to generate a wonderful idea, and in the eighth season of "Shark Tank," the show welcomed a clever and unique product pitch from Don Wildman, an accomplished entrepreneur and athlete. The founder of the company that eventually became the gym chain Bally's Total Fitness, Wildman competed in triathlons into his eighties and frequently skied, informing the product he pitched on "Shark Tank" with partner Jake Sullivan: Hand Out Gloves, hand coverings that offered warmth and protection from the wintry elements that also allowed the wearer to quickly expose only their fingers to perform small tasks. Wildman and Sullivan's trip into the Tank was successful — Barbara Corcoran offered a $300,000 line of credit for a 25 percent equity stake in Hand Out Gloves.
Another number that majorly factors into Wildman's "Shark Tank" story: 83. That's how old the businessperson was when he appeared on the show, the oldest person ever to do so.
Longest pitch on Shark Tank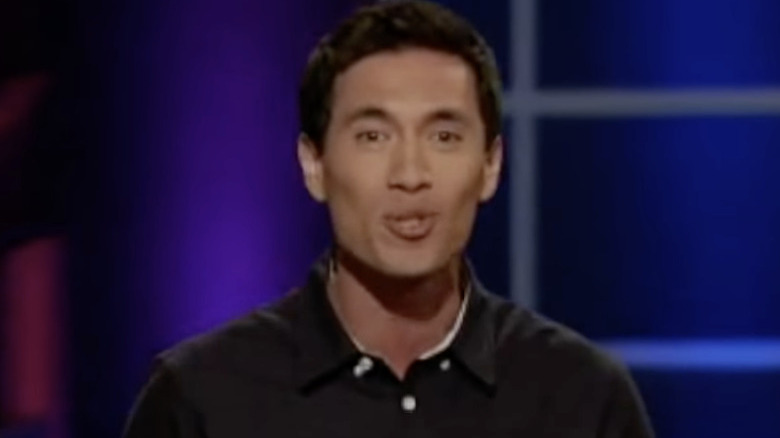 Sony Pictures Television
It's only through the magic of editing that a "Shark Tank" episode feels like a swiftly moving parade of business operators entering the studio, pitching their product and themselves, and then walking out with a new investing partner or nothing at all. According to "Shark Tank" resident Shark Robert Herjavec, each roughly 40 minute episode of the series is compiled from footage obtained over 12 hours of shooting. During a taping day, the Sharks entertain around eight entrepreneurs' pitches, each consisting of about an hour of presentation, questioning, and negotiation. Because a "Shark Tank" segment is cut down to about 10 minutes, viewers have no idea how long it actually took a cash-seeking business owner to attempt to sell the Sharks on their idea — and certainly not Season Four participant Michael Tsang, who appeared on the show with his PlateToppers, plastic coverings that created an air-tight vacuum seal when placed over leftovers, keeping food fresher for longer.
Lori Greiner grabbed an 8 percent equity stake in exchange for a $90,000 investment, but Tsang made "Shark Tank" history for spending the most time on the set. "He was the longest deal we ever had. It went on for two and a half hours," Cuban told Business Insider. "He never quit and kept coming back at us with confidence and eventually got a deal."
Most attempts to get a deal on Shark Tank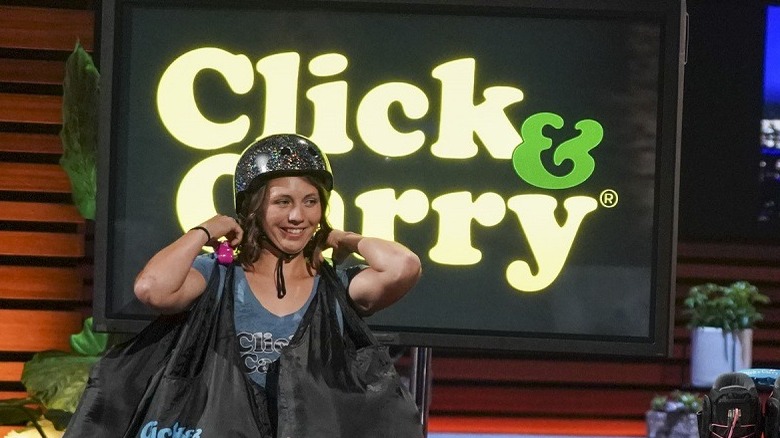 Sony Pictures Television
Tenacity, perseverance, and picking one's self up by their bootstraps and trying again — and again — until they've successfully made their dreams true are the virtues that "Shark Tank" is all about, and ones the show's titular Sharks certainly encourage. While they accept at least one business proposal or two per episode, they reject just as many, sending entrepreneurs in need of a cash infusion or a financial lifeline for their business scrambling for plan B. For Kim Meckwood, the path to successfully marketing a product involved hitting "Shark Tank" for an investment. It actually involved seven trips to "Shark Tank." With that many attempts to make a deal, Meckwood is the show's all-time record holder for persistence.
Meckwood created the Click and Carry, a small, cheap-to-manufacture gadget that allows a user to comfortably carry multiple grocery bags all at once. The inventor got the idea for the product in a dream and then spent seven years trying to get to "Shark Tank," auditioning for the show seven times until she finally got onto the program and asked for a $225,000 investment in exchange for 15 percent of the business. Barbara Corcoran countered, wanting an 85 percent stake for the same amount of money. Meckwood turned that down, only for Mark Cuban and Corcoran to pool their resources to come up with the $225,000 for 40 percent of Click and Carry.
Biggest ask granted on Shark Tank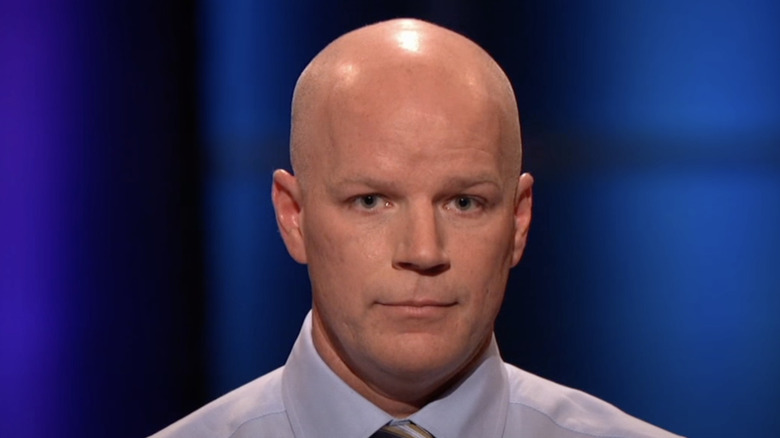 Sony Pictures Television
According to The Hustle (via LaunchPad), through the first ten seasons of "Shark Tank," nearly 900 pitches were entertained with about 500 deals reached. Typically, an agreement was worth about $238,000 in exchange for a 27 percent equity stake. But a December 2014 episode featured a deal whose numbers were far from average. Andrew McMurray, the Vice President of Zachys Wine and Liquor appeared on "Shark Tank" to secure an investment in a venture that would change the very way wine was sold and consumed. McMurray's idea: Zipz, wine sold in individual serving sizes inside plastic wine glasses.
Considering that wine is a massive industry — and one on the rise — it's estimated to grow into a $700 billion business by 2028. Understandably, some of the Sharks had some interest in Zipz, but ultimately passed. But not Kevin O'Leary. He so believed in the future of Zipz that for a relatively small stake of 10 percent, O'Leary agreed to put up $2.5 million — the biggest amount ever negotiated on "Shark Tank."
Biggest ask rejected on Shark Tank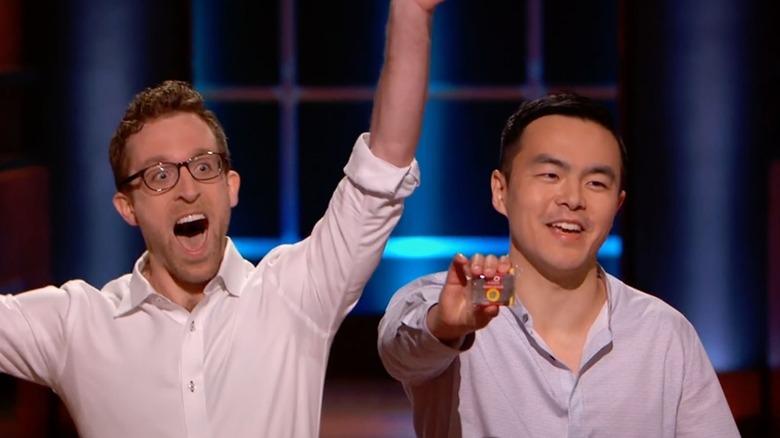 Sony Pictures Television
Any given entrepreneur looking to boost their business's coffers may approach a "Shark Tank" appearance with one of two mindsets. They could ask for a perfectly calculated amount, to cover expenses and a growth plan in exchange for a not-too-big share of the company. Or, they could embrace the "go big or go home" concept and ask for an absurdly large investment sum and hope for the best. Geoffrey Woo and Michael Brandt, co-founders of the health and wellness company Nootrobox, rebranded as HVMN (pronounced "human"), seemingly leaned toward the latter when they entered the "Shark Tank" tank in a December 2016 episode.
Woo and Brandt wanted to introduce more products, and so they went on "Shark Tank" to get the money to launch GO Cubes — coffee in chewable cube form that purportedly didn't leave users with the caffeine jitters and provided extra concentration. Valuing their product at $40 million and touting it as "the future of coffee," Woo and Brandt were prepared to offer a 5 percent stake at a cost of $2 million. Shark Robert Herjavec incredulously pointed out that $40 million was the largest valuation seen on "Shark Tank" to date, which may have added to the reluctance exhibited by the show's investors. HVMN didn't get a deal that day, but it did set a "Shark Tank" record for largest unsuccessful proposal.
Biggest stake given up on Shark Tank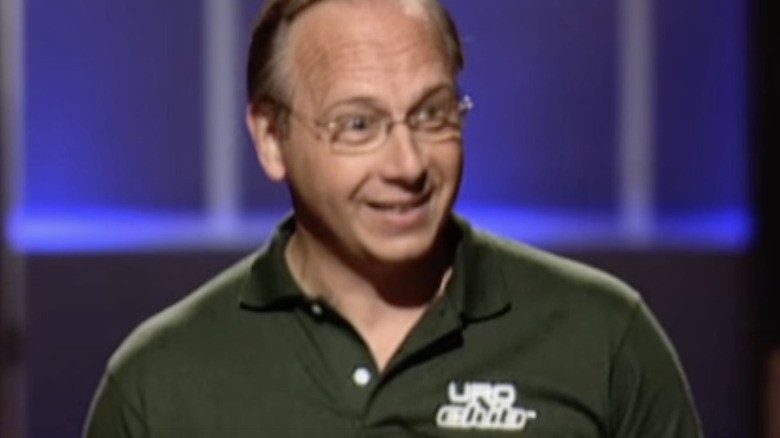 Sony Pictures Television
Generally speaking, the deals agreed to between the in-house investors and visiting entrepreneurs on "Shark Tank" are relatively reasonable while also involving an objectively large sum of money. A few hundred thousand dollars in exchange for 20, 30, or 40 percent of a business seems like a fair, honest, and straightforward arrangement. Sometimes the Sharks will push for a higher stake, and often the fledgling business owners will counter-offer, but nobody ever leaves the show with a deal that isn't mutually agreeable (because otherwise, there is no deal).
There's a lot of money to be had in the world of golf and golf accessories, and "Shark Tank" has witnessed its fair share. In a Season One episode from 2009, Dr. Floyd Seskin came into the tank asking for $25,000 in exchange for a slight majority stake (51 percent) for the rights to his product: the UroClub. Seemingly a silly idea and a novelty item at best, it looks like a golf club and slips into any golfer's bag, but it's actually an emergency urine receptacle in case a duffer so far out on the links that it would be impractical to head back to the clubhouse and use the facilities. After ultimately rejecting it out of hand, Kevin Harrington sharked his way into a deal: He gave Dr. Seskin the $25,000 he wanted, but talked him up to a 70 percent stake in UroClub. That's the biggest share ever handed over during a "Shark Tank" episode.
Lowest ask on Shark Tank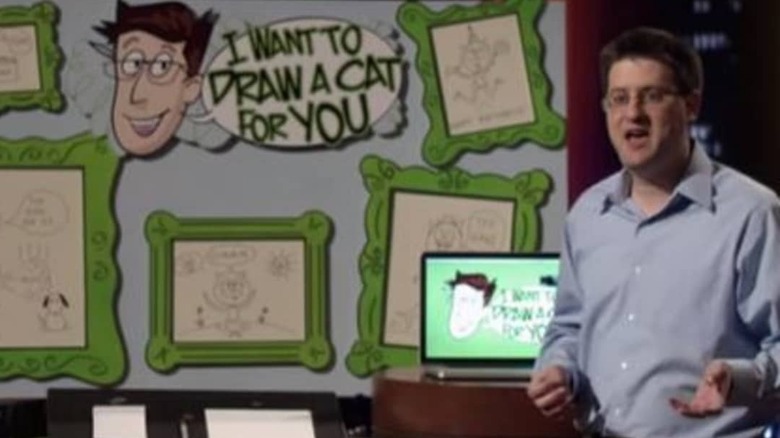 Sony Pictures Television
While the big money "Shark Tank" deals are the ones that make headlines and can help change the entire trajectory of a business owner (and their business) virtually in an instant, Steve Gadlin earned a place in the show's lore and record books for his extraordinarily modest proposal. In January 2012, the artist and illustrator entered the Tank to sell the Sharks on his business idea, a service called I Want to Draw a Cat for You. With a memorable presentation that included a simple poster board and a goofy dance routine, Gadlin talked about his self-explanatory plan for a company that would let customers request a custom drawing of a cat. They'd provide a description of a kitty and a scenario, and for about ten bucks, Gadlin would draw it. 
In the year leading up to his "Shark Tank" appearance, Gadlin had sold around 1,200 drawings, earning a substantial amount of money doing so, but needed investors to help him expand the business and its product line. And yet, all Gadlin wanted was $10,000, for which a Shark would get 25 percent of I Want to Draw a Cat for You. That's the smallest pitch in "Shark Tank" history, financially speaking, and Mark Cuban agreed to support Gadlin, upping the deal to a 33 percent stake for a $25,000 investment.
Most regrettable pass on Shark Tank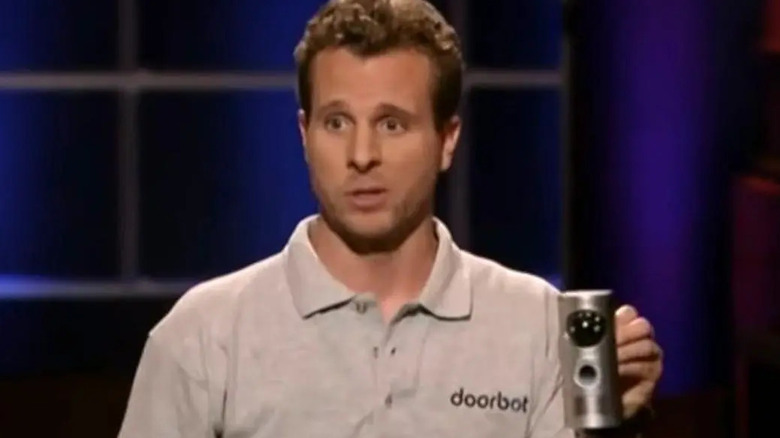 Sony Pictures Television
Not every entrepreneur that graces the "Shark Tank" soundstage walks away with a massive check. While hundreds of participants have saved or elevated their business thanks largely to a "Shark Tank"-negotiated deal, hundreds more weren't able to convince the sharks to give them a chance or a couple hundred thousand dollars. After that, and away from the attention of primetime TV cameras and audiences, some of those "Shark Tank" business also-rans die out, while the operators of others look ahead to other opportunities and possibilities to keep their dreams alive and their doors open. One product in particular featured on an episode of "Shark Tank" went on to earn billions — but not for any of the Sharks, because they all passed on the opportunity to invest in what turned out to be a lucrative equity stake.
In 2013, DoorBot CEO Jamie Siminoff spent the company's last $20,000 or so to build his "Shark Tank" visual aid — a faux front door and front lawn to demonstrate his product in action, a doorbell that allows residents to see in real-time who is standing at their door. Siminoff asked for $700,000 for a 10 percent stake, but none of the sharks thought the product had much of a future. Amazon disagreed, purchasing DoorBot, by then known as Ring, for slightly more than $1 billion. Kevin O'Leary later told CNBC that saying no to Siminoff ranked as "probably the biggest miss" in his "Shark Tank" tenure.
Most successful Shark Tank product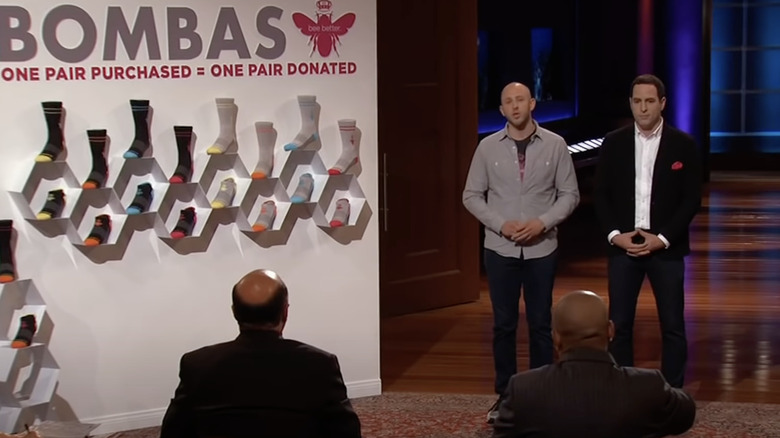 Sony Pictures Television
"Shark Tank" helps provide for business owners and creators several elements that it's virtually impossible to succeed without: a hefty amount of operating capital in the form of an investment from one or more of the Sharks as well as a whole lot of publicity. Several commonplace, everyday products are household names and such a part of daily life for millions of people and such a familiar item on store shelves that it's almost easy to forget they haven't been around all that long, because they made their national debut within the last decade or so on "Shark Tank." Some of the biggest brands to come out of "Shark Tank" include Tipsy Elves holiday sweaters, the Simply Fit exercise gadget, the Scrub Daddy sponge, and Bombas socks.
In the sixth season premiere of "Shark Tank" in 2013, Randy Goldberg and David Heath sought a $200,000 infusion in exchange for a 5 percent stake in Bombas, a producer of extra-soft, comfort-first socks (and later, T-shirts). Four of the five Sharks said no, and Daymond John was about to join his cohorts, until he negotiated a deal to provide Goldberg and Heath with their 200 grand for a 17 percent share. That was a very profitable investment. In 2021, Bombas overtook Scrub Daddy to become the single-most lucrative product to ever get a "Shark Tank" vote of support, having generated sales of $225 million.
Most watched episode of Shark Tank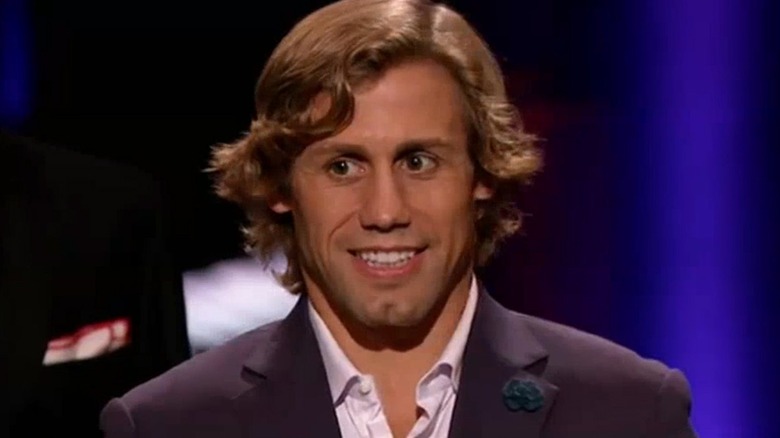 Sony Pictures Television
"Shark Tank" wasn't always a heavily-watched staple of the ABC primetime lineup and the network's signature reality TV show. It debuted quietly, in the television offseason of the summer, in August 2009. It was a sleeper hit, growing over time and launching spinoffs ("The Toy Box") and multiple international versions while amassing a huge bank of episodes that form the basis of CNBC's nighttime, non-financial-news programming. At the end of the 2009-2010 season, its first full frame on broadcast TV, "Shark Tank" ranked #88 in the ratings, pulling in the same number of viewers as largely forgotten and quickly canceled shows like "Happy Town" and "Sons of Tucson." 
However, within just four years, "Shark Tank" viewership figures got a lot better. "Shark Tank" rose to #44 in the ratings for the 2013-2014 season. And it wasn't done rising — the following season would feature the most-watched individual episode out of nearly 300 "Shark Tank" installments and counting. Airing on January 16, 2015 and featuring cameo appearances from champion fighter Uriah Faber and actor Dean Cain, pitches for the Lumio lighting device and TurboPUP meal replacement bars for dogs were seen by 8.64 million viewers.