Johnny Knoxville Weighs In On The Possibility Of A Jackass 5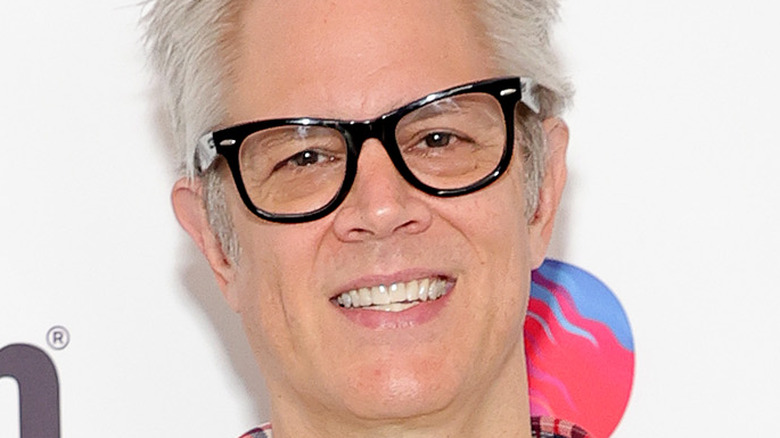 Cindy Ord/Getty Images
When "Jackass Forever" premiered on February 4, 2022, it marked nearly 22 years after the original "Jackass" TV series premiered in October 2000. Currently, star and co-creator Johnny Knoxville is 51 years old. Given the dangerous nature of the gnarly stunts on "Jackass," it's become routine for journalists to ask Knoxvillle and company when the ride is going to end.
"Jackass Forever" marked a new chapter in the "Jackass" saga. For one, it introduced a new crop of younger cast member, including Sean "Poopies" McInerney, Zach Holmes, Jasper Dolphin, Eric Manaka, and Rachel Wolfson, as well as cameos from stars like Tony Hawk, Machine Gun Kelly, and Eric Andre. Bringing in new blood to take the workload off of the original stars is something Knoxville said he wanted to do for "Jackass Forever" back in 2018 (via Alternative Press).
For Knoxville, "Jackass Forever" was also the last film in which he was willing to do death-defying stunts. After Johnny Knoxville's infamous bull stunt gave him brain damage, he vowed to only do the less dangerous ones. 
So, with all of that change, it's fair to wonder about the future of the "Jackass" franchise. Here's what Johnny Knoxville said about a possible "Jackass 5."
There are no plans for a fifth film, but Knoxville isn't ruling it out
The subject of "Jackass 5" came up during Knoxville's interview with Steve-O on his podcast, "Steve-O's Wild Ride." Knoxville was non-committal, like he has been consistently during the promotion of "Jackass Forever."
"I keep saying, like, we might, we might not, but there's no, like, definitive answer," Knoxville said. "But I think these reporters have to come in with some angle. Right? So it's whatever, I understand" (via YouTube).
This echoes what Knoxville told ScreenRant shortly before the "Jackass Forever" premiere, when he was similarly vague about the possibility of "Jackass 5." "There could be another film, possibly. We have the younger cast, a ton of ideas. But like [director] Jeff [Tremaine] said, we don't make plans."
Knoxville did tell ScreenRant that it's doubtful they would revisit the "Jackass" TV series, because films allow them so much more creative freedom.
During the most recent interview, Steve-O and Knoxville said they'd both been asked repeatedly whether "Jackass" was over following the fourth movie. Both agreed that this is likely a misinterpretation of Knoxville's earlier comments, when he said he wouldn't be doing any more life-threatening stunts. Steve-O made a similar decision, refusing to do any stunts that risked death or paralysis.
Now that both performers are well into middle age, that approach is entirely reasonable. Even if they weren't, "Jackass" can still be plenty funny without anyone getting seriously hurt.