The Hollywood A-Listers You Forgot Starred In Beavis And Butt-Head Do America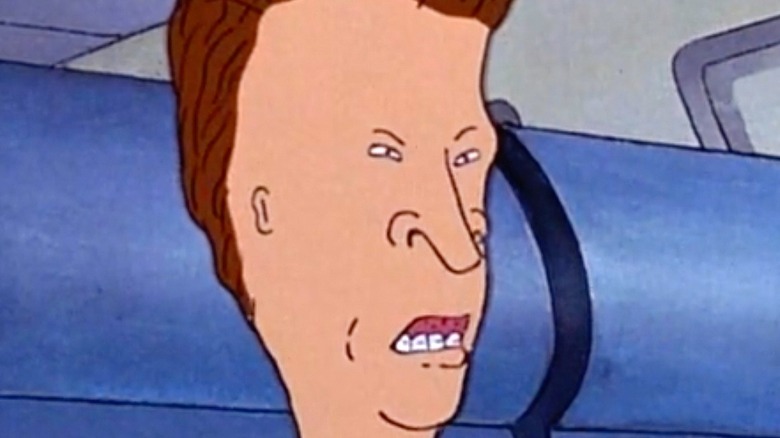 Paramount Pictures
By the time "Beavis and Butt-Head Do America" arrived in theaters in 1996, the two lovable losers were already cultural icons. The Mike Judge-created idiots (who Judge voiced, might we add) seemed to be everywhere not long after the 1993 debut of "Beavis and Butt-Head" led to the animated show becoming MTV's highest-rated show by the early '90s (per History). The duo could be thrown into just about any scenario, their obliviousness never changing. Whether it was getting under the skin of their straight-laced neighbor Tom Anderson (also voiced by Judge) or just kicking back and doing commentary to the biggest music videos, their unique brain-dead nature never changed and their TV series never failed to provide adult viewers with noteworthy bits of entertainment. 
The success of "Beavis and Butt-Head" is more impressive when you consider the fact that, per a 1994 Los Angeles Times write-up on the success of the MTV show, it was all based on Judge's homemade short film "Frog Baseball," which he made three years into his pursuit of animation. After debuting the short at the International Festival of Animation, "Frog Baseball" went on to appear on MTV's "Liquid Television." The animated short was enough to secure a series order from MTV and from there, it was off to the races for the future "King of the Hill" creator. 
Despite the show's success, it wasn't exactly the most attractive property for A-list celebrities to get involved with. "Beavis and Butt-Head" was subversive and raunchy, especially for its time, and the titular Highland teen duo made fun of celebs like they were anyone else. When Judge finally decided to jump to the big screen with "Beavis and Butt-Head Do America," he managed to get two of the biggest stars in the world to voice two memorable characters.
Bruce Willis and Demi Moore voice devious couple Muddy and Dallas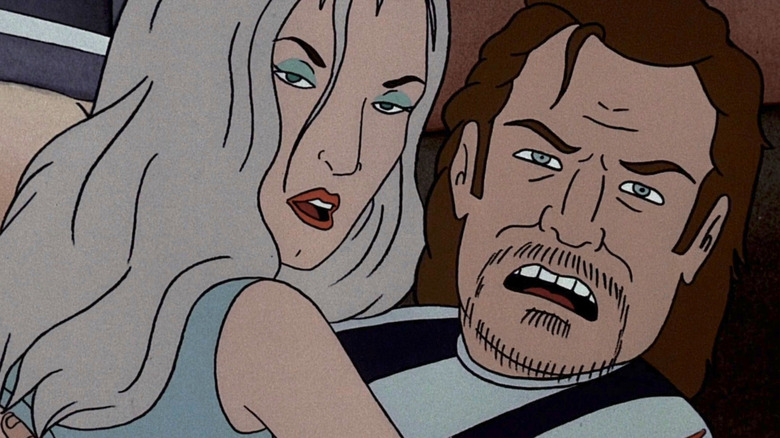 Paramount Pictures
By the mid-'90s, Bruce Willis and Demi Moore were a top-tier celebrity couple, with their prominence growing exponentially as individuals and as a pair following their 1987 nuptials. They were also two of Hollywood's most in-demand actors. Willis was well-established as the face of the "Die Hard" franchise, and Moore, already on a hot streak with her performances in "Ghost," "A Few Good Men," and "Indecent Proposal," was able to demand an eye-popping (for the time) $12.5 million salary for "Striptease" (per Entertainment Weekly).
In "Beavis and Butt-Head Do America," Willis and Moore voice Muddy and Dallas, a former couple who separately try hiring the boys to "do" the other. Of course, the exes mean "kill" when they say "do," but dim-witted high schoolers Beavis and Butt-Head take it to mean "sex," which in turn makes them pretty darn excited after Muddy hands them $10,000 and some lost-in-translation instructions. He mistakes the boys as hitmen he's waiting for when they wander into his fleabag motel just looking to watch some tube. It all starts with a stolen TV set at their own home and ends with Dallas sending the boys to Washington D.C. with a biological weapon. That's how things work in Beavis and Butt-Head world. 
Before the 1996 animated movie, Willis and Moore teamed up for 1991's "Mortal Thoughts." In 2003, they worked together on "Charlie's Angels: Full Throttle," though Willis goes uncredited there (per IMDb). But entering Judge's world as a couple determined to kill and manipulate one another is definitely their most unique pairing.