Three Episodes In, This Is The Worst Part Of Ms. Marvel According To Fans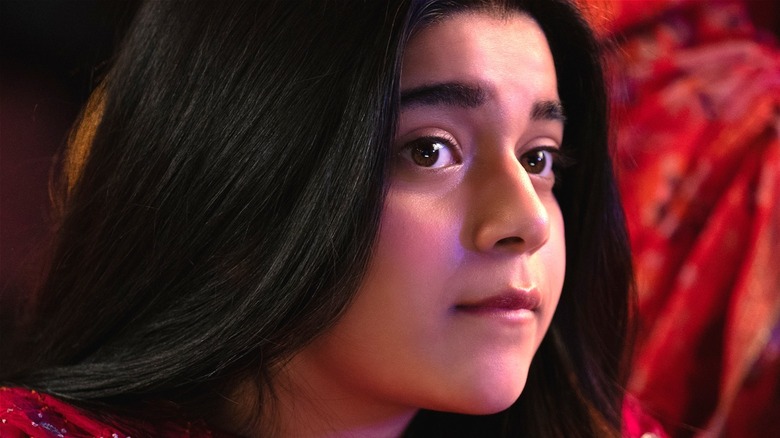 Daniel McFadden/Marvel Studios/Disney+
Although for many viewers it might seem like the Disney+ series only just arrived, we have officially hit the halfway point of "Ms. Marvel." A mere two weeks after the first episode aired, we can already see the light at the end of the tunnel. On June 22, Episode 3 ("Destined") gave viewers yet another glimpse into the world of the Marvel Cinematic Universe.
In this episode, Kamala Khan (Iman Vellani) continues her personal quest for answers and details surrounding her power-unlocking family bangle, which she found tucked away in her attic in Episode 1 ("Generation Why"). According to "Ms. Marvel" producer Sana Amanat, the bangle activates abilities already inside Kamala through her heritage. "A cool thing the writers did was they linked the powers to something related to her past we thought would be very meaningful," Amanat told Time Magazine, "And that was a smart way of talking about the metaphor of empowerment and linking that to heritage."
With each new episode of "Ms. Marvel," viewers have been given more and more information about the extent of Kamala's powers. And while there have been plenty of positive reactions from critics and fans ever since the show first debuted (via Rotten Tomatoes), many viewers keep complaining about something the show seems keen to repeat in each and every episode.
Ms. Marvel viewers have had enough of the cliffhangers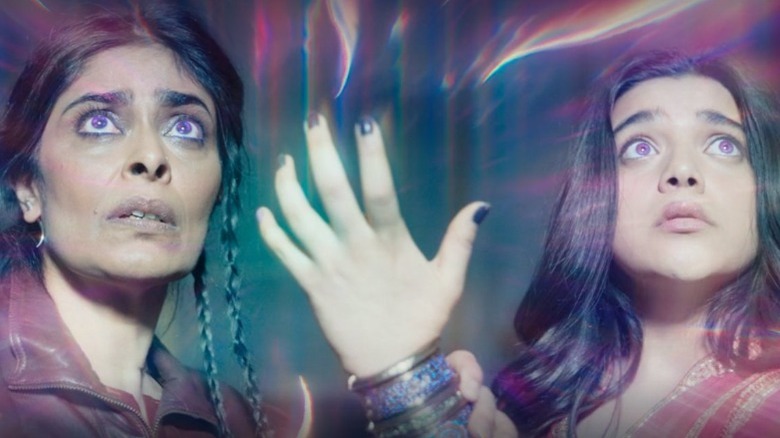 Marvel Studios/Disney+
So far, each episode of "Ms. Marvel" has ended on a high note, with a surprising reveal or an unexpected twist arriving at the last possible second. In Episode 1, Damage Control's Agent Cleary (Arian Moayed) secretly begins to set his sights on finding Kamala Khan. Episode 2 ("Crushed") similarly ends with the introduction of Najma (Nimra Bucha), the mother of Kamala's crush, Kamran (Rish Shah). And most recently, "Ms. Marvel" Episode 3 concludes with Kamala's grandmother insisting that her granddaughter visit her after the two witness a vision of a train from Karachi, Pakistan.
Evidently, "Ms. Marvel" fans are completely fed up with these cliffhangers, which appear to frustrate viewers only seconds before the credits roll. After watching the third episode, more than a few complainers took to Twitter to let their voices be heard. In a June 22 tweet, @captaincupkicks wrote, "They can't keep leaving me with cliffhangers like this. How am I supposed to wait a week GIVE ME THE NEXT EP RN COWARDS." This tweet has since been liked more than 800 times. Notable replies to this tweet included such succinct notes as:  "Literally," "Exactly," and "SAME!" 
However, this was far from the only thread filled with such complaints. After watching, @zekibum joked: "Why would I suffer like this every Wednesday!" Similarly, @MetalheadFin wrote, "The whole MCU thing of ridiculous cliffhangers is still going strong."