The Bones Episode You Didn't Know Was Directed By The X-Files' David Duchovny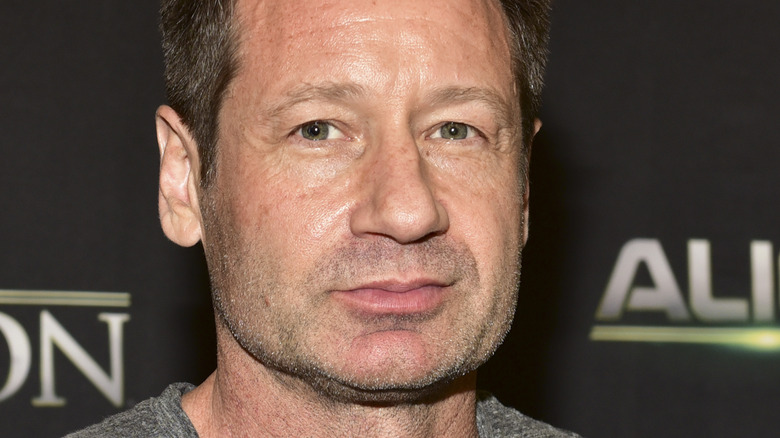 Rodin Eckenroth/Getty Images
Given that David Duchovny has been a working actor since the late '80s, one might be a bit surprised to learn that, as of the time of writing, he only has 67 acting credits to his name. As those credits include roles in iconic TV series like "Twin Peaks," "The X-Files," and "Californication" — not to mention a laundry list of big-screen titles like "Zoolander" — it would appear that perhaps the actor takes the "quality over quantity" approach.
Duchovny has, of course, taken a fair amount of time off from his acting career over the years to pursue other avenues of creativity. When he's not on set, the Princeton and Yale-educated Duchovny has managed to not only publish a handful of novels, but also release three albums of folk-tinged alt-rock (via Goodreads). And like many an actor before him, the small screen legend has, on occasion, opted to take his talents behind the camera. You may not know it, but he even helmed a 2006 episode of the hit Fox procedural "Bones." Here's which episode Duchovny directed.
Duchovny helmed a memorable Season 2 episode of Bones
"Bones," the quirky Emily Deschanel and David Boreanaz-led procedural series known for blending grim crime investigations with a hefty dose of character comedy, had an impressive 12-season long run on Fox. As for David Duchovny, he claimed the director's chair on "Bones" early in that run, helming a Season 2 episode titled "Judas on a Pole." 
In true "Bones" fashion, said episode gets off to a grisly start, with a man being tied to a pole and set ablaze with gasoline. That vicious act sets Booth (Boreanaz) and Brennan (Deschanel) on the trail of several suspects, including Brennan's own long MIA father, Max Keenan (Ryan O'Neal in his first series appearance). We'll spare you the narrative nitty-gritty of "Judas on a Pole" for fear of spoiling the episode, but we will say that Duchovny hits the requisite gory, goofy, and dramatic notes with aplomb. Per an interview with IGN, at least one member of the "Bones" cast thoroughly enjoyed being directed by the "X-Files" star. Eric Millegan, aka fan-favorite squintern Zack Addy, said of Duchovny the director, "He was great. He would challenge me to do some very funny things."
Duchovny has done more directing than you probably realize
You may not realize it, but by the time David Duchovny helmed that Season 2 episode of "Bones," he was sort of a seasoned vet. In fact, prior to his lone directing gig on the hit procedural, he'd already helmed several episodes of the sci-fi series that made him a household name. All in all, Duchovny directed three episodes of the extremely influential "The X-Files" between Seasons 6 and 9, and obviously did so while also portraying FBI Special Agent Fox Mulder. In between "The X-Files" and "Bones," the multi-talented performer also wrote, directed, and starred in his first feature film, 2004's "House of D," which boasted the talents of Robin Williams, Anton Yelchin, and Duchovny's then-wife Téa Leoni.
The former "X-Files" star has kept busy behind the camera since that "Bones" gig as well, helming six episodes of his Showtime hit "Californication," and one of his stylish, but short-lived '60s-set cop drama "Aquarius." Duchovny is hardly looking to hang up his director's hat anytime soon, either. He's currently set to adapt and direct a pair of his own literary works, with "Truly Like Lightning" going the way of a TV mini-series, and "Bucky F***ing Dent" getting the feature film treatment. Both of those projects are listed as being in early stages, per IMDb, so let's hope we see them sooner rather than later.