Why Young Sheldon Fans Are So Divided On Georgie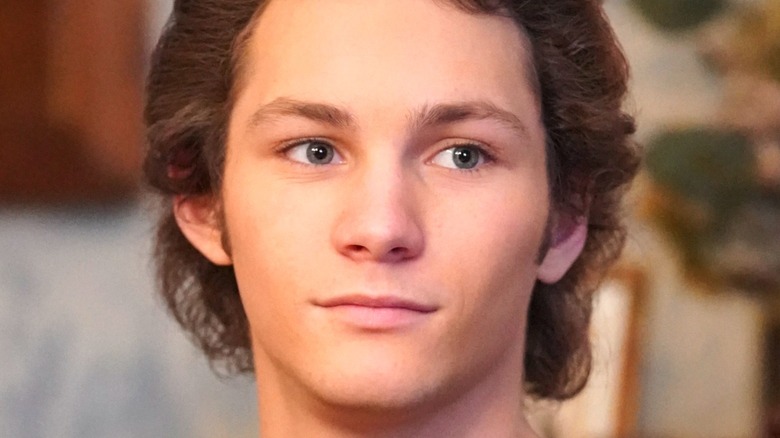 Bill Inoshita/2022 Warner Bros. Entertainment Inc.
While most episodes of "Young Sheldon" usually revolve around Sheldon Cooper (Iain Armitage), the boy genius is, after all, a young kid with parents, a Meemaw (Annie Potts) he adores, and two decidedly less gifted siblings. As a result, it's not surprising that many of the show's stories highlight Sheldon's parents, Mary (Zoe Perry) and George Sr. (Lance Barber), and his siblings, Missy (Raegan Revord) and George Jr. aka "Georgie" (Montana Jordan), as Sheldon's family members deal with their own issues. Of course, all of the drama in Sheldon's family inevitably impacted him.
"No one has a road map, and we all come with our own baggage and way of communicating," Perry told Glamour in an interview in 2017. "You'll see difficult situations come up, with some softer and some harder moments. That's the nature of reality, right? There's comedy and tragedy in everything." When George Cooper Sr. suffered a small heart attack in Season 1, Episode 3 ("Poker, Faith, and Eggs"), Sheldon spent a brief moment wondering if there could actually be a God. 
In fact, this is far from the only example of the show that demonstrated how a major incident for someone close to Sheldon affected him and the rest of the family. Unsurprisingly, this also occurred in Season 5, when Georgie and his girlfriend, Mandy (Emily Osment), found themselves in a somewhat unexpected situation, and in his quest to do what he thought was right, even more things went wrong.
Fans can't decide if Georgie deserves to be punished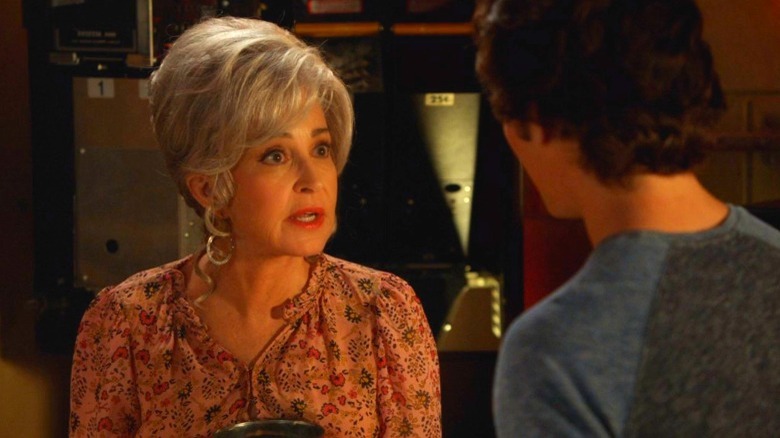 CBS
In Season 5, Episode 17 ("A Solo Peanut, a Social Butterfly and the Truth") of "Young Sheldon," Mandy revealed that she is pregnant with Georgie's child. From that point, things begam to spiral out of control in the Cooper household. Mary was fired from her job at their church because 'people are talking,' and George and Mary began fighting more. Georgie tried to sell beer at his and Meemaw's gambling business to make more money, and when she put a stop to it, he decided to drive to Mexico and buy cheap cigarettes to sell, instead. Meemaw reluctantly went with him when it's clear he can't be deterred, and they have to call George to bail them out when they're arrested.  
Some fans feel that everyone has been too easy on Georgie since Mandy announced her pregnancy. On a "Young Sheldon" Subreddit, MappleJokei wrote that "Georgie is not facing any real consequences for his actions and everyone is giving him a pass." But some disagree, with another commenter writing "What consequences would you like? Put them in jail? ground him? This is an adult mistake and he has adult consequences, the responsibility is punishment enough."
In an interview with CBS Los Angeles, Montana Jackson says Georgie is "trying everything he can to be able to afford everything, and stuff like that. It might not be the most legal way, but he's trying to do what he can to be in the baby's life and everything." While it's true that Georgie lied about his age to 29-year-old Mandy when they met, it's also obvious he wants to be there for her and the baby. Mandy's feelings toward allowing that may change when she and everyone find out he and Meemaw were arrested, but fans will have to wait until Season 6 to see how the still-unfolding situation affects the Cooper family.