The Worst Criminal In Law & Order: SVU Season 20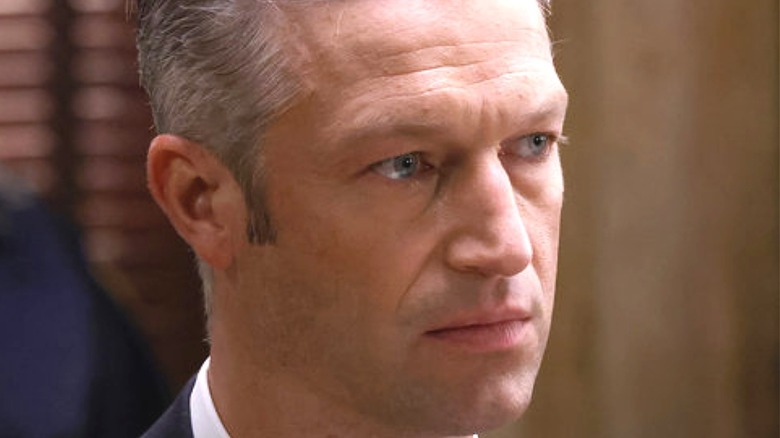 Will Hart/NBC
Both casual viewers and avid binge-watchers alike typically find common ground regarding crime dramas and police procedural shows. Since 1990, the "Law & Order" franchise has kindly satisfied all types of TV watchers. The popular crime show first branched out into new endeavors in 1999 with the release of "Law & Order: Special Victims Unit." The series was — and still is — a smash hit. With over 20 seasons under its belt, it's now surpassed "Gunsmoke" as the longest-running television drama series, according to Insider.
There have been plenty of heinous crimes and gruesome crime scenes over the years, and that hasn't slowed down even in recent seasons. However, in some episodes, the crime itself, along with the criminal behind it, veers slightly off the usual "Law & Order: SVU" track and into new territory. In Season 20, viewers got to see an episode out of the ordinary for what's expected on "SVU," and its uniqueness is part of the reason that the episode's criminal can be considered the worst of the season.
Murderous mother Anna Mill is the worst criminal of the season
In Season 20, Episode 7, "Caretaker," fans of "Law & Order: SVU" got an unexpected change of pace when the crime that's occurred isn't typical of other "SVU" episodes. Julian Mill and his two children, Rachel and Charlie, are murdered in cold blood, and after wrongfully accusing the family nanny, Delores (Soleidy Mendez), investigators learn that the murderer was right under their noses. The mother, Anna Mill, is actually the killer. 
Anna's twisted reasoning for killing her family makes the crime even more incomprehensible as she says that she needed to save her family from the inevitable hardships and failures that come with life in general — as well as her own fraudulent actions potentially getting found out. She genuinely believed that killing her children while they slept was a better fate for them than what the real world would have presented. It's a step away from usual "SVU" crimes, which often depict violent crimes against children that their parents weren't able to protect them from. The episode's reveal of the mother being the murderer rather than the protector is shocking and difficult to stomach.
The mother and killer in "Caretaker," Anna Mill, is played by Sasha Alexander, who is probably best known for her role as Dr. Maura Isles in the series "Rizzoli and Isles." In an emotional Instagram post shortly after the episode's release, Alexander expressed her gratitude to the makers of "Law & Order" while acknowledging how hard it was to play the role of Anna. "It was difficult, emotional material but the warm cast & crew helped bring lightness among us," she wrote. "I can tell you that it is no wonder this show is in its 20th season, they truly care about every moment."