This Suits Star Is Unrecognizable In The Umbrella Academy Season 3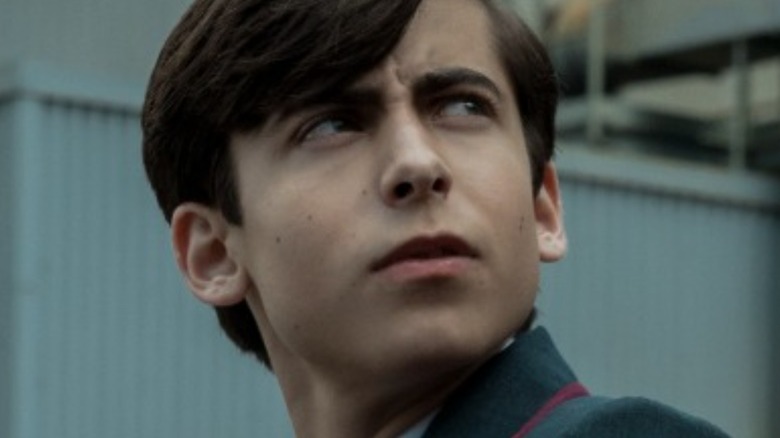 Netflix
Contains spoilers for "The Umbrella Academy" Season 3
Netflix's "The Umbrella Academy" has finally returned for its third season, which picks up right where "The Umbrella Academy" Season 2 ends, as the team arrives at the mansion to find that they're in a completely different timeline — one in which the Umbrella Academy doesn't exist, but the Sparrow Academy does. Yes, in this world Sir Reginald Hargreeves (Colm Feore) never adopted the team we've all come to know and love as children.
It's a wild season, as Luther (Tom Hopper), Five (Aiden Gallagher), Allison (Emmy Raver-Lampman), Diego (David Casteñada), and Viktor (Elliot Page) race to stop yet another apocalypse from dissolving this new reality — as well as any chance they have of getting home. The Sparrows come complete with some wild new abilities, and one former cast-member from the hit cable drama "Suits" in their midst — and not one from one of the episodes you never knew existed, either (although he might as well be, since he's completely unrecognizable here).
Jake Epstein plays Alphonso Hargreeves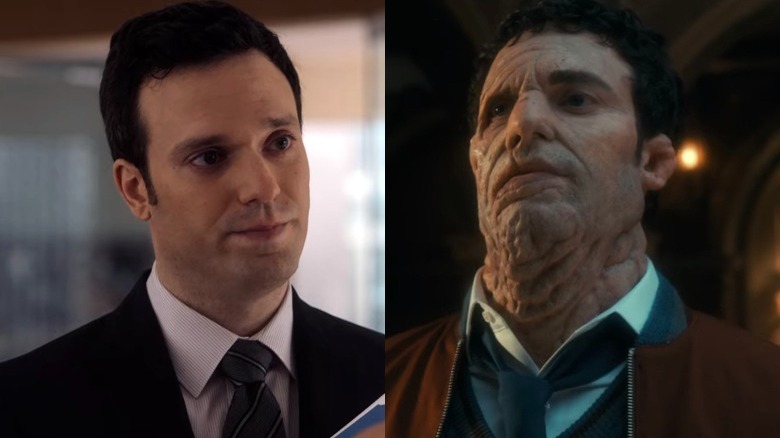 USA/Netflix
Alphonso Hargreeves is played by Jake Epstein, whom "Suits" fans will know as Brian Altman, the junior associate lawyer who joins Pearson Specter Litt in Season 7 (via Fandom). Eventually, he works his way up to becoming a senior partner at the firm and buddies up with Katrina Bennett (Amanda Schull). Although a romantic relationship starts to blossom between them, Brian decides to stay faithful to his unseen wife, Julie.
Epstein isn't so wholesome in "The Umbrella Academy" Season 3. His Sparrow, Alphonso, comes with a devastating set of abilities: He can essentially reflect any damage done to him by an attacker. He's got a pretty unique look next to the rest of the gang thanks to heavy facial scarring and a beer belly, accomplished by virtue of substantial prosthetics. 
Epstein previously spoke to The List about what it was like joining the Netflix series mid-stream. He explained, "My character and some of the other new characters really get to kind of change up the game, change up the show, so we got to come in with our own rhythm. That made it easier." The star clearly enjoyed his time as a Sparrow, but he also revealed his favorite part of being part of the show. "One of the really amazing things for me about working on the show was getting to meet and work with Elliot Page, who not only is doing just incredible things for trans rights, but also he's a phenomenal actor," he said. "That was a huge highlight for me."