The Hardest Role Ozark's Julia Garner Ever Played According To Her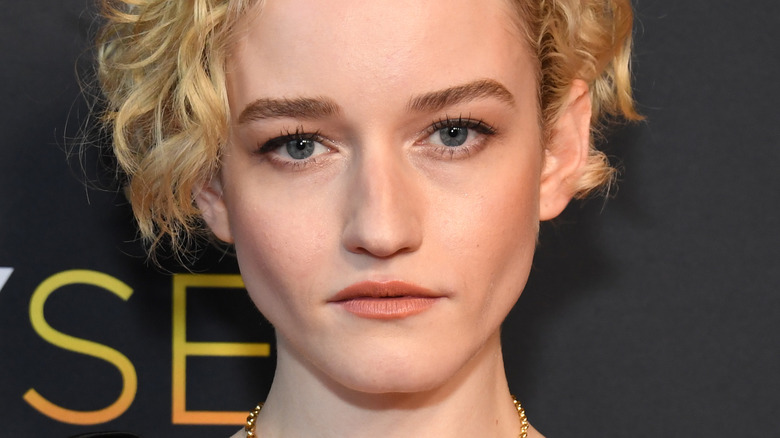 Jon Kopaloff/Getty Images
In the space of just a few short years, Julia Garner has gone from being an under-the-radar talent to one of the more in-demand actors of her generation. That ascension is, of course, in no small part due to her show-stopping (and Emmy-winning) turn as Ruth Langmore in Netflix's smash hit crime drama "Ozark." And if Garner has a signature role at this stage in her career, the ambitious, hopelessly impetuous, and foul-mouthed Lake of the Ozarks native is surely it.
Ruth was hardly Garner's first role of note, however, as she had already begun making a name for herself on the strength of her work in projects like "The Americans," "We Are What We Are," and "Martha Marcy May Marlene." She has also continued to bolster her stardom with a series of impressive post-"Ozark" turns in projects such as "The Assistant." Indeed, it seems that every new role Garner lands finds the actor pushing herself to showcase some new facet of her skill set.
But according to the "Ozark" breakout herself, there is one role, in particular, that pushed her further than any other. This is the role Julia Garner claims is the hardest she has ever played.
Playing a real-life con artist proved tricky for Julia Garner
A 2021 W Magazine profile reports that for Julia Garner, playing real-life con-artist Anna Sorokin is the toughest role she's had to date. She portrayed Sorokin in the 2022 Netflix series "Inventing Anna," which was based on Jessica Pressler's New York Magazine expose about a Sorokin, a phony German heiress who turned out to be an incredibly skilled grifter who swindled numerous New York socialites. 
It seems that Sorokin's complex personality and mannerisms proved the biggest challenge for Garner, with the actor explaining that she had to spend significant time studying "things like how she moves her eyes and how she talks, how her accent changes based on who she's with." Speaking of accents, Garner also said that mastering the character's hyper-specific patterns of speech was particularly challenging. Per Garner, "Anna's posing as a German heiress, but actually she's Russian, so first I had to learn to speak in English with a proper German accent, and after that learn a slightly Russian accent to add underneath." She continued, "Then you have the element that she probably learned English from the Brits, because she's European, but she'd also lived in America and loved to watch 'Gossip Girl.' So the musicality of her speech was American."
Netflix viewers logged an incredible amount of hours watching "Inventing Anna," though it got mostly tepid reviews from critics. Still, Garner did receive praise for her performance. In an otherwise mixed review for The Oregonian, Kristi Turnquist wrote, "Holding it all together is Garner, who makes Anna a charismatic enigma ..." It seems that Garner's hard work paid off.