The D&D Theory That Has Stranger Things Fans Looking Back At Season 4 Episode 1
Netflix
As we all wait on pins and needles for Part 2 of Season 4, fans of "Stranger Things" are, predictably, looking for any clues as to what these final episodes of the season have in store. There are a few things we can safely assume. First is that Hop (David Harbour), Joyce (Winona Ryder), and Murray (Brett Gelman) will be trying to make their way back Stateside. We also know that Mike (Finn Wolfhard), Will (Noah Schnapp), Jonathan (Charlie Heaton), and Argyle (Eduardo Franco) are headed to Nevada to help Eleven (Millie Bobby Brown).
Past that? It's anyone's guess. We have no idea if Nancy (Natalia Dyer) will be able to escape Vecna's curse or how Eddie and the rest of the Hellfire Club plan to dodge the large mob of vigilantes storming through town — which is to say nothing of how our protagonists plan to defeat Vecna (Jamie Campbell Bower). Naturally, predictions and fan theories are circulating at a time like this, and there are already plenty, from the idea that Eddie might save Nancy by putting his shredding skills to good use in the Upside Down (via Bleeding Cool) to the suggestion that school therapist Ms. Kelly (Regina Ting Chen) might somehow be connected to Vecna (via PopSugar).
But there's one theory in particular that has fans dissecting the first episode of Season 4. And it has to do, of course, with Dungeons and Dragons. 
Does the D&D game in Episode 1 predict the final battle against Vecna?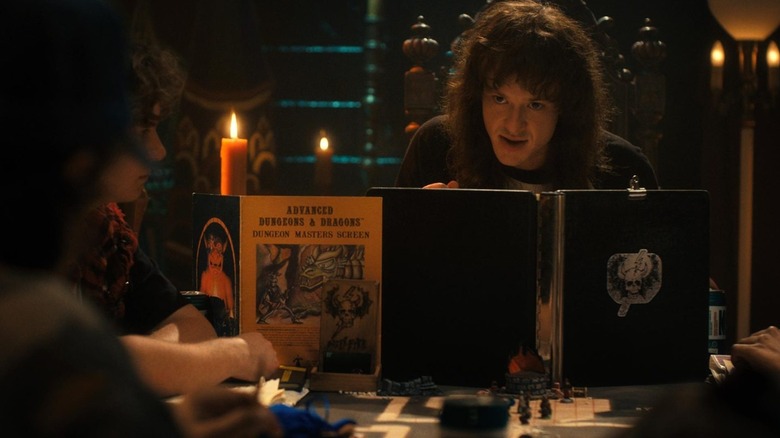 Netflix
Commenters of the r/StrangerThings subreddit are trying to connect a new theory to an iconic game. In Season 4, Episode 1, Dustin, Mike, Erica (Priah Ferguson), and the rest of the Club facedown Eddie's long-running Dungeons and Dragons campaign, which features Vecna – D&D Vecna, not Upside Down Vecna — as an antagonist. The three decide to battle, eventually defeating Vecna but having sustained heavy casualties. "We all know how many parallels there are between D&D and what's happening in reality," wrote u/Ivaylo_87. "This made me think, what if this campaign is actually foreshadowing what's to come in the last episodes?"
If that's the case, the gang might be in for some heartbreaking losses. Throughout the whole series, D&D has been more than just the names of villains and a fun pastime for the gang. Given that the Duffer Brothers are avid players of the tabletop game, it has provided crucial inspiration for plot and character development (via Netflix's Tudum).
"Pretty sure Dustin rolling an 11 and it being a miss is the foreshadowing of something bad happening," wrote u/Rooks4567, meaning that El won't ultimately be able to defeat Vecna. This plot line would be a real surprise since, as we know from Episode 7, El created Vecna, albeit accidentally, and was able to do so because even though she was younger, she was more powerful than Henry Creel. However, this fact in and of itself guarantees nothing. Ultimately, we'll have to wait until July 4 to find out how close a D&D game can mirror the real-life struggle between good and evil.