How Stranger Things 4's Vecna Set A Huge Change In Motion For Dungeons & Dragons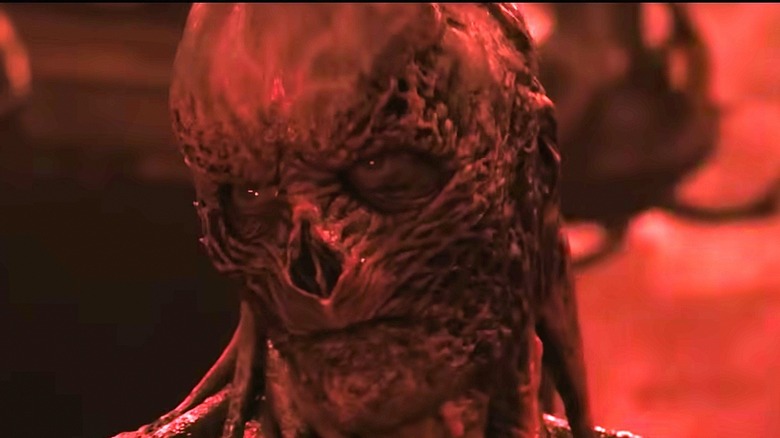 Netflix/YouTube
It shouldn't be surprising, given how well "Stranger Things" has tapped into 1980s nostalgia, but Season 4 has already given us a chance to revisit and reassess key parts of that decade's culture. There is, of course, Episode 4's introduction of Kate Bush's 1985 single "Running Up That Hill (A Deal With God)" to a whole new generation. That song -– now almost 40 years old –- has received so much renewed attention that it has reached the Top 10 on the charts of no fewer than 34 countries (via NPR).
And then there's "Dungeons & Dragons." The fantasy tabletop game has always played a key role in the world of "Stranger Things," providing not merely hours of entertainment for Mike (Finn Wolfhard), Will (Noah Schnapp), Lucas (Caleb McLaughlin), Dustin (Gaten Matarazzo), and rest of the gang, but inspiration for naming the monsters that crawl out of the Upside Down.
The most recent addition to this rogue's gallery is Vecna, an utterly terrifying creature from the Upside Down that preys on the trauma and pain of teenagers around Hawkins, Indiana, and, as with the rest of the Upside Down, has a psychic link with Eleven (Millie Bobby Brown). As fans of "D&D" will know, Vecna is, like the Demogorgon and the Mind Flayer, named after yet another monster of the game. So deep has this symbiotic relationship gotten that the Vecna of "Stranger Things" is now prompting a big change in the world of "Dungeons & Dragons."
Vecna and D&D are getting a whole new look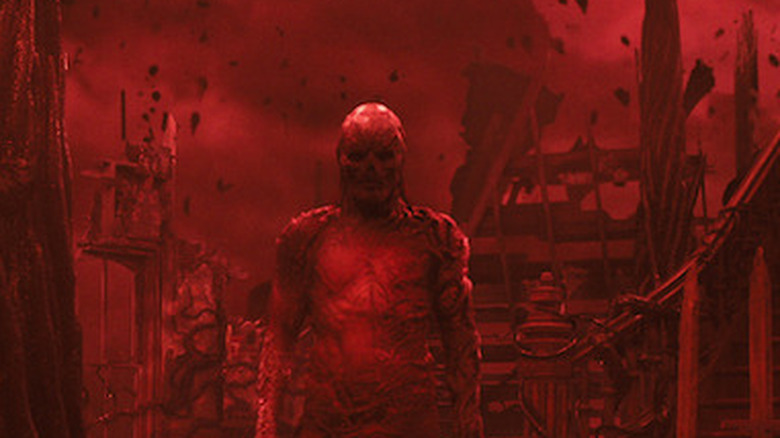 Netflix
According to a tweet from games and publishing artist Kieran Yanner, who has designed for Hasbro and "D&D" in the past, "When Season 4 of Stranger Things started production Wizards wanted to give an update to Vecna. The show ultimately took a different route that worked for the setting, but we were able to finalize some new visual canon for D&D."
Indeed, the Vecna of "D&D" has historically looked quite different from the noseless, humanoid, overgrown raisin that terrorized Hawkins. At the time "Stranger Things 4" is set, Vecna wouldn't technically have had any definitive form. In 1986, it was only described through two magic items made from its discarded body parts, with Dungeon Masters typically filling in the gaps via creative license (via Time Magazine). Only in 1989 was Vecna given a more detailed description as a character: a decaying skeleton or near-skeleton with various gold armor plates attached to its skeletal form.
As with most "Dungeons & Dragons" characters, the look of Vecna has changed over the years. Judging from Yanner's tweet, designers are consciously going a different route than "Stranger Things." This means it isn't really clear just how dramatic or mild these coming tweaks are going to be. Sounds like we won't have to wait long, though, as Yanner also teased that he will soon be revealing more details on the changes.