Dune: Part Two Just Nabbed A Big Star From The James Bond Franchise
The second half of Warner Bros.' live-action adaptation of the Frank Herbert space opera "Dune" is already shaping up to have quite an impressive cast to match its source novel's massive cast of characters. In addition to key stars returning to Spice World from the first "Dune" film (namely Timothée Chalamet, Rebecca Ferguson, Zendaya, Josh Brolin, and Javier Bardem), we also know big names confirmed for "Dune: Part Two" include Florence Pugh as Princess Irulan, Austin Butler as Feyd-Rautha Harkonnen, and the legendary Christopher Walken as Emperor Shaddam IV. Much like the first film, which landed day-and-date in theaters and on HBO Max back in October 2021, this line-up of talent is going to be one of the big draws for fans.
If you're familiar with Herbert's "Dune" and its many sequels (at least one of which — "Dune Messiah" — may receive a screen adaptation to ensure the franchise continues), you know there's no shortage of unique characters that pose interesting acting challenges for the franchise's ever-growing cast. That, along with the commercial and critical success of the first movie, is probably why director Denis Villeneuve has been able to secure such A-list talent for his ambitious science-fiction sequel. Talent that now includes a particularly red-hot star you might remember from some recent James Bond movies.
Léa Seydoux has been cast as Lady Margot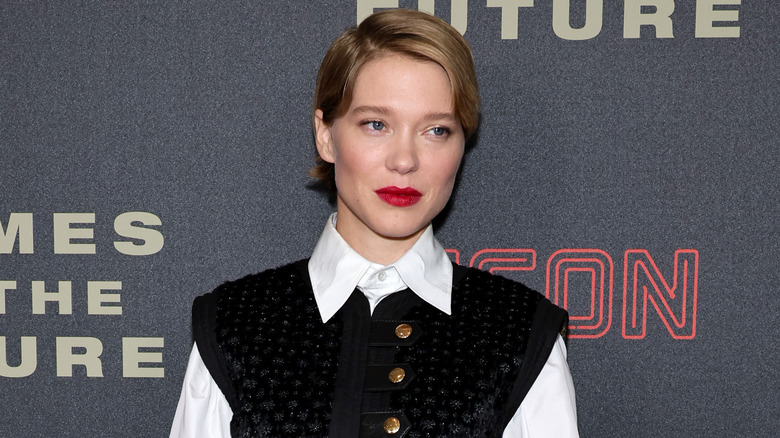 Theo Wargo/Getty Images
The news comes from Deadline that Léa Seydoux, who plays James Bond love interest Madeleine Swann opposite Daniel Craig's 007 in both 2015's "Spectre" and 2021's "No Time to Die," has been cast in "Dune: Part Two" in the role of Lady Margot Fenring, loyal Sister of the Bene Gesserit.
Of course, Seydoux is known for much more than her part in the James Bond mythos. Her credits on IMDb read like a miniature Hall of Fame for international cinema over the last decade or so. Her turns in Quentin Tarantino's "Inglourious Basterds," "Blue is the Warmest Color" from director Abdellatif Kechiche, and Wes Anderson films "The Grand Budapest Hotel" and "The French Dispatch" have ensured she stays on everyone's casting radar. She's also one of the few performers to appear in both the Bond and "Mission: Impossible" big screen franchises with her aforementioned Bond role, as well as the part of Sabine Moreau in "Mission: Impossible – Ghost Protocol." At the time of her "Dune: Part Two" casting, Seydoux is making waves with her performance in David Cronenberg's "Crimes of the Future."
"Dune" devotees may find it curious that a big star like Seydoux would be cast in what is, in the novel anyway, a somewhat minor character. But this could indicate either that the role is being beefed up for the movie version or possibly that she was cast with the character's expanded part in subsequent "Dune" books in mind, particularly the prequel trilogy "Prelude to Dune." Either way, it's clear big things are in store for Lady Margot on the big screen.