Ms. Marvel Writer Sana Amanat Compares Kamala's On-Screen Powers To Spider-Man - Exclusive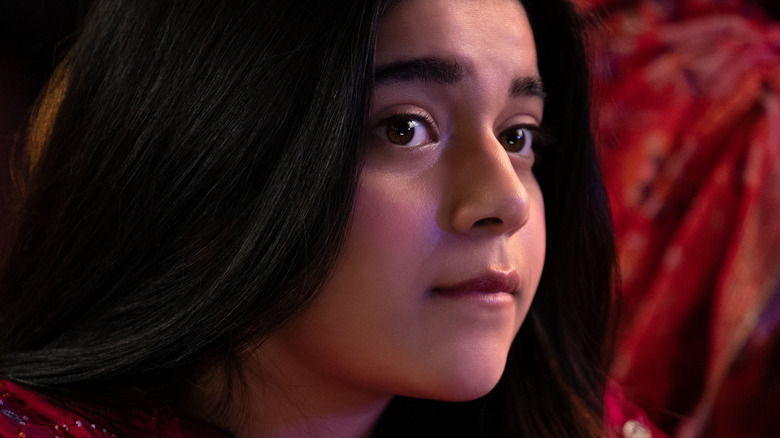 Disney+/Marvel Studios
Fans of the "Ms. Marvel" comics may have noticed a few changes between Kamala Khan's (Iman Vellani) powers in the new Disney+ series and her comic book powers. Of course, it's not unusual for on-screen adaptations of comics to take liberties with the visual elements of the characters. Sometimes, certain written and illustrated graphics don't mesh well with live-action storytelling. Other times, the visuals might be altered as a plot device to further the story or add personal significance to the hero. In the case of "Ms. Marvel," it's both.
Outside of "Spider-Man," "Ms. Marvel" is one of the MCU's only coming-of-age stories chronicling the lives of teenage heroes discovering their powers as they balance high school and family obligations. But that's not the only thing Spidey shares with Kamala Khan — that is, if you ask "Ms. Marvel" co-comic book creator and the show's producer Sana Amanat.
During an exclusive interview with Looper, Amanat dished on the changes between Kamala's comic book powers versus her on-screen abilities and compared them to Spider-Man. She also revealed why Iman Vellani was the right actress to bring the character to life.
Iman Vellani: The one true Ms. Marvel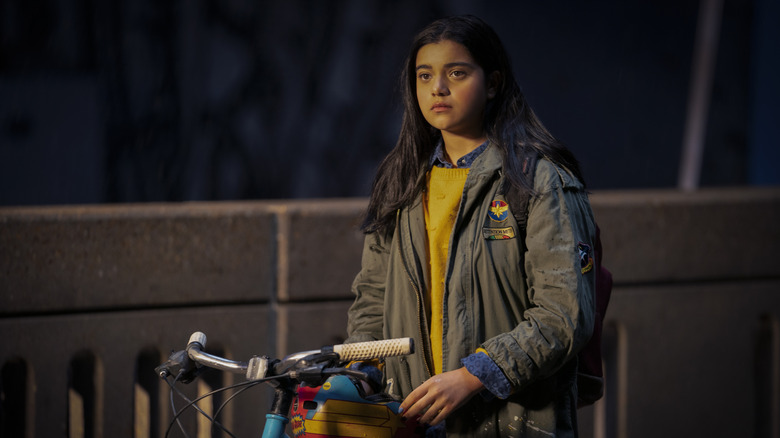 Disney+/Marvel Studios
On what it's been like seeing Kamala Khan come to life in the show, and why she thinks Iman Vellani was the right person to bring Kamala to life, Sana Amanat said, "It was amazing seeing the entire comic come to life. It was amazing, and it was really emotional, actually. I feel very, very thrilled that she's out in the world in such a big way. It's always been my hope that we make a show out of her. It's wild that I get to be a part of it." 
Like everyone who's worked with Vellani, Amanat only has lovely things to say about the young actress' work as Kamala Khan — and her passion for the MCU. "Meeting Iman was meant to be. She is the perfect Kamala. She is so vibrant and so funny and sweet and very talented and smart — and such a huge fan herself," Amanat added. "It's fun to see all these different elements. We've learned so much from her, as I feel like she's probably learned from us. But I feel very lucky to have met Iman and have her in our lives."
Sprucing up Ms. Marvel's powers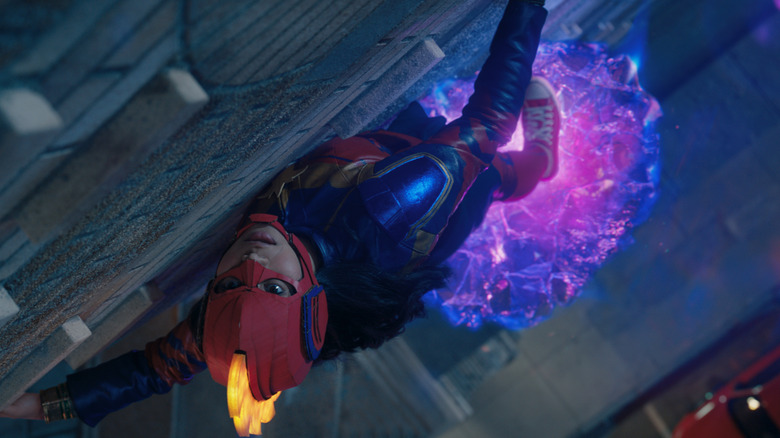 Disney+/Marvel Studios
Sana Amanat explained the journey of altering Ms. Marvel's comic book powers for the show and how that decision was made, and she thinks it impacts the visual experience. "The power change was linked to larger stories in the Marvel universe. We thought that [it] would be fun to explore that and also link her powers more to her cultural and familial heritage," Amanat noted. "It's a different take on the powers. Visually, there [are] a lot of visual similarities and because we can do some fun things ... I like to say it feels a little 'Spider-Man'-y because you can jump on a platform and [throw] a big fist and grab a shield and flip it around." Not only that, but Kamala is a pro at scaling walls.
Amanat added, "It also feels very playful [in] the way that the comics felt playful. It has the essence of what the comics were all about, but at the same time, we're evolving it in a really fun way for more stories in Kamala's life." 
New episodes of "Ms. Marvel" stream Wednesdays on Disney+.