Small Details You Missed In The Stranger Things 4 Vol. 2 Trailer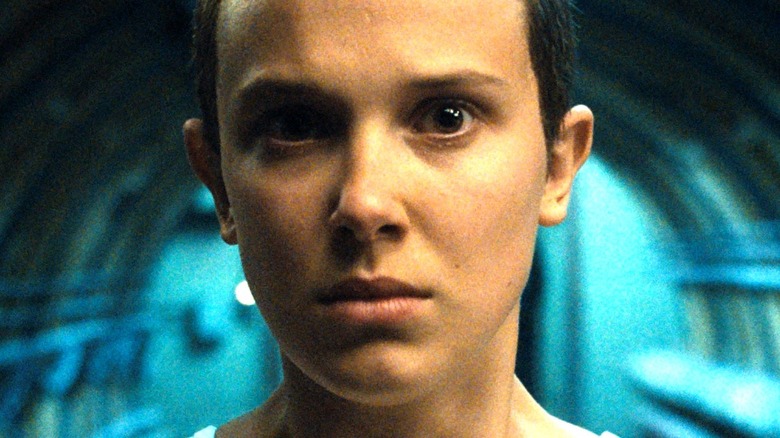 Netflix
"Stranger Things 4" Vol. 1 ends with a massive cluster of cliffhangers. "Chapter Seven: The Massacre at Hawkins Lab" reveals Vecna's identity as Henry Creel (Jamie Campbell Bower), the son of falsely convicted murderer Victor Creel (Robert Englund). He's also One, the first in the long line of preternaturally powered test subject children, a crew that includes Eleven (Millie Bobby Brown). After she defeated Creel the Younger in a one-on-one battle years ago, Henry was banished into the Upside Down, and the process mangled his form into a monstrous creature. He's been there ever since, and evidently the time has come to unleash his might upon the world.
The season's big bad still hasn't unveiled the extent of his master plan, but he's far from the only operator after Eleven and the Hawkins kids. Everyone from the military to high school jocks is after the various protagonists, and that's not even getting into the huge demogorgon terrorizing the Russian prison Hopper (David Harbour), Dmitri (Tom Wlaschiha), Joyce (Winona Ryder), and Murray (Brett Gelman) are still stuck inside. In other words, there's a whole bunch of questions Vol. 2 needs to answer. 
Fortunately, those answers are just around the corner. The last two super-sized episodes of "Stranger Things 4" drop on July 1, and a brand new trailer teases the many revelations to come. Let's take a look at the small details you may have missed in the trailer.
Hopper goes medieval
After keeping a demogorgon at bay with nothing but a lit torch and intimidation tactics, it seems that the hero with a rock solid ankle, Jim Hopper (David Harbour) has had a weapons upgrade, and he looks like he's handling it just fine.
Cutting through at the 1:30 mark of the trailer, the heroic Hopper stands tall wielding what looks to be a sword cool enough to make Conan the Barbarian jealous. His specific location isn't that clear, but given his slow pace down a hall, chances are he might still be in Russia searching for a way home. In the grand scheme of things, it's an interesting weapon of choice for the former lawman, especially considering the fact that everyone else in the trailer is tooling up with shotguns and flamethrowers (go nuts, Murray). This suggests to us that Hopper is likely facing off against some human opposition in this shot, rather than the Upside Down's hardier stock.
With that said, in a show that's made Dungeons and Dragons an unofficial guide to battling supernatural forces, it makes sense that someone is finally going to get a sword to do some damage. Who better than Eleven's fatherly knight in shining armor?
Eleven returns to Hawkins ... and the Upside Down
Vol. 2 of "Stranger Things 4" will undoubtedly lead Eleven (Millie Bobby Brown) to go for a rematch against Henry Creel, aka horror icon hybrid Vecna (Jamie Campbell Bower). The only question is, whose turf will it take place on? We can't say for sure, but the trailer offers tantalizing hints that Eleven will be returning home — both the right-side-up and the upside-down versions.
Judging by the latest teaser, we see Eleven out in the open air, away from the test facility she was confined to in Vol. 1. We also get a final glimpse of El returning to where it all began: the Creel home. Has she come to save Kate Bush-loving Max (Sadie Sink), Lucas, and Erica Sinclair (Priah Ferguson), who look to have headed there as well? Or is this the final showdown that will close the door on Vecna for good? Place your bets, folks.
The return of the demodogs
Just in case Jim Hopper and company aren't having a miserable enough time with just one demogorgon, Vol. 2 sets them up against more than one invader from the Upside Down. Toward the end of the trailer, viewers are treated to a brief shot of a demodog tearing through the corridors of the Russian prison, apparently chasing Hopper.  
Familiar from the second season of "Stranger Things," the demodogs are the second-to-last development stage of the demogorgon. While they're significantly smaller and weaker than the adult creature, they're still highly dangerous and can do a lot of damage, as poor Bob Newby (Sean Astin) and a whole bunch of lab workers found out during the "Stranger Things 2" finale. 
Unless it somehow turns out to be Dustin's (Gaten Matarazzo) semi-friendly former pet, Dart, the presence of a demodog in the prison is highly concerning. After all, it means that the adult demogorgon isn't the only one in the complex. Will this be the sole demodog in there, or will Hopper, Joyce, and the others have to deal with an entire pack?
Lucas comes out swinging
The back half of the trailer really ramps up the action, and includes a surprising moment in which Lucas (Caleb McLaughlin) throws a solid punch at his teammate Jason (Mason Dye) in an attic drenched in blue light. It's not surprising that these two have finally come to blows, since Lucas disagrees with the way Jason and the rest of the jocks are hunting Eddie (Joseph Quinn) and the rest of the Hellfire Club in Vol. 1. Although Lucas tries to expand his social circle in Season 4, it's great to see him stay loyal to his true friends. Hopefully, Lucas beating Jason is the bully's comeuppance for his arrogant behavior.
It looks like the fight takes place in the attic of the Creel house, an important place the gang has already visited to look for clues about Victor Creel (Robert Englund) and Vecna. Clearly, this is going to be a key location in the final battle, because the trailer also shows Eleven screaming in the Upside Down's version of the house.
Does the trailer tease a little romance for Nancy and Steve?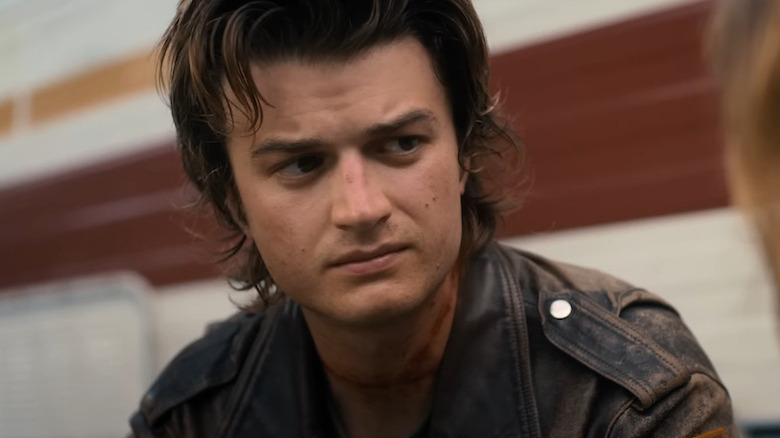 Netflix/YouTube
Okay, it's time to talk about Nancy Wheeler (Natalia Dyer) and Steve Harington (Joe Keery). It's very clear in Vol. 1 that Nancy isn't sure whether she wants to continue her relationship with Jonathan (Charlie Heaton) because of the huge distance between them now that he's living in California with Joyce (Winona Ryder), Will (Noah Schnapp), and Eleven. But while she's mulling all this over, she starts getting closer with Steve again ... Interesting.
The new trailer shows off a couple of moments with Nancy and Steve standing together in the Upside Down, and it's clear they're trying to keep each other safe. It's entirely possible that they'll get together in Vol. 2, and honestly we're kind of rooting for it at this point — with one key reservation. Although they do make an adorable couple, their love connection definitely spells danger for the duo. "Stranger Things" never lets us off with an uncomplicated happily ever after.
Robin (Maya Hawke) delivers a particularly foreboding line at the end of the trailer: "I have this terrible feeling it might not work out for us this time." Uh oh — surely that paints a target on Steve's back? Thankfully there isn't long to wait. "Stranger Things 4" Vol. 2 arrives on Netflix on July 1, 2022.