The Conners Fans See Warning Signs For This On-Screen Romance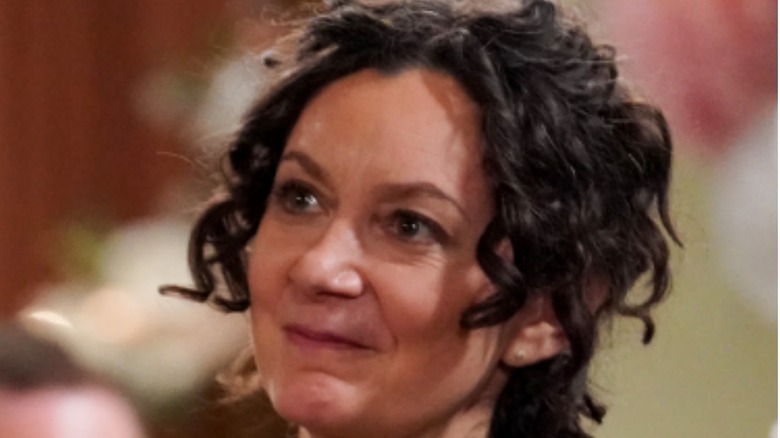 Eric McCandless/ABC
Fans of "The Conners" have seen some unexpected romances play out over the years. From a widowed Dan Conner's (John Goodman) second shot at love with high school classmate Louise (Katey Sagal) to Darlene's (Sara Gilbert) relationship with a guy who actually stands up to her –- that'd be Ben (sorry, David!) — the Roseanne spinoff has served up several relationship surprises since its debut in 2018.
The centerpiece of the Season 4 finale, titled "A Judge and a Priest Walk Into a Living Room," was a triple wedding featuring several main characters. The clan's long-single Aunt Jackie (Laurie Metcalf) and her veterinarian beau Neville (Nat Faxon) surprised everyone with their plan to wed, spawning a domino effect for niece Harris (Emma Kenney) and her older boyfriend, Aldo (Tony Cavalero). And after announcing they'd rekindled their on-and-off romance, Darlene and Ben (Jay R. Ferguson) reluctantly agreed to join in on the mega wedding, which was held at the Conner family abode. Enter a judge, a priest, and a truly terrifying clown, and it was the perfect at-home wedding for the six lovebirds. But then there were four.
Yep, it wouldn't be a "The Conners" finale without something going wrong. One potential bride got cold feet –- and fans saw it coming from a mile away.
Fans did not have high expectations for one Conners couple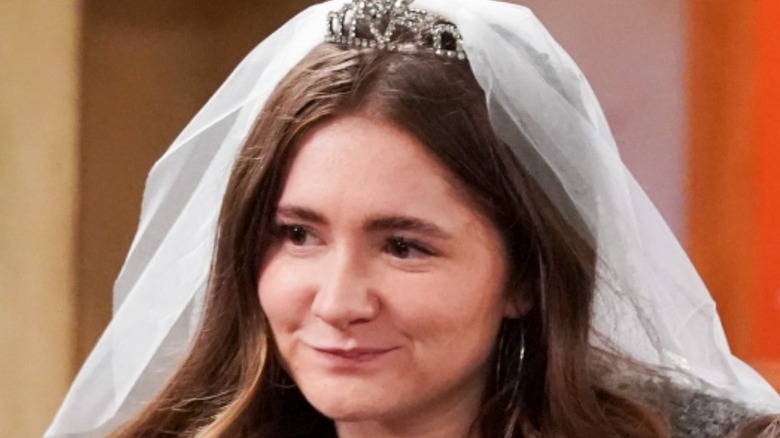 Eric McCandless/ABC
When Darlene Conner's teen daughter Harris (Emma Kenney) got involved with the much older Aldo (Tony Cavalero), it appeared to be an act of rebellion. Fans questioned the couple's nearly 20-year age gap and the fact that young Harris was already playing stepmom to Aldo's kids — often solo. Aldo's immature, '80s rocker persona didn't score him any points with fans — or the Conner fam, either. In a Reddit thread, fans speculated that Harris' relationship with Aldo would never work out, and they pointed to several glaring red flags.
"Aldo is a man-child loser, so that's a big reason it won't work," one Redditor, u/YikesManStrikes, wrote. "Then you have Harris, who seems to only be clinging onto him because she wants to prove her [mom] wrong." Another viewer offered a similar view, writing, "My guess is that Harris tries to help be a mother figure to Aldo's kids and she sees being a stepmom is a thankless job ... Harris is going to realize she doesn't want this because Aldo isn't stepping up."
"I don't think their relationship will work either, but unfortunately, I still think Harris is going to end up pregnant," another fan, u/catgirl1972, speculated. In the Season 4 finale, Harris shot down Aldo's plan to have a baby right away, then pulled out of the triple wedding. Her decision to put the brakes on her wedding to Aldo was the most mature thing viewers have seen from her thus far, but fans already seem to think the breakup is a ruse.
"I am hoping that her 'split' from Aldo will give her character some growth and development," u/CPAAlfred remarked, with an emphasis on the word "split."
The Conners producers have already teased that Aldo will return next season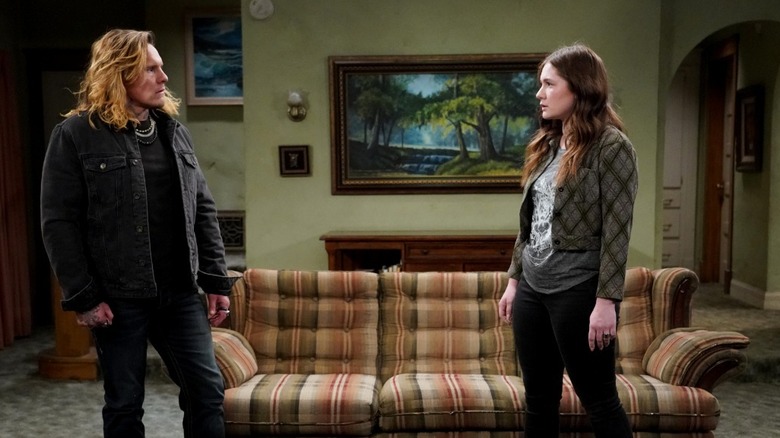 Eric McCandless/ABC
Fans haven't seen the last of Aldo. And despite all of the red flags, there's no guarantee Harris will return next season as a single lady because it sounds like Aldo will try to win her back when "The Conners" returns next season.
In "The Conners" Season 4 finale, Harris made it clear that a baby was not on her radar, despite her fiancé's argument that he was getting close to age 40 and wanted to have a child right away. She seemingly ended things with him, but in an interview with CinemaBlend, "The Conners" showrunner Bruce Helford said there is still love between Harris and Aldo. Helford admitted that when Harris started dating Aldo it was "born out of a kind of immature desire to get out on our own and get away from the Conners." But he reiterated that she did — and still does — love her older man.
While her move to go her own way instead of going along with what Aldo wanted marked "a big maturity moment" for Harris, the couple may not be done for good, Helford teased. "Aldo's not done," Helford teased. "He's still in love." "Aldo is not going to give up that easy," the showrunner revealed in a separate interview with Entertainment Tonight. "It would be easier to be done with all Aldo if we didn't love Tony Cavalero so much. That's for sure," added executive producer Dave Caplan.