The Game Of Thrones Scenes That Were A Major Challenge For Emilia Clarke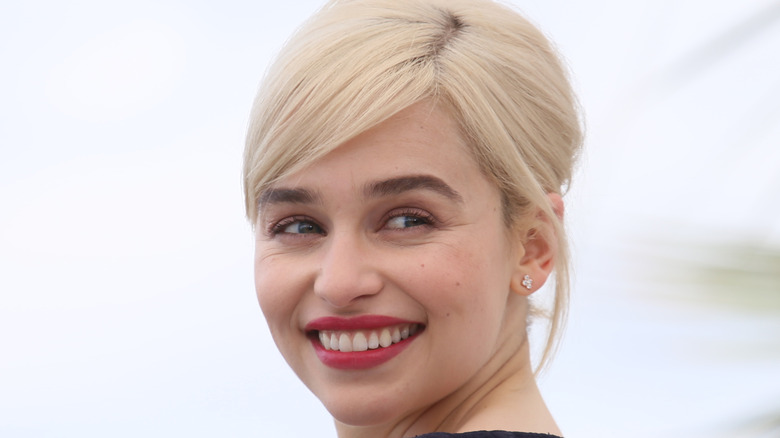 Denis Makarenko/Shutterstock
"Game of Thrones" set television on fire when it premiered in the early 2010s. For eight electrifying seasons, the medieval drama kept audiences on the edge of their seat, never knowing who might be killed off next. Not only did the hit show make big-budget fantasy a viable sell for the television market, but it also became HBO's most successful show ever (via Statista).  
Based on the acclaimed "A Song of Ice and Fire" fantasy series by George R. R. Martin, "Game of Thrones" follows the battle between powerful houses as they use deceit, violence, warfare, and murder to vie for power and grow their influence. Meanwhile, a supernatural force threatens all life in Westeros, and a former royal vows to return to her seat of power.  
That former member of the ruling class is Daenerys Targaryen (Emilia Clarke). Though she escapes being murdered after her family's rule is overthrown, she is left struggling to raise an army in a distant land. However, Daenerys' destiny changes when she weds a powerful warlord and finds herself as the mother to the last remaining dragons. 
Emilia Clarke had difficulty with the Dothraki language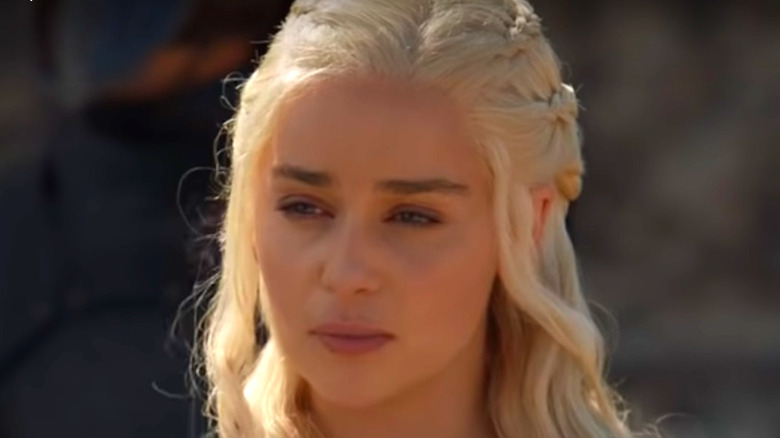 HBO/YouTube
Despite the high-profile role making Emilia Clarke a household name, the actress faced occasional struggle with playing Daenerys. "I've had to stand on a rock and speak to a lot of people in a crazy language," Clarke joked in a Season 8 promotional video for "Game of Thrones."
It's easy to see what Clarke meant, as playing characters in massive dark fantasy franchises no doubt came with its own unique set of challenges. The video from HBO stripped back the illusion of the show, and revealed an edit that shows Daenerys descending into amused profanity atop a giant green "dragon" as she forgets her lines.
However, Clarke clearly had a lot of fun doing "Game of Thrones," as the actress speaks very fondly of her co-stars, particularly Iain Glen, who played Ser Jorah Mormont on the HBO hit. "There's an ease I get with acting with Iain Glen because he's been my pal the whole time; he's been my one, my buddy," Clarke said.
The storyline of the two characters intertwined for all 8 seasons of the fantasy series, and led to a genuine friendship between the two actors. While not everyone was pleased with how "Game of Thrones" ended, it's nice to have little tidbits like these to remind us of the journey.