The Most Heartbreaking Daenerys Moment From Game Of Thrones
"Game of Thrones" is arguably one of the most iconic TV shows from the last decade, as HBO's prestige fantasy drama based on George R. R. Martin's books consistently wowed audiences across the world — keeping the Westeros story going for eight seasons from 2011 to 2019. Unfortunately, the final season disappointed many fans with the way showrunners David Benioff and D. B. Weiss wrapped things up. The final season of "Game of Thrones" sees the North defend Winterfell from the White Walkers before Arya Stark (Maisie Williams) finally kills the Night King (Vladimír Furdík).
However, things only escalate when Daenerys Targaryen (Emilia Clarke) decides to raze King's Landing to finally make her claim on the Iron Throne, with Cersei (Lena Headey) and Jaime Lannister (Nikolaj Coster-Waldau) dying in the ensuing battle. It's a tragic turn for the fan-favorite heroine, whose story in the finale quickly turns from being a liberator to becoming a mad tyrant within an instant.
Vanity Fair's Joanne Robinson called Daenerys' genocidal transformation a "betrayal" of the character, also criticizing the writers for "rushing too fast to its conclusion and trying to work in the necessary, short-lived, and ill-fated romance." But the most heartbreaking Daenerys moment comes later on in the finale.
Fans aren't over Drogon realizing Daenerys is dead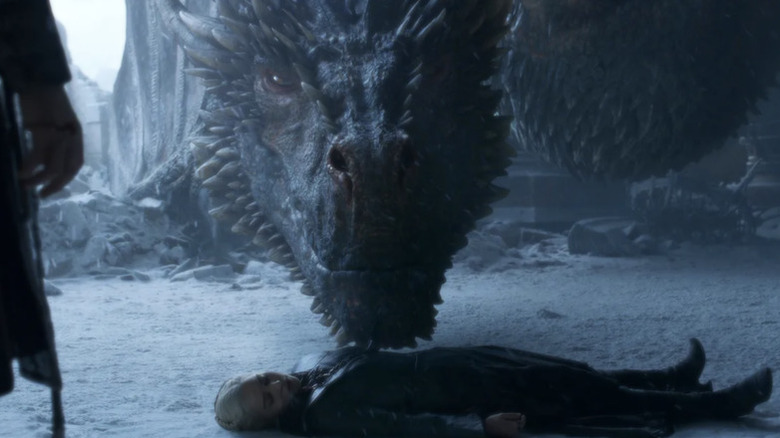 HBO
Speaking of the ill-fated romance, Jon Snow (Kit Harington) is the one to finally put an end to Daenerys' madness in the finale, as he kills her to stop the Mad Queen from plunging the rest of the world into chaos. But when Daenerys' surviving dragon, Drogon, realizes his mother is dead he incinerates the Iron Throne and flies away with her body.
Some "Game of Thrones" fans still haven't recovered from Drogon's reaction to finding out the Mother of Dragons is dead, with @Perzys_Anogar_ tweeting, "Drogon nudging Daenerys to try and wake her up is one of the saddest scene of GoT." Similarly, @waringamworia wrote, "The saddest scene in game of thrones is Drogon carrying Daenerys after she died."
Meanwhile, @CRAFTM0RGAN believes Drogon's reaction saved Daenerys' death scene from feeling unworthy of the complex character, tweeting, "Drogon's reaction + him burning the iron throne + flying away with Dany's corpse is what made the scene truly heartbreaking to me." They added that if not for Drogon's actions, "the way Daenerys died was so not worthy of the greatness of her character and didn't affect me in the moment like it should have."
It says a lot that fans were more upset about the dragon mourning Daenerys' passing than the death of the queen herself.