Mouch's Best Storyline On Chicago Fire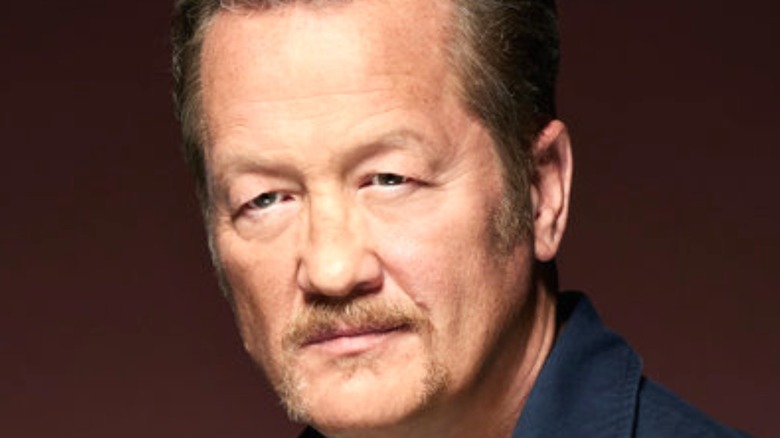 Art Streiber/NBC
In exploring the diverse, tight-knit community of first responders, "Chicago Fire" culls together characters with varying personalities and backgrounds, whether they're heroic, hot-headed rookies or seasoned, unflappable veterans. Randall "Mouch" McHolland (Christian Stolte) fits neatly into the latter category. Mouch may be Firehouse 51's resident couch potato ("Mouch" being a portmanteau of man and couch), but the longtime firefighter is certainly no slouch. When he's not putting out blazes, Mouch is the president of the Firefighters Union and a union representative for Station 51.
A fixture on "Chicago Fire" since its premiere in 2012, the good-natured Mouch is a source of light-hearted B-plots, like his prank war with Chuck Rutledge (Patrick Blashill) in Season 9, as well as dramatic series centerpieces. He's also endured his fair share of hardships, including a mid-fire heart attack in the Season 5 finale. But out of all those Mouch storylines on "Chicago Fire," which one can be considered the best?
Mouch's relationship with Platt is a high point
"One Chicago" fans can't get enough of Plouch. In Season 2 of "Chicago Fire," Mouch meets Trudy Platt (Amy Morton), the desk sergeant on "Chicago P.D." The meet-cute ushered in one of the most popularly shipped relationships on "Chicago Fire," not to mention the only lasting One Chicago crossover couple at this point in the history of Dick Wolf's popular franchise.
Since "Chicago P.D." premiered in 2014, Platt has manned a desk at the 21st District of the Chicago Police Department, making her a near-constant presence on the crime procedural. Though Platt is a considerate person, she also has a sarcastic streak and a sharp tongue, making her a welcome foil to the kind-hearted Mouch.
Ultimately, the couple is there for each other during hard times. When an explosion sends Platt to the hospital in Season 5 of "Chicago P.D.," Mouch rushes to her aid. Fans also love Plouch for their longevity. Other romances in the "One Chicago" universe burn fast and hard, or are endlessly complicated like "Chicago P.D." couple Kim Burgess (Marina Squerciati) and Adam Ruzek (Patrick John Flueger), aka Burzek (via NBC). Plouch, meanwhile, are a dependable unit.
In a Reddit fan poll, 26% of voters opted to see more Platt and Mouch screen time in the future. Plouch may not bring the most dramatic heft to "One Chicago," but they provide humor and levity to the often dark franchise. As Redditor u/CSMom74 chimed in, "I'm going with Trudy/Mouch because they're both funny."