The Andrew Garfield SNL Sketch That Lives Rent-Free In Spider-Man Fans' Heads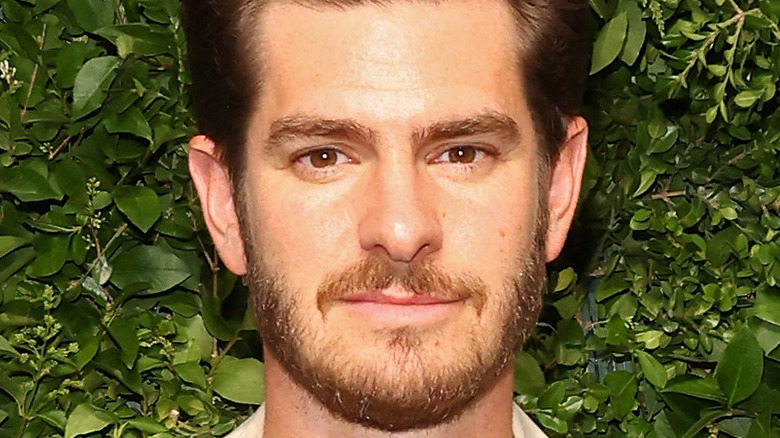 Taylor Hill/Getty Images
Witnessing Andrew Garfield's Peter Parker return in "Spider-Man: No Way Home" this past December is something we still can't get over. Many fans have even voiced their desires to have "The Amazing Spider-Man 3" created by Sony, although there have only been rumors surrounding the idea — nothing has been confirmed either way. In 2012, "The Amazing Spider-Man" was a soft reboot of the character iconically portrayed by Tobey Maguire throughout the Sam Raimi trilogy in the early 2000s before the fourth film was canceled (via Deadline).
With Garfield, Emma Stone, and "500 Days of Summer" director Marc Webb at the helm of the project, it performed decently at the box office (via Box Office Mojo) and sat relatively well with critics and fans (via Rotten Tomatoes). Ultimately, a sequel was green-lit with the idea of creating another trilogy, but after "The Amazing Spider-Man 2" earned poor critical reviews, Andrew Garfield's time as Peter was over after only two movies. Whether that was because "The Amazing Spider-Man" movies fell in an awkward spot due to the drastic rise of the MCU or not, some fans on Reddit have positively reevaluated Garfield's portrayal.
Garfield certainly brought a lot to the character on-screen, but he also left a lasting impression off-screen — including a "Saturday Night Live" sketch he did as the character in 2014 that still racks up views and comments from Spider-Man fans today.
Fans love Andrew Garfield's Spider-Man Kiss SNL sketch
During the release of "The Amazing Spider-Man 2," Andrew Garfield and Emma Stone appeared on an episode of "Saturday Night Live" dressed as their characters during the sketch called "Spider-Man Kiss." It serves as a parody of an actual scene in "The Amazing Spider-Man 2," where Garfield's Peter Parker stops Stone's Gwen before she leaves for Oxford University to tell her that he's going with her. "Spider-Man Kiss" sees comedian Taran Killam portraying director Marc Webb as he tries to get Garfield and Stone to perform the kiss during the scene. The two hilariously mess it up every time, ultimately revealing that they don't know how to kiss.
Spider-Man fans seem to love this parody. The video has over 68 million views on YouTube, with many in the comments noting their fondness for the sketch. Jordan Galle explained that the moment Garfield and Stone ask how "normal people" kiss always makes them laugh. Some fans, like skz the hooper, even exclaimed, "that was the funniest video I've seen this year," while loxlle said they're still laughing "8 years later."
Only time will tell if fans ever see "The Amazing Spider-Man 3," but for now, we can continue to look back on this funny moment.