Here's How Samuel L. Jackson Really Feels About His Ongoing Oscars Snub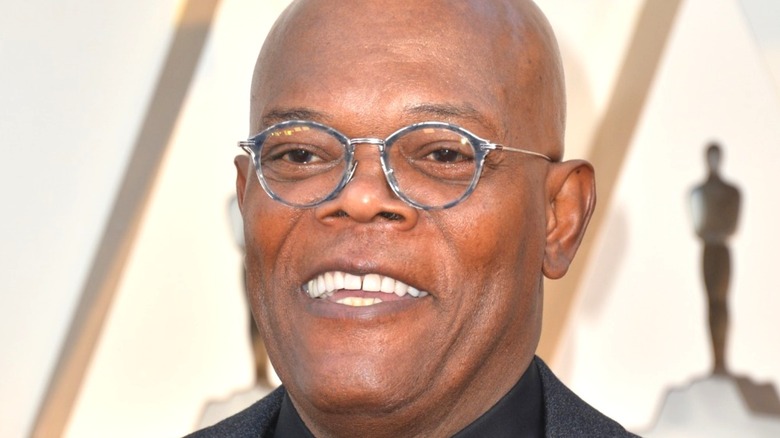 Featureflash Photo Agency/Shutterstock
It's hard to believe that Samuel L. Jackson doesn't have a medley of Oscars to show off. Fans of the star — and even casual audiences for that matter — could rattle off numerous instances where Jackson's cinematic efforts deserved recognition. The actor received a best supporting actor nod for Quentin Tarantino's "Pulp Fiction" in 1995, but the golden statue went to Martin Landau for "Ed Wood." After his stint as Jules Winnfield in Tarantino's sophomore film, Jackson went on to appear in box office juggernauts like the Marvel Cinematic Universe and the "Star Wars" prequels.
To date, Jackson's films have grossed over $4 billion (via The Numbers) making him an immense box office draw. It's not all about the money, however, as the actor has continued to work with auteurs like Spike Lee ("Chi-Raq") and Quentin Tarantino ("The Hateful Eight") on numerous occasions, further solidifying himself as a household name in Hollywood. For his various contributions, Jackson received an honorary Academy Award statue in 2022 (per The Washington Post), a distinction that he described as "unexpected" during his acceptance speech at the Governors Awards.
Prior to his honorific nod, Jackson said he deserved to win for "Pulp Fiction," though he has clarified that he isn't bothered by his lack of Oscar gold. Now, the actor has opened up about his relationship with the Oscars and how he feels about his ongoing snub.
Samuel L. Jackson doesn't let his Oscar snub(s) define his success
While speaking with The Los Angeles Times, Jackson discussed how he's put less weight on winning an Academy Award as time has gone on. "As jaded as I wanted to be about it, you know thinking, 'Well, I should have won an Oscar for this or should have won for that and it didn't happen,' once I got over it many years ago, it wasn't a big deal for me," the actor told the outlet.
Of course, Jackson still enjoys going to the Oscars for its celebration of Hollywood, adding that he also looks forward to receiving a gift basket for presenting at the awards. Recently, Jackson graced the stage of the Dolby Theater in Los Angeles alongside his "Pulp Fiction" co-stars (and fellow "Pulp Fiction" Oscar nominees) John Travolta and Uma Thurman to present Will Smith his Oscar award for best actor.
Jackson continued by making it clear that winning an Oscar doesn't validate his experience as a thespian. Instead, happiness does. "I was never going to let the Oscars be a measure of my success or failure as an actor. My yardstick of success is my happiness: Am I satisfied with what I'm doing? I'm not doing statue-chasing movies," Jackson told the Los Angeles Times. In fact, Jackson seems to be grateful that he chased enjoyment over films that would win him an award, pointing out how when people tell him he should go for a certain movie just to get awards, he dismisses the notion. "No thanks," Jackson said. "I'd rather be Nick Fury. Or having fun being Mace Windu with a lightsaber in my hand." 
Samuel L. Jackson is pleased with his acting choices
When asked if he regrets passing on any roles that could have landed him an Academy Award, Jackson maintained to the Los Angeles Times that he's glad with his choices, and he explained that he seeks out roles in the same sorts of films that he would have wanted to see as a child. "I want to do that movie that people just want to see so they can get out of themselves. That's the guy I chose to be and I'm fine with it. I'm satisfied because that's who I am. I'm the guy who does the lines that people see on T-shirts," Jackson said.
It's no surprise that Jackson has starred in his fair share of notable and uber-popular films. Jackson has appeared as the stern and assertive Nick Fury nearly a dozen times in the Marvel Cinematic Universe, whether he's rallying up superheroes or helping to take down the very secretive organization he works for. And who can forget his various collaborations with Quentin Tarantino and his appearances in the "Unbreakable" films? He has also appeared in non-franchise films which have made their own unique stamp on pop culture, such as "Do The Right Thing" and "The Other Guys."
For Jackson, it's clear that he values the enjoyment audiences receive from seeing him on screen over accolades. "There's actors who go their whole careers and no one can quote a line they've said in a movie. People go to watch my movies to see how crazy I'm going to be [...] Whatever gets them in the seats."