The Surprising Reason Why Samuel L. Jackson Isn't Bothered By His Past Oscar Loss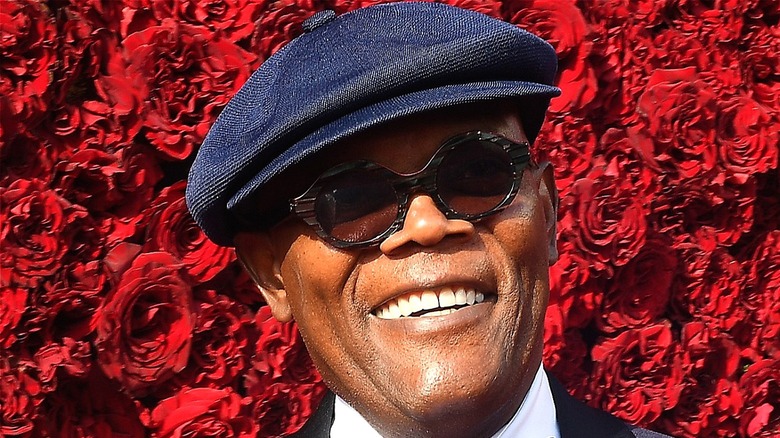 Paras Griffin/Getty
Samuel L. Jackson is an immensely popular actor known for his monologues, witty banter, and aversion to mixing serpentine reptiles and aeronautics. Made famous for mega smash hit movies like "Jurassic Park," the "Star Wars" prequels, and a bevy of Quentin Tarantino movies, Jackson has a characteristic range that often taps into his uncanny ability to alternate between a soft spoken demeanor and an explosive anger.
Jackson has played a powerful Jedi Master, an assassin who has a crisis of faith, a father who wants justice for his victimized daughter, a second-in-command to a vicious slave owner, and a computer programmer who has had enough of "hacker" crap. Jackson has currently appeared in 199 movies, and has won 45 awards from 89 nominations (via IMDb), but he has never managed to win an Oscar, though he was nominated for his role as Jules for "Best Actor in a Supporting Role" in "Pulp Fiction" (via IMDb), but how does the famous actor really feel about his Oscar snub?
Jackson says an Oscar Award doesn't move the comma on your paycheck
While speaking with Variety, Jackson lamented the fact that he has only been nominated once, and that he should have won for "Pulp Fiction" in 1995, and stated, "My wife and I went to see 'Bugsy.' Damn! They got nominated and I didn't? I guess Black folk usually win for doing despicable s*** on screen. Like Denzel [Washington] for being a horrible cop in 'Training Day.' All the great stuff he did in uplifting roles like 'Malcolm X?' No — we'll give it to this m***********. So maybe I should have won one. But Oscars don't move the comma on your cheque — it's about getting a**** in seats and I've done a good job of doing that."
Jackson is definitely a potent asset when it comes to financially sound movies, and the movies he has appeared in have grossed billions of dollars (via The Numbers). This of course is buoyed by the actor's presence as Nick Fury in the Marvel Cinematic Universe, but the actor has appeared in so many movies that it is hard to deny his star power. So it seems though that even though it irked him he didn't win for "Pulp Fiction," it doesn't bother him much because an award is just an award, and that doesn't reflect one's worth when it comes to appearing and making money in movies. Of course having 45 other awards isn't too shabby either!