Why The Cast Of Netflix's Hustle Looks So Familiar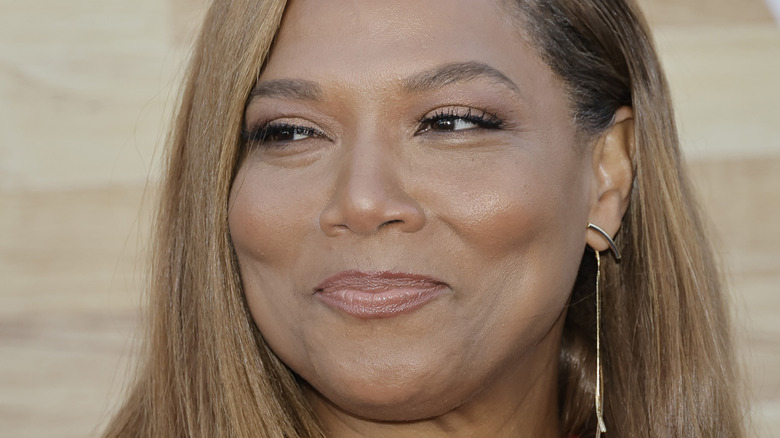 Kevin Winter/Getty Images
Sports movie fans are cheering for the Netflix original film "Hustle," which stars Adam Sandler, Queen Latifah, and NBA pro Juancho Hernangómez. The movie was also produced by Sandler, along with his Happy Madison Productions, Inc. co-producer Allen Covert, as well as figures from the pro basketball community, such as LeBron James and Maverick Carter. "Hustle" is a heartfelt and inspiring story about hope, determination, and dedication, while also highlighting the importance of family. It has a current score of 92% on Rotten Tomatoes, with critics declaring high praise for both the film and the actors' performances.
Since its premiere on June 3, 2022, "Hustle" has continued to top the list of Netflix's most-watched movies (per The Independent). Viewers watching the film will likely notice several familiar faces, and some of them might be difficult to place where they've seen them before. Here is a list of the "Hustle" cast and why they look so familiar.
Adam Sandler as Stanley Sugerman
Kevin Winter/Getty Images
It hardly seems necessary, but just in case anyone watching "Hustle" is saying, "I know that guy from somewhere, who is that?" — that is Adam Sandler, the actor and comedian who has both starred in and produced many of his own films. Sandler is Stanley Sugerman, a talent scout for the 76ers who has ambitions of coaching professionally.
Sandler's filmography is vast, going back to the 1990s when he first got his big break as a cast member on "Saturday Night Live." His portrayal of popular characters such as Opera Man, and performances featuring his own original tunes, made him an "SNL" favorite during his five-year stint.
After the blockbuster success of films "Billy Madison," "Happy Gilmore," "The Wedding Singer," and "The Waterboy" (all of which starred Sandler), Sandler founded his own studio, Happy Madison Productions, in 1999. He would go on to star in many more comedies produced by the studio, including "Little Nicky," "Mr. Deeds," "Anger Management," "50 First Dates," and "Click."
Though Sandler got his start playing mainly nice guys with often goofy personas, he would eventually prove his acting range by branching out into more serious drama. His performance in Paul Thomas Anderson's "Punch-Drunk Love" was praised highly by critics and earned Sandler a Golden Globe nomination. He would also take on more dramatic roles in films such as "Reign Over Me" and the acclaimed crime thriller "Uncut Gems."
Robert Duvall as Rex Merrick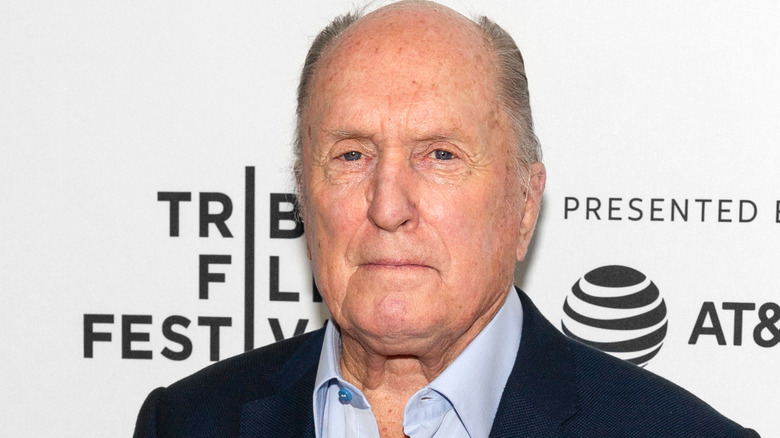 Ovidiu Hrubaru/Shutterstock
Rex Merrick is the owner of the Philadelphia 76ers and a beloved figure in the pro basketball community. Everyone highly respects Rex, not only for his success but also for his generosity and caring nature. Just after offering Stan the position of assistant coach, news of his death reaches Stan over his car radio, causing an emotional upset not only for the team but for Stan as well.
Veteran actor and multi-award-winner Robert Duvall plays Rex in "Hustle." Duvall's career began on stage (per Vanity Fair), but he went onto a successful run on both big and small screens, including "Alfred Hitchcock Presents," "Naked City," "Route 66," "The Outer Limits," and "The Fugitive." In 1989's Western epic mini-series "Lonesome Dove," Duvall played retired Texas Ranger Gus McCrae and was nominated for an Emmy for his performance.
Duvall made his film debut as Boo Radley in "To Kill A Mockingbird" in 1962 (per Vanity Fair) and was nominated for an Oscar in 1973 for his role as Tom Hagen in "The Godfather." He reprised the role in "The Godfather Part II." He appeared in the acclaimed films "Network" and "Apocalypse Now," the latter for which he was again nominated for an Academy Award for playing the sadistic Lieutenant Colonel Bill Kilgore.
Duvall was acclaimed for his performances in "Tender Mercies," "The Apostle," and "Civil Action." Now in his 90s, Duvall doesn't appear to be slowing down anytime soon.
Ben Foster as Vince Merrick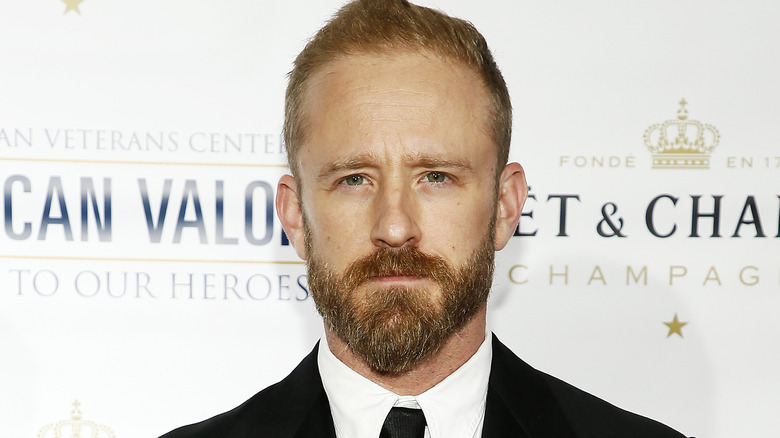 Paul Morigi/Getty Images
After the death of Sixers owner Rex Merrick (Robert Duvall), his son, Vince (Ben Foster), takes over the running of the team. Where Rex was giving and flexible, Vince is stubborn, arrogant, and immoveable. Once Vince realizes his mistake in drafting a bad player, he reverses his father's decision to give Stan the assistant coach position, putting him back to work as a scout. Yet when Stan insists that he's found a unicorn, Vince refuses to take a chance on a wild card — not out of professional interest, but pride.
Foster, who plays Vince, has had a varied career in both film and television beginning in the late 1990s. He got his start at age 16, co-starring with "Firefly" actor Jewel Staite in the Disney Channel series "Flash Forward." Foster went on to play a number of supporting roles in shows such as "Freaks and Geeks" and "Family Law," as well as appearing in feature films "Big Trouble," "The Punisher," and "Hostage."
In 2003, Foster got a recurring role in the Showtime dramedy "Six Feet Under," in which he played art school student Russell Corwin from Season 3 to Season 5. Foster can also be spotted in 2006's "X-Men 3: The Last Stand," playing Warren Worthington III, aka Angel. These days, Foster mainly focuses on independent features, including "Hell or High Water," for which he earned much acclaim, as well as "Hostiles," "Leave No Trace," "Galveston," "The Survivor," and "The Contractor."
Queen Latifah as Teresa Sugerman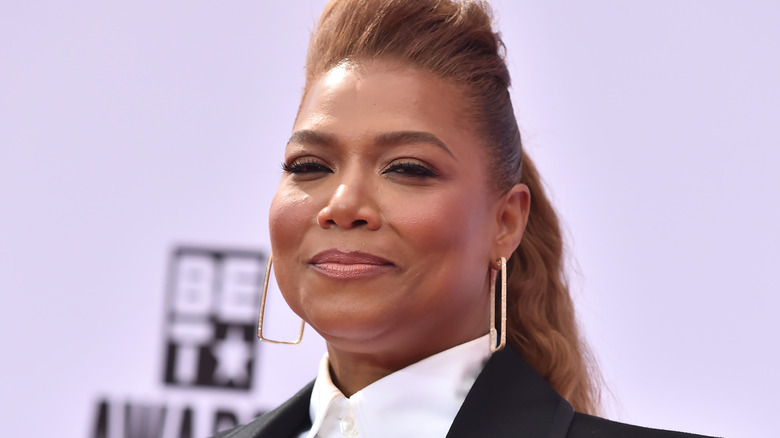 DFree/Shutterstock
As Stan travels the world looking for prospective players, his wife, Teresa, stays home to look after their daughter. Throughout the ups and downs of Stan's career, Teresa is there to offer her support and love. She's also there to keep him grounded and call him out when needed.
Queen Latifah plays Teresa in the film. Though she's a successful actor in both film and television, Owens got her start as a hip-hop artist in the late 1980s. Her debut album, "All Hail the Queen," was released to critical acclaim in 1989 (per The New York Times Magazine). It was followed by six more studio albums. Queen Latifah's acting career began with a supporting role in Spike Lee's "Jungle Fever" (per The New York Times Magazine). In 1993, she starred in the sitcom "Living Single," which aired for five seasons on Fox, then hosted "The Queen Latifah Show" for two years. One of Queen Latifah's best-known performances comes from the 2002 musical film "Chicago," where she got to show off her pipes on the big screen as Matron Mama Morton (via The New York Times Magazine). The role earned her an Oscar nomination.
In the 2000s, she appeared in "Barbershop 2: Back in Business" and its spin-off, "Beauty Shop," "Last Holiday," "Hairspray," and the "Ice Age" franchise. In 2019, she played Ursula in NBC's "The Little Mermaid Live!" In 2021, she co-created the crime drama series "The Equalizer" for CBS, in which she also stars.
Juancho Hernangómez as Bo Cruz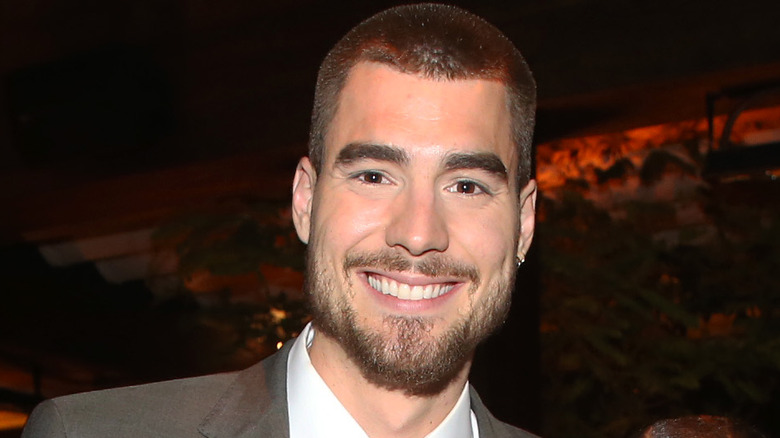 Phillip Faraone/Getty Images
While scouting in Spain, Stan encounters a mind-blowing street baller by the name of Bo Cruz. Bo is a construction worker living in a rundown neighborhood with his mother and daughter, yet his life is turned upside down when Stan offers him a chance to go pro. Leaving his known world behind, Bo flies with Stan to the States with big hopes of NBA stardom. Yet the fierce competition and politics of professional sports are more hindering than Bo could have ever anticipated.
Hernangomez takes his very first acting job in "Hustle" playing Bo (per Variety), but he is better known for his professional basketball career. He got his first pro gig with CB Estudiantes in Spain in 2012. He was a candidate for the Early Entry NBA Draft in 2016, where he was picked up by the Denver Nuggets. He was traded to the Minnesota Timberwolves in 2020 but suffered a year of various difficulties with the team, including being left out of the 2021 Olympics (per The Athletic). Hernangomez bounced from team to team between 2021 and 2022 before finally landing with the Utah Jazz in February 2022.
Jordan Hull as Alex Sugerman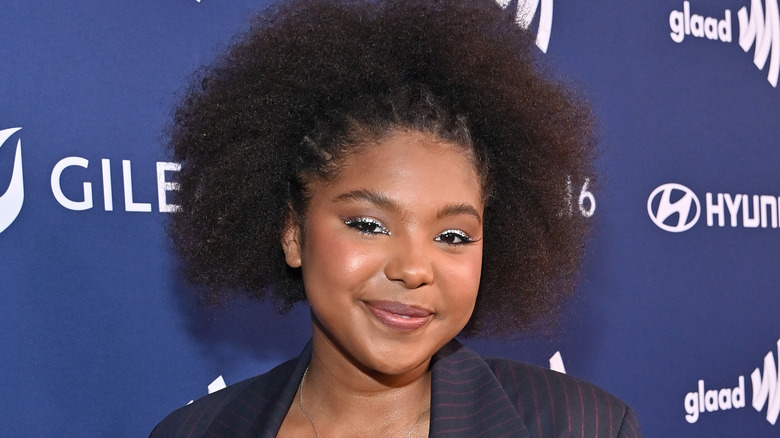 Stefanie Keenan/Getty Images
Stan and Teresa's daughter, Alex, is a typical teenager — smart, talented, and ambitious. With hopes to one day go to film school, she helps Stan by making a highlight video showcasing Bo's talents. It's also thanks to Alex's internet savvy that Bo gets a chance to play for the NBA draft combine. When she proposes the idea of a viral video to get the athlete's name out there, social media goes wild over Bo's skills.
"Hustle" is the first film for relative newcomer Jordan Hull. The reason she might look familiar to some is thanks to her role in the Showtime drama "The L Word: Generation Q." The sequel series to the 2000s series "The L Word" focuses on a new cast of LGBTQ+ characters traversing the hardships of love and life in LA. Hull plays Angie, the daughter of Bette Porter (Jennifer Beals) and Tina Kennard (Laurel Holloman). Now a teenager, Angie is insistent on learning more about her biological father, though her mothers are not forthcoming with the information. Angie also finds herself navigating her own relationship challenges when she meets Jordi Sanbolino (Sophie Giannamore). "The L Word: Generation Q" was renewed for a third season early in 2022 (per Deadline).
Heidi Gardner as Kat Merrick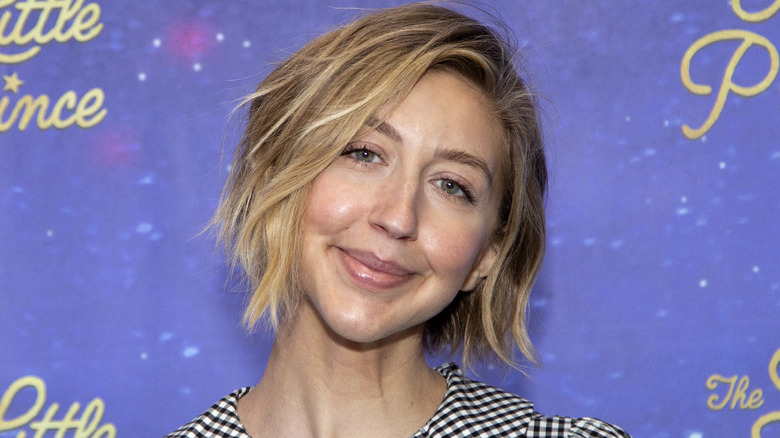 Santiago Felipe/Getty Images
After Rex Merrick dies, his children, Kat and Vince, inherit their father's legacy. Devastated by her father's death, Kat decides to step aside and let Vince runs things, while still retaining co-ownership of the team. After Vince royally screws things up for the Sixers, Kat decides to step in to clean up her brother's mess. The first thing she does is hire back Stan and reissue his assistant coach status.
Heidi Gardner plays Kat Merrick in "Hustle," and most might recognize her as a current member of NBC's "Saturday Night Live" cast. Gardner's recurring characters on the sketch series include Angel, who can often be seen in the "Weekend Update" segment, as well as teen film critic Bailey Gismert and social media influencer Brie Bacardi. Gardner originally began her career as a voice actor and has lent her voice to animated series such as the "Bratz" web series, "SuperMansion," and "Alien News Desk." Some of her other film credits include the Melissa McCarthy vehicle "Life of the Party," "Making Babies," and "Otherhood."
Anthony Edwards as Kermit Wilts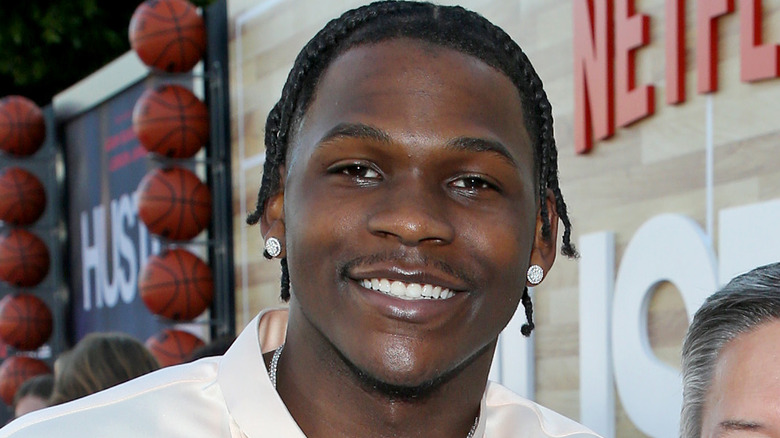 Phillip Faraone/Getty Images
Kermit Wilts goes up against Bo on the court during the initial tryouts, and it soon becomes clear that he's got serious skills. Though Bo gives Kermit a run for his money, Kermit quickly learns that the way through Bo's defenses is through his head. Resorting to trash talk, Kermit's nasty comments get under Bo's skin, causing him to blow his chances at a spot in the Sixers.
Kermit is played by one of the NBA's biggest stars, Anthony Edwards, who also makes his acting debut in "Hustle" (per Collider). Edwards got the attention of major sports outlets starting in his high school years and got the attention of the top major recruiters for the 2019 class. Edwards played college ball for Georgia Bulldogs after graduating high school, becoming one of the top scorers in the university team's history.
Edwards signed on with the Minnesota Timberwolves as their No. 1 overall pick in the 2020 NBA draft (per ESPN). As of the most recent season, Edwards has a career average of 20.3 points per game (per ESPN).
Jaleel White as Blake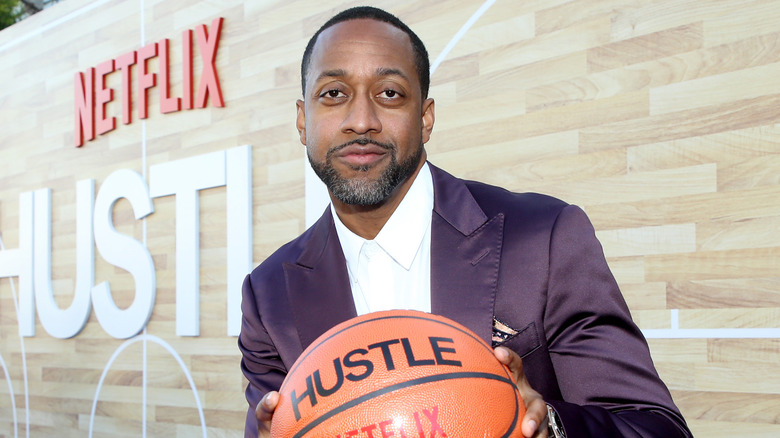 Phillip Faraone/Getty Images
Nearly every workplace has a suck-up, and Blake fills that role for the corporate side of the Sixers. The VP of player personnel backs up co-owner Vince Merrick 100 percent — a stance that he later regrets when Vince's arrogance ends up being his downfall. Though some may glance over Blake's supporting character role, other viewers might recognize Jaleel White — the actor who played iconic TV personality Steve Urkel on the ABC sitcom "Family Matters."
Besides playing a suspender-wearing, cheese-loving super-nerd for nine years, White has a lengthy list of credits to his name. Starting in 1993, he voiced the spiky-haired blue speed demon, Sonic, in three animated series: "Adventures of Sonic the Hedgehog," "Sonic the Hedgehog," and "Sonic Underground."
White went on to appear in several supporting roles in various TV series throughout the 2000s. Shows like "Boston Legal," "House," "NCIS," "Psych," "Castle," and "Fresh Off the Boat" are just a few of White's guest appearance television credits. He has also had roles in short-lived series such as "Me, Myself and I," "The Big Show Show," and "Raven's Home."
María Botto as Paola Cruz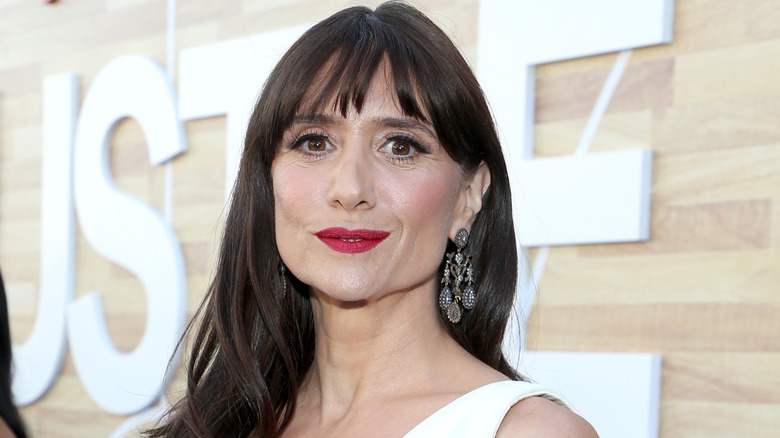 Phillip Faraone/Getty Images
Above basketball, Bo's family is the most important thing in his life. His mother, Paola, raised him on her own after his father abandoned them. To Paola, Bo is her "roble," or oak tree — in other words, her strength. They lean on each other and together raise Bo's daughter, Lucia (Ainhoa Pillet). Though he may have little in the way of material wealth, the love Bo shares with his family has made his life rich.
Argentine actor María Botto plays Paola. Botto got her start in Spanish television and cinema, yet American audiences may recognize her as well. In 2009, she appeared in the Greek-American-Spanish film "My Life in Ruins." She made her American television debut in the TNT drama "Good Behavior," where she played Ava, the sister of professional contract killer Javier (Juan Diego Botto). Botto also played police officer Sophia Moreno in the Amazon original series "Mad Dogs."