Why Willa Hayes From Yellowstone Looks So Familiar
Avid "Yellowstone" fans may remember the character Willa Hayes who appeared briefly during Season 3 of the show. In a way, that character plays a type of yin to Beth's (Kelly Reilly) yang, as they are both strong-willed businesswomen who regularly try to out-maneuver each other. Unfortunately, that season doesn't end well for either woman, especially after Hayes loses her job due to misconduct allegations — which the show heavily implies were anonymously and falsely alleged by Beth. The actor who did Hayes justice is none other than Karen Pittman, and if her face looks familiar, there are plenty of reasons why.
Pittman has had more than three dozen acting credits in her career, which stretches far back to 2009 when she landed roles in big network shows like "30 Rock," "Medium," and "White Collar." She's even been in two "Law & Order" series, once as a civilian on the original show and later as an FBI agent on "Law & Order: SVU." However, these roles are only the tip of her professional iceberg. Starting around 2014, she began landing more prominent, long-standing parts on some well-known series. Odds are you've probably seen her before in at least one of the shows we'll discuss below.
She was a former alcoholic in The Americans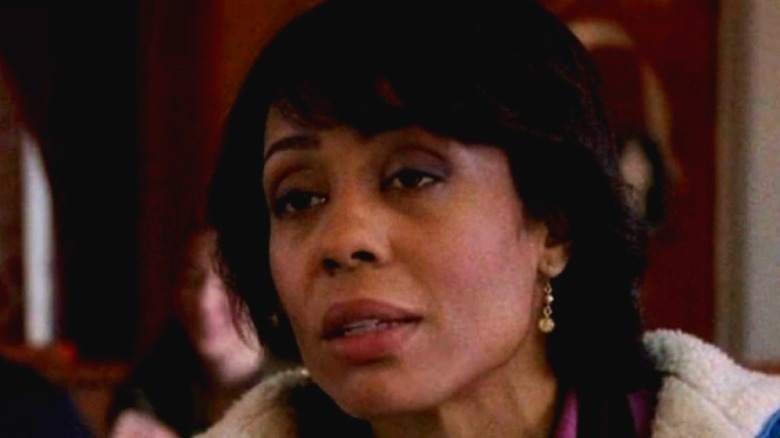 FX
Before Pittman impressed audiences on "Yellowstone," she had similarly sporadic appearances on the FX drama "The Americans." The show, which aired from 2013 to 2018, stars Keri Russell and Matthew Rhys as Elizabeth and Philip Jennings, two Russian sleeper agents living a quiet American life while waiting for instructions from their homeland. In the show, Pittman plays Lisa, an alcoholic who also happens to have a high-security clearance at an assembly plant where the US military is constructing a secret type of stealth aircraft. Elizabeth infiltrates Lisa's local Alcoholics Anonymous meetings to befriend the woman, who eventually leaks sensitive information about the aircraft, which Elizabeth sends back to the Russian government.
Once Lisa finds out she could be charged with treason, she relapses and threatens to go to the police. Her plan is to tell the cops about the crimes she and Elizabeth have committed in exchange for immunity. Instead of cooperating — and to protect her secret identity — Russell's character bashes her in the head with a vodka bottle, seriously disorienting Lisa. Then the camera cuts to a menacing close-up of the sharp edge of the broken bottle clutched in Elizabeth's hand. Through careful editing, it's heavily implied that she finishes the job off-camera to silence Lisa and keep her mission going.
She's on the right side of the law in Luke Cage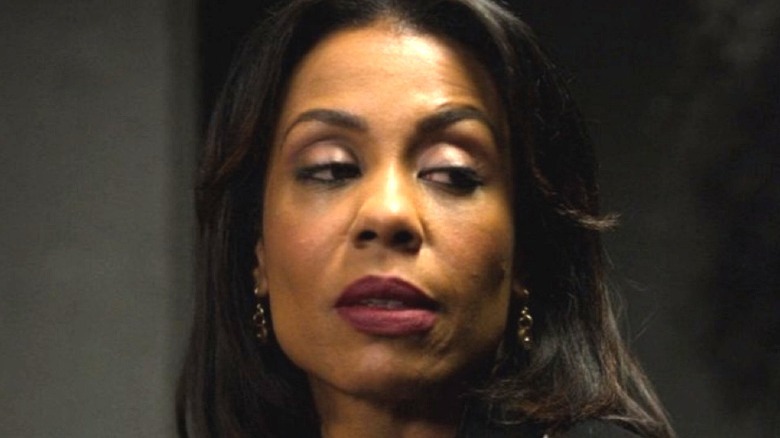 Netflix
Pittman's next big project in 2016 allowed her to show off her range as an actor. In "Luke Cage," in sharp contrast to her role as an out-of-control alcoholic who literally commits treasonous espionage, she plays NYPD Investigator Priscilla Ridley. She's a tough, no-nonsense woman who takes her job very seriously, sometimes to the detriment of the main characters.
In the show, she acts as a sometimes-friend, sometimes-foe to Cage (Mike Colter) and Detective Knight (Simone Missick). Ridley wants to get the bad guys, but she insists on doing things strictly by the book so that her convictions are beyond reproach. Cage and Knight want to clean up the streets of Harlem using whatever means produce the least amount of bloodshed and collateral damage. Their goals are similar, but they often butt heads. This leads to a promotion for Ridley during Season 2, where she earns the title of deputy chief and temporarily suspends Knight for taking valuable witnesses out of a witness protection safe house to hide them from the criminals who want them dead.
She was Paul Rudd's boss in Living With Yourself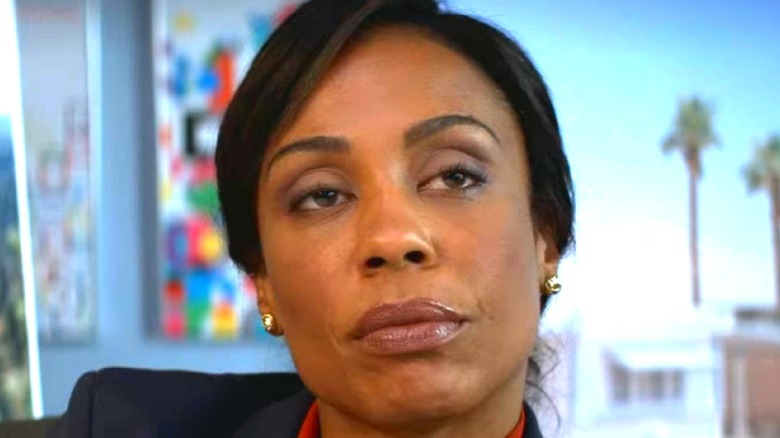 Netflix
Pittman wasn't done playing the boss after her stint on the Marvel superhero miniseries. She got to play a similar role as Paul Rudd's superior in the short-lived "Living With Yourself" Netflix miniseries. The show debuted in 2019 and only ever aired one season, but it still has an 80% approval rating on Rotten Tomatoes and a 7.2 on IMDb. According to The Hollywood Reporter, the short-lived nature of the series was by design because Rudd's lack of familiarity with open-ended TV projects made him wary of setting up a longer, more complex storyline.
Had he been willing to keep things going, fans of the show would have gotten more of Pittman's no-nonsense Boss Lady Energy, which plays so well in Season 1. The show is about how mild-mannered Miles Elliot (Rudd) feels so dissatisfied with his life that he gets duped into replacing himself with a genetically superior clone and nearly murdered by the "day spa" responsible for cloning him. Pittman plays a significant role in the plot as his boss, Lenore Pool. Not only does she frequently talk down to Elliot in a cold manner, but when his coworkers start outperforming him at the office, his status at work becomes one of the primary triggers motivating him to get unwittingly cloned.
She's not a producer, but she played one on The Morning Show
"The Morning Show" also debuted in 2019. This fictionalized Apple TV+ drama is about the secret goings-on behind the scenes at your average network TV morning show. The series stars Steve Carell, with Jennifer Aniston and Reese Witherspoon costarring and executive producing alongside him. It has an 8.3 on IMDb and an 80% audience approval rating on Rotten Tomatoes, although critics are still lukewarm about it.
The main plotline centers around disgraced cohost Mitch Kessler (Carell) during the fallout after he's investigated for sexual misconduct allegations. Pittman, who plays Mia Jordan on the show, starts out as Kessler's producer with whom he is also having an extramarital affair. She breaks things off right before his misconduct allegations come to light, and he assigns her as Alex Levy's (Aniston) new producer out of spite. Neither woman is happy about the arrangement, but Alex is especially hostile because she thinks her career is being derailed. To counter her hostility, Jordan brings a new anchor into the fold, Bradley Jackson (Witherspoon), hoping that the young up-and-comer's popularity and high ratings will help keep her job safe from Alex's ire. The dynamic power plays between all three powerful women are a compelling aspect of the show.
And Just Like That... she's a doctor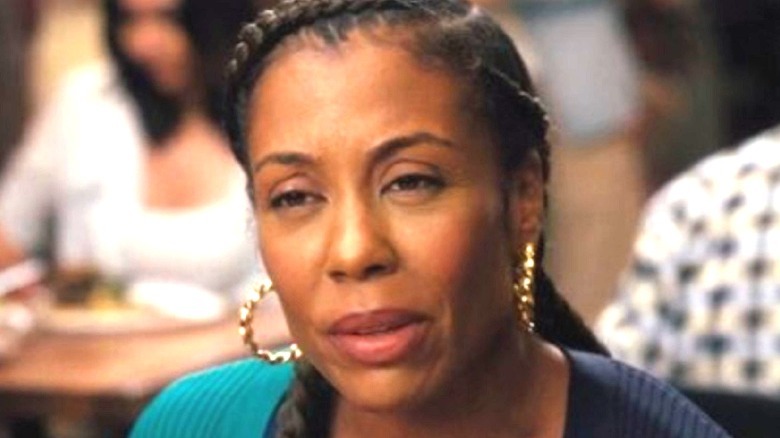 HBO Max
When HBO debuted its "Sex and the City" reboot in 2021, many were saddened to learn that it would be one main cast member short, with Kim Cattrall declining to return to one of her most revered roles. She also alluded that her character should be replaced with a sexually confident woman of color. Indeed, many of the cast in the reboot are reflective of the entertainment industry's efforts to increase inclusion and diversity. Pittman's role as professor and doctorate holder Nya Wallace is one such casting choice.
In the series, which set records for HBO Max, Miranda looks up to and admires Nya for her accomplishments as she strives to get her Master's in Human Rights. As the two women become close, viewers find out that Nya and her husband want to have their own children, but multiple rounds of IVF and attempts to conceive naturally all result in failure. Her side story brings up important issues with regard to women who struggle to balance their career and family ambitions in a world where work-life balance is hard to come by, especially as strong, independent women get older. 
Fans like u/PlumeHibou on Reddit think her character has a very strong and compelling storyline that stands out and even overshadows some of the other supporting characters who share more screen time with the main cast than Nya.