The Hilarious Connection Lightyear's Villain Has With The MCU
Not everyone can play a hero, but there are a handful of people who can play several of them. A case in chiseled-chin point is Chris Evans, who formerly played the shield-wielding super soldier Captain America and is headed to the stars this week in Pixar's "Lightyear." Pitched as the film that Andy from "Toy Story" saw that made him want the iconic action figure for his birthday when his mom couldn't afford Sox, this is the tale about how a space ranger ended up falling with style into being a hero.
Given the nature of this intergalactic adventurer, you can understand why Pixar looked to the former Captain America to breathe new life into the hero we know and the story we don't. He's got it all: charm, good rapport with comedy sidekicks, and the capability to fight for an extended amount of time (whether all day or to infinity and beyond). After his debut outing as the hero of Star Command, though, Evans can now say he's battled not one but two Hollywood titans on the same family tree, one of whom played an actual titan.
Chris Evans goes up against another Brolin in Lightyear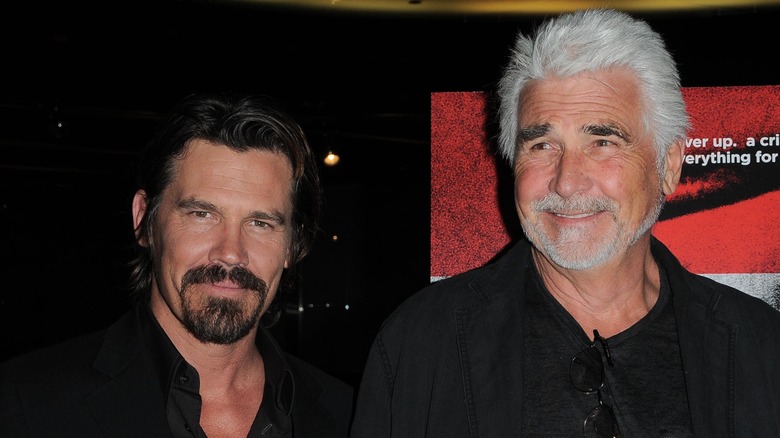 s_bukley/Shutterstock
It's a strange credit to stick on his IMDb page, but Chris Evans can now say that he's gone up against two generations of Brolins in three years. His first box-office brawl was against Josh Brolin as the Grimace-looking lover of balance and shiny gloves, the Mad Titan, Thanos, which ends in a snap in "Avengers: Endgame" (cheers, Tony). In "Lightyear," his animated adventure shows him squaring off against the evil Emperor Zurg, who is voiced by none other than James Brolin, Josh's real-life father.
Admittedly, while there is no footage yet to have been revealed of James Brolin and his new sworn enemy scowling across the recording booth at one another, this animated altercation still counts as Evans having another go at the Brolin family. We can only now hope that a father and son team-up is implemented and that this ensuing onslaught from Evans finally ends in "Lightyear 2." Make it happen, Pixar.