Netflix Says The Lincoln Lawyer Will Stay On The Case A Bit Longer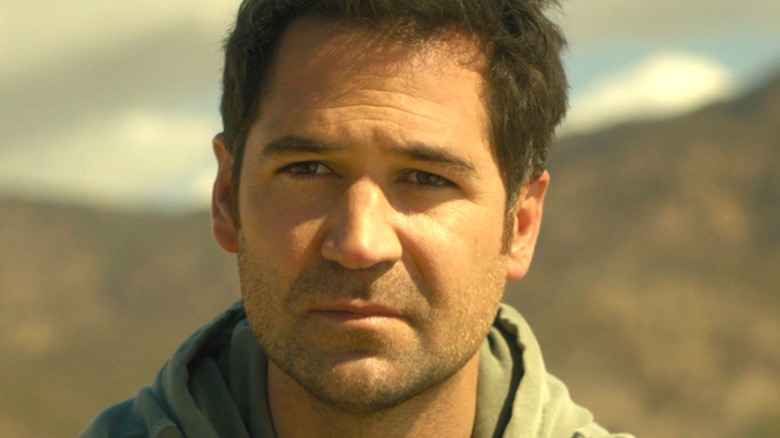 Netflix
Now that Season 1 is in the books, "The Lincoln Lawyer" has cemented its place as one of Netflix's top shows of 2022. The first season of the TV series co-created and  co-developed by David E. Kelley and Ted Humphrey stars Manuel Garcia-Rulfo as Mickey Haller, a Los Angeles-based attorney recovering from a painkiller addiction who mostly works out of the back of his chauffeur-driven Lincoln Navigator. It's based on "The Brass Verdict," the second novel in Michael Connolly's bestselling series.
Season 1 premiered on May 13 and quickly became a mainstay on Netflix's Top 10 most-watched shows list. By June 5, it had reached the top 10 in 90 countries, and had been streamed for a cumulative total of more than 260 million hours (via Deadline).
With numbers like that, it's no surprise that Netflix has already made up its mind about whether to bring the show back for Season 2. Today, Netflix made the call.
The Lincoln Lawyer is officially renewed for Season 2
Netflix dropped a press release announcing that "The Lincoln Lawyer" is coming back for a second season, along with some key information about what that season will look like.
Like Season 1, Season 2 will consist of 10 episodes. Season 2 will be based on Connolly's fourth book in the "Lincoln Lawyer" series, "The Fifth Witness." "The Fifth Witness" came out in 2011 and touches on themes like foreclosure and the housing bubble, which were major trends in society that year. The story follows Mickey as he takes on his first ever foreclosure client, Lisa Trammel, and helps her try to keep her home. Sure enough, things take a turn when Lisa is accused of murdering an executive at her bank, Mitchell Bondurant (via MichaelConnolly.com).
Netflix also made some casting announcements. Manuel Garcia-Rulfo will be back as Mickey Haller. Joining him will be fellow returning cast members Neve Campbell (Maggie McPherson), Becki Newton (Lorna), Jazz Raycole (Izzy), and Angus Sampson (Cisco).
Behind the camera, Dailyn Rodriguez has come onboard as Executive Producer and Co-Showrunner alongside Ted Humphrey. Rodriguez previously served as the showrunner on "Queen of the South," and she's written and produced shows like "The Night Shift," "The Glades," and "Ugly Betty" (via IMDb).
No release date for Season 2 has been announced, so stay tuned for updates.