How Fans Of The Sandman Really Feel About Gwendoline Christie's Costume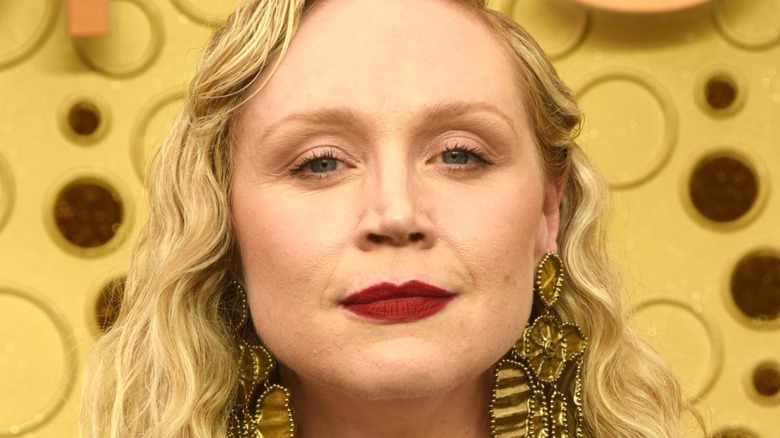 Kathy Hutchins/Shutterstock
It won't be long before fans of Neil Gaiman's classic dark fantasy comic book saga "The Sandman" finally get the moment they've been waiting decades for. Netflix is set to release the long-awaited first season of their live-action adaptation of the series on August 5. Between a visibly dark tone that matches the source material, a slew of inspired casting choices such as Tom Sturridge as Morpheus (aka Dream) and Gwendoline Christie as Lucifer Morningstar (a new iteration following Tom Ellis's version in the "Lucifer" TV show), and the fact that Gaiman is spearheading the show himself, it should come as no surprise that fans can't wait for the show to debut.
Ahead of the series premiere, Netflix released teasers in the form of several promotional images, each of which reveals a number of intriguing details about the show's focus and how certain characters will look. One particular photo gives fans a glimpse of the costume for Christie's Lucifer: a wrinkled jet-black coat, a menacing pair of bat wings, and short, pale blonde hair. The new look at the character generated a pretty strong response.
Fans are mixed on the costume
Gwendoline Christie's costume has left many of those anticipating the release of "The Sandman" pretty conflicted. Several fans shared their opinions in a thread on the r/Sandman subreddit, and while the response wasn't overwhelmingly negative, it wasn't too optimistic either. "I don't hate [it], but I wish we could collectively move away from leather costumes in comic media," u/axelrose301 commented. "Let them wear robes."
Other commenters also focused on the quality of the outfit, though some were critical of other elements of the design like the character's hair. "I have to admit... I hate the hair," u/ArtfulMegalodon commented. "It's just so... matronly. Not an ounce of 'cool' factor."
Unsurprisingly, the actual cast of the show has taken a different tack when discussing the costumes. In a panel for Netflix Geeked Week, Tom Sturridge complimented the show's costume designer Sara Arthur for her ability to work with fantastical designs. "It was such an enormous act of imagination on her part and on all of our collaborators trying to answer those questions which are not questions that you get to do very often in a job like this," Sturridge said. "Like, normally it's like 'Which are the coolest jeans?' And yeah, it was magic."
It's possible that fans who are down on Christie's costume may like it more once they see it in motion with the addition of any necessary post-production effects. For now, they'll simply have to reserve their final judgment until the premiere.